You can put any gloss on it that you want to, but there can be no argument that Apple (NASDAQ:AAPL) turned in a terrible quarter. Sales of iPhones and iPads were down double digits, and even Mac sales fell 9%.

Click to enlarge
Source: Apple Q2 earnings report
The company's guidance suggests the Q2 results were a high point. Push out the numbers from Apple's guidance accepting the most favorable end of each range, and net income is likely to fall 40% in Q3, as expenses continue to rise despite falling sales.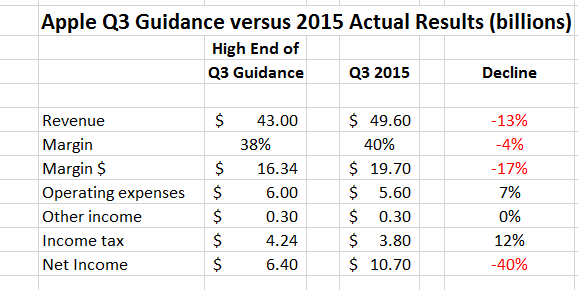 Source: Apple Q3 guidance
I issued an article about an hour and a half before the earnings release (too late to be published on SA, so I posted it to my Instablog), suggesting the iPhone SE was not likely to save Apple's second quarter. It didn't, and it looks like the company thinks it is unlikely to save Q3 either.
China was supposed to be its salvation. Q2 sales into China were down 26%, the worst-performing segment reported by Apple.

Click to enlarge
Source: Apple Q2 earnings report
The fact is that the wheels are finally falling off this apple cart, and Apple fans will have to bet on some breakthrough in the iPhone 7 to reverse the steep decline. Good luck with that.
At this point in smartphone history, the best Apple is going to be able to do is add some much-needed storage and connectivity options and tweak the processor, screen and camera a bit to claim an advance. The current processor, screen and camera are just fine. A longer battery life and water resistance, available in most high-end Android competitors, are necessary just to tread water.
I am short Apple through puts I bought today at a strike price of $105. They are already at least a double. I expect to see larger gains as time goes by.
Disclosure: I am/we are short AAPL.
I wrote this article myself, and it expresses my own opinions. I am not receiving compensation for it (other than from Seeking Alpha). I have no business relationship with any company whose stock is mentioned in this article.