What an interesting investing environment we live in. Earnings by some of the largest bellwether companies keep falling short of expectations, yet the equity markets do not fall. Yes, there have been wins such as McDonald's (NYSE:MCD) and General Electric (NYSE:GE), but a majority of the large-cap stocks are either meeting or missing their quarterly results.
Complacency in the markets is at such a low level that it is becoming scary. The CBOE Volatility Index (VIX) has done absolutely nothing despite all the misses in earnings. On Friday, April 15th, the VIX closed at 13.62, right before the onslaught of earnings misses began. Tuesday, April 26th, saw the VIX close at 13.96. All of the negative news has been dismissed. But why? and what were some of the other earnings misses? Here are a few of the highlights (or lowlights):
It all started last week with Intel (NASDAQ:INTC) reporting a staff reduction of 12,000 employees and a subsequent 3.25% drop in after-hours trading
Alphabet (NASDAQ:GOOG) (NASDAQ:GOOGL) missing on their earnings and dropping 7% after the earnings were released.
Microsoft (NASDAQ:MSFT) was quick to follow with their own 7% drop, after they too missed with disappointing quarterly results.
Visa (NYSE:V) was down 6% after offering weak guidance.
Starbucks (NASDAQ:SBUX) missed on earnings and the stock dropped 5.3% in after-hours trading.
Tuesday saw another wave of sub-par quarterly results:
Chipotle (NYSE:CMG) earnings fell short and the stock was down 4.55% in after-hours trading
Twitter (NYSE:TWTR) had a revenue miss and was down over 13% in after-hours trading
Apple (NASDAQ:AAPL) missed on all fronts and was sold off 7.9% in after-hours activity
The above companies are just a representation of the lackluster earnings being reported by some of the most solid and reputable companies on Wall Street. These are stocks that are supposed to be a barometer of the future. So one needs to ask: If the bellwether stocks are not meeting their earnings and sales goals, how can the rally in equities continue? The chart below validates just how strong the S&P and DJIA have been in the wake of this wave of corporate misses:

One must remember however, that the data above is before the market opens on Wednesday and reflects the misses by AAPL, CMG and TWTR.
As I write this at 1:00am EST, we are on the verge of retesting the support of a long-term channel on the daily S&P tonight. A failure could begin the next major down leg in the equity markets: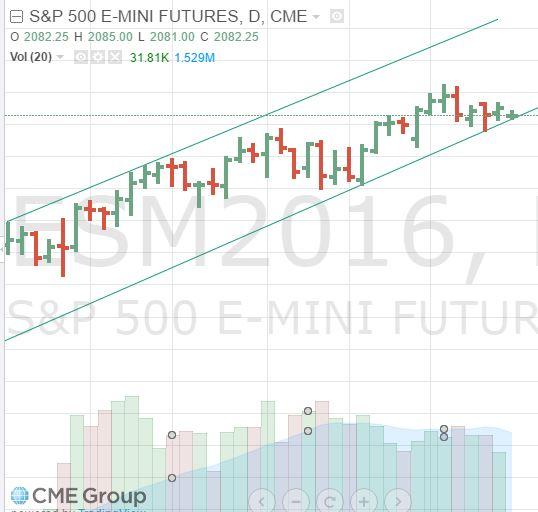 If this was another retest in the absence of the staggering list of earnings misses, it could be dismissed as just another retest of a long-term uptrend channel. Given the underlying negativity in the markets however, I expect a failure of the channel's support.
Conclusion
The longer the equity markets ignore the plethora of missed earnings and revenue announcements, the more likely it becomes that there will be a correction down the road that will eventually represent the true value of the markets. The subsequent lowering of earnings estimates will likely make this a self-fulfilling prophecy. With the uncertainties of the 2016 Presidential elections, weakness in China's economy, the still low oil prices (and commodities in general) and worldwide political unrest, the present seems like a good time to lock in profits in the equity markets.
Disclaimer: Investing in stocks can be risky. There is no guarantee that your investment will be safe. There is also a great likelihood that you may lose some or all of your investment. Please do your own due diligence before investing. Information provided in this article is informational and should not be the sole guide to determine if investing is appropriate for you. The above are my opinions and should not be the sole purpose for initiating a trade. Always do your own due diligence prior to investing. Also remember to only initiate trades that are within your pre-defined risk parameters.
Disclosure: I/we have no positions in any stocks mentioned, and no plans to initiate any positions within the next 72 hours.
I wrote this article myself, and it expresses my own opinions. I am not receiving compensation for it (other than from Seeking Alpha). I have no business relationship with any company whose stock is mentioned in this article.