Trading Tuesday began with a couple major blow ups within Biotech Land. Sarepta Therapeutics (NASDAQ:SRPT), which we have covered extensively in the last week; collapsed after it Ad Comm panel refused to recommend its drug eteplirsen for Duchenne muscular dystrophy. Despite heartfelt pleas of parents, there was not enough evidence from its limited trial to be approved. The company still has some candidates in its pipeline but expect the stock to continue to be under pressure as eteplirsen was its only near term catalyst. The stock lost just over 25% in trading Tuesday. The stock did better than I expected given this news especially after being down over 40% in early trading. It certainly has been a wild ride for Sarepta shareholders over the past five trading sessions.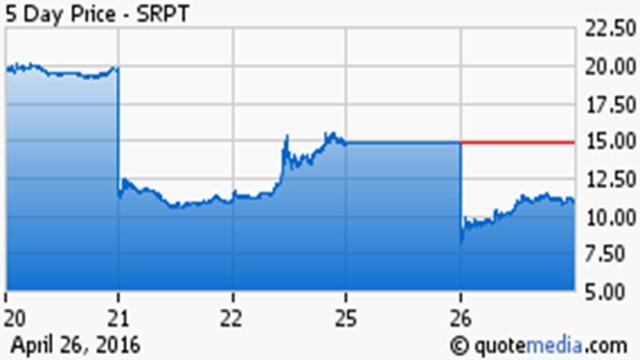 Click to enlarge
Less prominent and much smaller cap Catalyst Pharmaceuticals (CPRX) also plunged on Tuesday as the shares lost 50% of their value during the day. The trigger for the decline was the announcement by the company that it will need to conduct a new Phase 3 clinical trial to assess lead product candidate and Orphan Drug- and Breakthrough Therapy-tagged Firdapse (amifampridine phosphate) for the treatment of Lambert-Eaton myasthenic syndrome (LEMS), a rare autoimmune disorder characterized by muscle weakness in the limbs.
Given two major disappointments and some profit taking after a nice recent run, the biotech indices held up fairly well giving back some 1.5% on Tuesday but clawing their way back from deeper losses earlier in the day by the time the bell rung.
As expected Joseph Papa the current boss at Perrigo Group (NASDAQ:PRGO) was released from that job to try to lead current pariah Valeant Pharmaceuticals (NYSE:VRX) out of its current morass. Valeant's stock continued its huge rally on the news but is still down more than 80% from its highs this summer before being consumed by one of the biggest soap operas the market has seen in quite some time.

Aratana Therapeutics (NASDAQ:PETX) had a nice day of trading Tuesday. The veterinary medicine concern announced after the bell on Monday that a unit of Eli Lilly (NYSE:LLY) known as Elanco had entered into a major collaboration deal with it around its first commercialized drug Galliprant. This compound is approved for the control of pain and inflammation associated with osteoarthritis in dogs.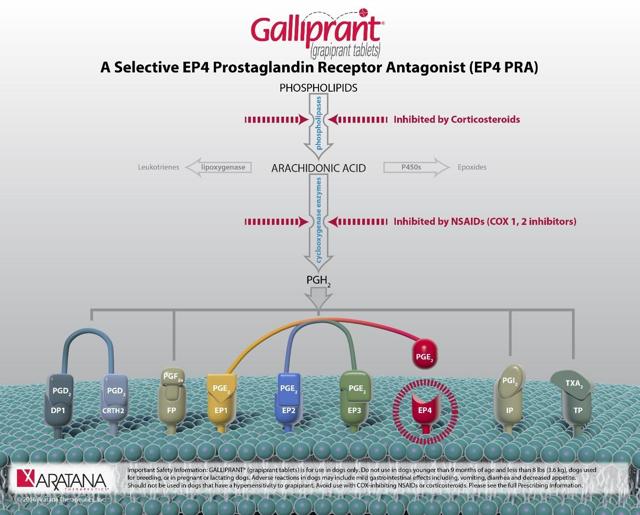 Click to enlarge
For a stock with an approximate $250 million market capitalization, Aratana will receive an upfront payment of $45 million, with $83 million available in achievement of various milestones as well as royalty payouts. Not surprisingly Jefferies took the opportunity to reiterate its $12 price target and Buy rating on Aratana. Credit Suisse had reissued their Buy rating and $11 price target at the end of March.
I have a small stake in this small cap. It is one of few pure plays in veterinary medicine which makes a possible buyout candidate for a larger player that wants to gain entry into this emerging space. It already had a good balance sheet and now will be even more flush with cash. It also has an intriguing pipeline that should be able to be well funded after this collaboration deal.
Drug giant Novartis (NYSE:NVS) is rumored to be eyeing a sale of its stake in Swiss rival Roche (OTCQX:RHHBY) to help reload for future acquisitions. The divesture could yield $14 billion and offer ample "ammo" to do some bargain shopping the aftermath of the deepest and longest bear market in biotech since the financial crisis. Pfizer (NYSE:PFE) and Allergan (NYSE:AGN) should also be in that mix now that the Treasury Department has derailed their $150 billion merger.
I am watching these developments closely as once acquisitions start to happen in this space it can be become somewhat of a "feeding frenzy" as the bigger players start to worry they might be missing out on some attractive assets. If M&A activity does pick up it would also be a significant tailwind to the valuations of the small and mid-caps in the sector.

Microcap Evoke Pharma (NASDAQ:EVOK) got some attention from analysts on Tuesday. Brean Capital reiterated its Buy rating and $13 price target on the firm. Rodman & Renshaw reissued its own Buy rating and whopping $27 a share price target on EVOK. The shares currently trade for approximately $5.00 a piece. Northland Capital initiated the shares as an Outperform on March 16th with a $16 price target. FBR Capital had maintained a Buy rating and $17 price target on the company five days before.
The company has a market capitalization of under $40 million at the current time. The main appeal of this stock is on the verge of completing a large- scale Phase III clinical trial in diabetic gastroparesis with EVK-001, the company's nasal spray formulation of metoclopramide. Metoclopramide is the only approved drug to treat gastroparesis which is a medical condition consisting of a paresis (partial paralysis) of the stomach, resulting in food remaining in the stomach for an abnormally long time.
This is not a small cap currently in my coverage universe. It does appear analysts are very optimistic about the potential success of EVOK-1 which seems to be the company's key asset. It also appears that the company will need to raise additional capital soon based on a cursory review of its balance sheet. I offer it up for consideration for those biotech investors interested in this type of concern.
Ironwood Pharma (NASDAQ:IRWD) also got some "shout outs" from a couple of analyst firms on Tuesday after no activity in over a month. Cowen & Co. came out to reiterate a Buy rating and dismissing a recent short report about vulnerabilities of its key drug Lizness which currently does some $450 million and which Ironwood believes will break $1 billion in annual sales by 2020. JP Morgan also reissued its Buy rating and $15 price target on Ironwood Tuesday also stating the safety concerns within that negative report on Lizness were overblown. Finally, Mizuho Securities chimed in with their Buy rating and same $15 price target.
I will not weigh on the safety report, but I don't think it is a coincidence that a bucket shop out of Boston that sues for a living; filed a shareholder lawsuit citing that short report from Phase Five Research. Ironwood also entered into an agreement announced Tuesday morning to acquire a gout drug from AstraZeneca (NYSE:AZN) for up to $265 million plus royalties.
I have no position in Ironwood. I do have a small position in Synergy Pharmaceuticals (NASDAQ:SGYP) whose NDA seeking approval of lead product candidate plecanatide for the treatment of chronic idiopathic constipation (CIC) was finally accepted by the FDA last week. The agency's action date (PDUFA) is January 29, 2017. Plecanatide could be a solid competitor to Lizness given it produce less incidence of diarrhea in Phase III trials.
Note: New analyst ratings are a great place to start due diligence, but nothing substitutes for deeper individual research in this very volatile sector of the market. Many of the small-cap names highlighted in the "Analyst Insight" will eventually appear in the "Spotlight" section, where we do deeper dives on this type of promising but speculative small-cap concern.

Today's spotlight feature is on oncology based concerned called Exelixis (NASDAQ:EXEL). The company has just over a $1 billion market capitalization and is based in San Francisco. Exelixis was in the news on Tuesday as it announced the FDA had approved its lead cancer drug cabozantinib, branded as CABOMETYX, for the treatment of patients with advanced renal cell carcinoma ('RCC') who have received prior anti-angiogenic therapy. The product should soon be on the market as approval was expected as in Phase III trials showed CABOMETYX reduced the rate of cancer progression or death by 42% compared to everolimus from Novartis.
Not surprisingly, Stifel Nicolaus took this opportunity to reiterate their Buy rating and $8 price target on Exelixis, whose shares now fetch just over $4.50 a share. Cowen & Co. had maintained their Buy rating on the firm on April 15th. Only four analyst firms cover this stock currently. Price targets range from $6 to $20 a share.
CABOMETYX will compete with nivolumab from Bristol-Myers Squibb (NYSE:BMY) which was approved last year for use as a treatment against renal cell carcinoma and a host of older less effective treatment options. CABOMETYX, since it has a different mechanism of action could find plenty of use with the majority of patients who do not respond to nivolumab. The current market for second and later line RCC includes about 17,000 patients in the U.S. and approximately 37,000 patients worldwide, the global revenues for current second line RCC agents of approximately $1 billion in 2014.
In late February, Exelixis closed an exclusive licensing deal with Ipsen for the commercialization and further development of Exelixis' lead cancer drug, CABOMETYX worldwide except for the United States, Canada and Japan. The deal also includes the rights to branded COMETRIQ, currently approved in the European Union for the treatment of adults with progressive, unresectable, locally advanced or metastatic medullary thyroid cancer.
Exelixis will retain exclusive commercialization rights in the United States and Canada and is in the process of negotiating a commercial partnership in Japan. COMETRIQ is currently available in the States for the treatment of medullary thyroid cancer and as stated above was just approved for the treatment of renal cell carcinoma. It brought in nearly $10 million in revenue during the fourth quarter of 2015.
As part of this deal, Exelixis will receive a $200 million upfront payment, regulatory milestones of $110 million or greater, up to $545 million in commercial milestones and tiered royalties of up to 26% of CABOMETYX net sales. Approval in Europe for RCC will bring in a $60 million part of those regulatory milestones sometime in 2016. Obviously for a concern with just over a $1 billion market capitalization, this is a big deal. The upfront payment should alleviate to raise any developmental funding in the near future as well as the company ended 2015 with over $250 million in cash on the balance sheet. The company anticipates $240 million to $270 million in developmental and operating costs in 2016, offset somewhat from rising sales of its three now approved drugs.
In November of last year, the FDA approved cobimetinib known by its brand name COTELLIC for the treatment of unresectable or metastatic melanoma with a BRAF V600E or V600K mutation, in combination with vemurafenib. The compound was approved soon thereafter in Europe for the same condition. COTELLIC is a selective inhibitor of MEK, also known as mitogen-activated protein kinase kinase. MEK is a dual specificity kinase that is a component of the RAS/RAF/MEK/ERK pathway. This pathway mediates signaling downstream of growth factor receptors, and is activated in a wide variety of human tumors.
Exelisis discovered COTELLIC but developed in conjunction with partner Genentech within a collaboration it signed with the drug giant. Exelixis is entitled to an initial equal share of U.S. profits and losses and will share in the U.S. marketing and commercialization costs. Exelixis is eligible to receive royalties on any sales of the product outside the United States. COTELLIC is also in early stage trials for the treatment of a variety of other cancer indications.
The company has a couple of interesting partnered compounds in the pipeline as well. Most of them are in early Phase II testing or pre-clinical work.
In summary, Exelixis seems to moving its pipeline successfully into be approved products to be commercialized. It has some key partnerships, plenty of cash on the balance sheet, an emerging product portfolio and several significant collaboration deals. Based on this, I am taking a small stake in Exelixis and offer it up for consideration for aggressive growth investors preferably within a well-diversified biotech portfolio.
Note: To get these Biotech Forum Daily Digests as soon as they are published, just click on my profile and hit the big orange "follow" button and choose the real-time alerts option.

Thank You & Happy Hunting
Bret Jensen
Founder, Biotech Forum
Disclosure: I am/we are long AGN, EXEL, PETX, SGYP.
I wrote this article myself, and it expresses my own opinions. I am not receiving compensation for it (other than from Seeking Alpha). I have no business relationship with any company whose stock is mentioned in this article.
Editor's Note: This article covers one or more stocks trading at less than $1 per share and/or with less than a $100 million market cap. Please be aware of the risks associated with these stocks.