There is no way to deny that FMC Corporation (NYSE:FMC) is in a difficult situation. The agrochemical market, which represents almost 70% of the company's total sales, is in decline. A substantial portion of its business is outside the US, and the strong dollar hurt its top and bottom lines. On top of that, the company's most important single market, Brazil, is in a deep crisis and the currency has depreciated rapidly. Truly not the perfect place to be, but FMC is still profitable and the shares are moderately valued.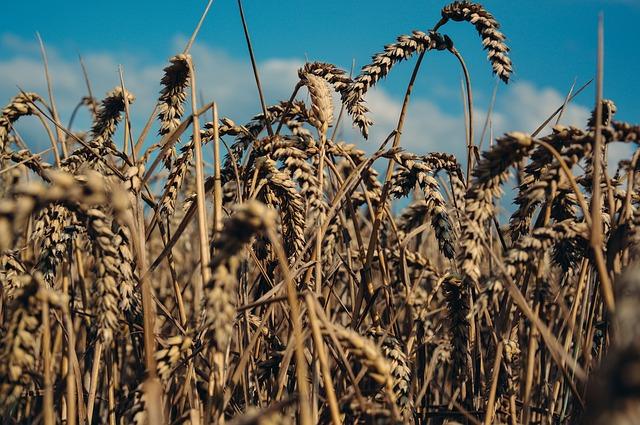 FMC has undergone a transformation in the past years, and after the acquisition of Cheminova A/S and the sale of Alkali Chemicals, it is primarily an agrochemical company. Unfortunately, the global crop protection market declined by 10% in 2015 for the first time since 2009. 2016 is unlikely to bring a turnaround, and most participants expect the market to be down for the second year in a row. FMC is particularly strong in Brazil, which helped to grow the company ahead of its market in the past. The country became the largest agrochemical market, but due to various reasons, one of them being the weak Brazilian real, the market is shrinking in dollar terms.
Despite all this, FMC is well positioned and profitable, although the margins are not what they used to be. The company had the highest EBITDA margin among its peers, and it has proven that it can grow ahead of its markets for years. At some point in time, the tide will turn and headwinds will abate, resulting in an earnings increase that will eventually also be recognized by the market. Already before the Cheminova acquisition, FMC had an attractive portfolio and many promising products in the pipeline. Including Cheminova's offerings, and by having access to a broader range of active ingredients, there are even more options for new product developments.
2015 Results and 2016 Outlook
A look at the 2015 figures reveals that FMC's full-year diluted adjusted EPS from continuing operations came in at $2.47, down from $4.03 in 2014, when the company still owned the Alkali Chemicals business. On an adjusted basis, EPS of $3.18 was 22% lower. Revenue remained almost flat, at $3,277 million in 2015 versus $3,259 million the year earlier.
A look at the Agricultural Solutions segment shows where the issues are. Revenue decreased 23%, from $3,400 million to $2,615 million. Pro forma earnings declined by 28%, from $536 million to $384 million, mainly due to a $293 million currency impact. FMC Health and Nutrition and FMC Lithium, which together contribute around 30% to the company's top line, both reported slightly higher operating earnings.
It is important to stress here that foreign exchange movements alone reduced FMC Agricultural Solutions' pro forma operating earnings by 55%. High channel inventories in the Americas and negative forex effects continue to be the main challenges for 2016. At this point of time early in the season, it is still impossible to predict how the unavoidable external factors in the industry, such as changes in planting pattern, pest pressures or the weather, will play out.
The consequence is that 2016 is unlikely to bring a substantial turnaround, which leaves 2017 as the earliest possible year for a significant improvement. Nevertheless, based on the company's guidance, the worst should already be over. 2016 adjusted EPS is expected to come in between $2.50 and $2.80, slightly above the 2015 figures, and FMC expects modest currency headwinds to remain. Despite the continuous challenges in the agricultural industry and the uncertainty regarding the external factors, this target seems very much achievable.
Another aspect when considering an investment in FMC is that it has the potential to become an attractive income stock in the long run. The company pays a quarterly dividend of $0.165, or $0.66 annually, which corresponds to a yield of 1.5%. It has not increased the dividend with its latest announcement, giving priority to decreasing leverage. FMC's management stated in the FY15 earnings call that the reduction of leverage to the mid 2x-3x was an important goal. After concluding the year with $2.1 billion net debt and adjusted EBITDA from continuing operations of $519 million, the multiple stands at 4x. Nevertheless, I think the chances are strong for dividend growth in the long run. FMC's payout ratio is low - only 27% based on adjusted diluted 2015 EPS - and the company has stressed its intention of increasing cash distributions to shareholders.
A further potential catalyst is the outlook for more consolidation in the agrochemical industry. In light of the Dow (NYSE:DOW)-DuPont (NYSE:DD) merger and ChemChina's pending takeover of Syngenta (NYSE:SYT), the pressure on the remaining industry leaders continues to build. With a market cap of only $6 billion, FMC is a relative bargain, and therefore, it could become an acquisition target as well.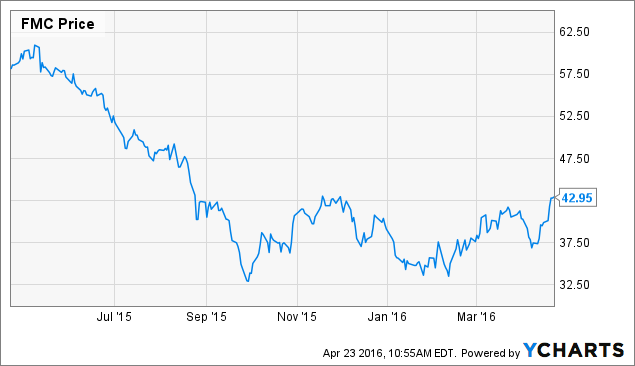 FMC shares have recovered from their lows in October and February and trade 20% higher today. Given the slow recovery of the agrochemical market, there is probably no hurry to buy the stock at today's prices, but if it fell back below $40, I would consider this as an attractive entry point. I believe the shares offer an attractive risk-reward profile, and that investors can expect above-average returns in the long run.
Conclusion
FMC's focus on the agrochemical market and its exposure to Brazil, in particular, have taken their toll, and the company reported lower 2015 earnings. Negative currency effects had a severe impact, but these headwinds will abate at some point in time. FMC is strategically well positioned to benefit from the long-term growth in the crop protection market. Although a quick recovery is unlikely and a substantial turnaround cannot be expected before 2017, I believe the stock remains a promising pick for long-term oriented investors.
Disclaimer: Opinions expressed herein by the author are not an investment recommendation, any material in this article should be considered general information, and not relied on as a formal investment recommendation. Before making any investment decisions, investors should also use other sources of information, draw their own conclusions, and consider seeking advice from a broker or financial advisor.
Disclosure: I am/we are long FMC.
I wrote this article myself, and it expresses my own opinions. I am not receiving compensation for it (other than from Seeking Alpha). I have no business relationship with any company whose stock is mentioned in this article.