If you had a quick look at Nike's (NYSE:NKE) stock chart after they reported their Q3 earnings this year, you would have been forgiven for thinking that the company had a really poor quarter. The stock snapped the momentum that started in early February, right through to the high of around $65 at the time of the earnings call. Since then it's been on a downtrend, and is now trading near the midpoint of its 52-week range of $47.25 to $68.19.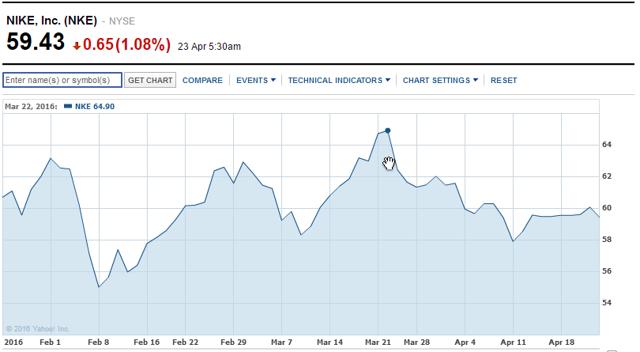 Click to enlarge
It's safe to say that the market gave an "average" rating for their Q3 performance, but if you look a little closer, Nike practically fired on all cylinders except for Converse. In this article, I'll review the Q3 numbers, and the long-term impact of some of the developments that were initiated during the quarter.
Note: All quoted material sourced from Nike's Q3 earnings call, as stated by Nike CEO Mark Parker.
Nike Grows in North America, Western Europe and China
North America, which delivered strong growth in the quarter with revenues up 14%, driven by sportswear, Jordan, Running and Men's training.

Western Europe, our second largest geography which delivered 12% revenue growth in the quarter. It's clear the decisions we made to accelerate the category offense in Western Europe are paying off. As we continue to see momentum driven by sportswear, Jordan, as well as young athletes. We continue to see tremendous growth potential in Western Europe and look forward to the excitement created this summer with the 2016 European Championships.

China grew an incredible 27% this quarter, fueled in part by the continued strength of the NIKE Brand. The success we're seeing in China today stems from decisions we made to align our teams against the biggest opportunities, driving growth in key categories of sportswear, Running, Jordan, and Nike basketball. We are seeing incredibly strong growth in DTC with NIKE.com leading the way.

And successes by our key partners such as Bai Li and Pou Sheng continue to reflect the consumer demand with the reprofiled doors outpacing the rest of the fleet.
The "doors" referred to in the above section are essentially category-based physical stores like Running and so on, where shoppers can not only access this direct-to-consumer channel, but also order from Nike.com right inside the store, and then have the products shipped to them. The "doors" that have been given a facelift have been showing a lot of success, and will likely play a major role in Nike's expansion - especially in China.
All three markets referred to above are highly developed and highly competitive for Nike. Despite considerable headwinds hitting all three economies, consistent double-digit growth across all three regions is testament to Nike's resilience and initiative. If Nike can grow in the order of this magnitude when the GDP is at less than 3%, as well as in China where the GDP is on a steady decline, you know the company is in good hands.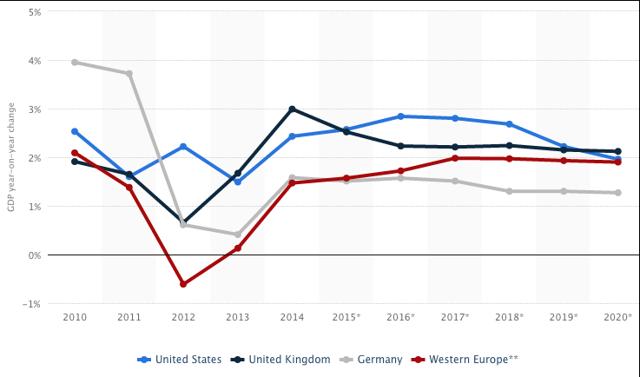 Click to enlarge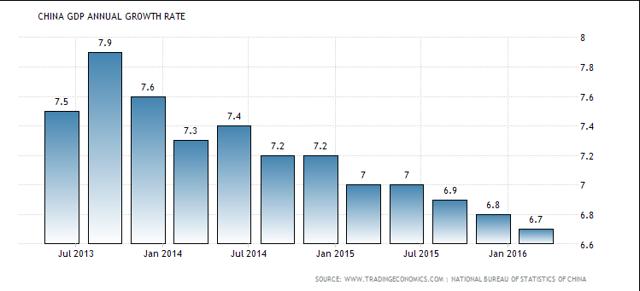 Click to enlarge
Emerging markets seem to on steady ground with potential for growth
Emerging markets, which delivered revenue growth of 11% in the quarter. Strong growth was led by double-digit growth in SOCO, and growth in our key categories such as Sportswear, Running, Global Football and Women's training.

In Brazil, the work we've done to reset the marketplace is paying dividends. We are seeing strong results in retail concepts that we developed with our strategic wholesale partners and our own DTC business continues to accelerate.
Emerging markets are typically weak areas for most U.S. companies, but not for Nike. They stand on the shoulders of four key segments in those markets, and that success has come primarily from Argentina, Chile and Uruguay - traditionally known as SOCO, or SOuthern COne.
The company has also been preparing for the lead up to the Olympics in Rio De Janeiro in August this year, and we should see some strong growth going into the oldest sporting extravaganza in the world. According to the earnings call:
We're headed into the Rio Olympics with plenty of brand momentum. Inventory levels are healthy, our market share is increasing and we've the pipeline of innovative products coming in this Olympics year.
Nike keeps the momentum in their Women's segment
I recently wrote an article on Under Armour (NYSE:UA) and their slowing sales in the women's segment. Nike has gone the exact opposite route in this segment, expanding their sales and marketshare.
NIKE Women's which has seen its 9th consecutive quarter of double-digit revenue growth as the business continues to outpace our Men's business. We've seen consistent growth in our women's business, because we know this athlete is demanding more from brands, across products, across services, and across experiences. And we're there every step of the way throughout that journey, serving her completely through her run, train, and live lifestyle. But we also know that these are no longer separate categories for athletes.
Nike is constantly innovating to provide exactly what consumers want, and women's sports apparel is a kind of showcase segment in that regard. Their Power Speed and Zoned It tights, for example, launched earlier this year, actually enhance muscle control in areas that are highly active when running, such as thighs, hips, calves and the Achilles tendon.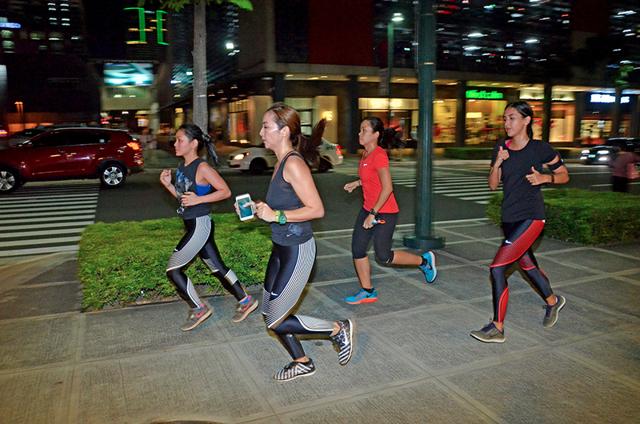 Click to enlarge
Much of Nike's success in women's fitness can be attributed to growth in fitness and health awareness, but a lot of it has to do with the fact that "athleisure" is now becoming a fashion trend in its own right. And Nike, along with Lululemon (NASDAQ:LULU) and smaller companies like Outdoor Voices are taking advantage of this fast-growing demand for active wear among millennial women.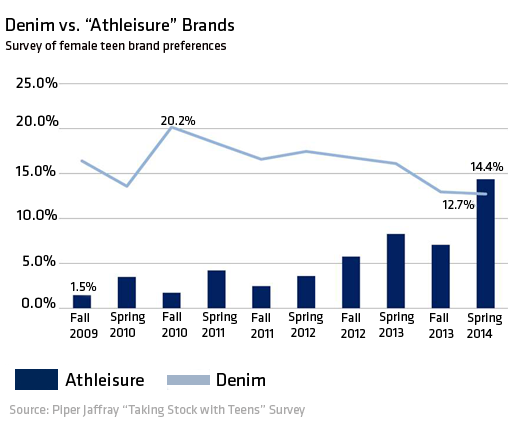 Converse is Losing its Shine
The segment that's hit a roadblock this year seems to be Converse.
At Converse, Q3 revenue declined 5% on a currency-neutral basis, primarily driven by comparisons to a prior year shift in the timing of shipments out of Q4 and into Q3, fiscal year '15. To ensure converse is smooth transition to a new ERP system. On a reported basis, Converse revenue decreased 9% and EBIT decreased 22% versus prior year, driven primarily by the revenue shift, lower gross margin and weakness in the euro.
With the ever increasing presence of brands such as Jordan, and celebrity-centric marketing efforts by Nike, my guess is that Converse - Nike's casual segment leader - is sort of being left to fend for itself from the larger perspective of Nike's high-performance universe. I certainly hope this is not the case.
The company blamed the change in the timing of shipments and transition to a new ERP system for the decline in sales during the first nine months of the current fiscal. To be fair, Converse's revenue has been growing in double digits for the last five years before it hit the road block this year, so it may well be a one-time setback for the brand.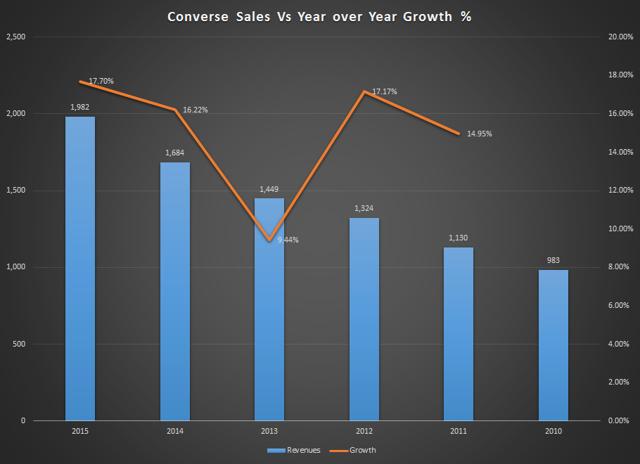 Click to enlarge

Click to enlarge
For now, things seem to be going badly for this unit, but other segments seem to be overcompensating for any losses here.
Investor-speak: Strong Nike, Long NKE
Nike's stated goal is to hit $50 billion in sales by 2020 and, for now, they seem to be on course. Moving forward, the U.S., Western Europe and China will get the bulk of the management's attention - and rightfully so.
The good news from South America and Europe may well be based on seasonal success from the Olympics and football, respectively, but the fact remains that Nike is squeezing everything it can out of every opportunity that presents itself.
The correction after the earnings call may well be your call to invest, in my opinion. Nike is a market stalwart with a leadership position that still holds significant growth potential in terms of market share.
The best way to invest in companies like Nike is to get on a dividend reinvestment plan (NYSEARCA:DRIP) or, in the case of Under Armor, dollar-cost averaging (NYSE:DCA) so you don't have to worry too much about temporary setbacks as the stocks climb higher and higher.
The management team at Nike seems to be very much on the ball. Couple that with Nike's current performance trends and the potential still waiting for them to tap into across the globe, and what you have is a winning combination.
Specifically for both Q4 and the full year, we continue to expect reported revenue to grow at a mid single digit rate, roughly in line with our year-to-date rate of growth.

Accordingly, we anticipate currency neutral revenue to grow in the high single to low double digit range in fiscal year '17, and we expect reported revenue to grow at a high single digit rate due to continued strength of the U.S. dollar. We currently expect EPS to grow at a low teen's rate reflecting continued strong operational performance partially offset by unfavorable FX related impacts.

Further, we expect that our EPS growth will be more heavily weighted towards the back half of fiscal year '17. As we invest in significant brand initiatives early in the fiscal year including the Rio Olympics and the European Football Championships and also due to unfavorable FX comparisons being more pronounced in the first half of the fiscal year. The macroeconomic environment remains dynamic creating both headwinds and opportunities. Accordingly we'll provide an updated look at our fiscal year '17 guidance during our Q4 earnings call.
Thanks for reading. Please follow me by clicking on the follow button on my profile page, or at the top of this article, next to my name.
Disclosure: I/we have no positions in any stocks mentioned, and no plans to initiate any positions within the next 72 hours.
I wrote this article myself, and it expresses my own opinions. I am not receiving compensation for it (other than from Seeking Alpha). I have no business relationship with any company whose stock is mentioned in this article.