Click to enlarge
Important note: This article is not an investment recommendation and should not to be relied upon when making investment decisions - investors should conduct their own comprehensive research. Please read the disclaimer at the end of this article.
BP (NYSE:BP) reported first quarter 2016 operating cash flow of $3.0 billion, more than $0.5 billion ahead of my model estimate. The result compares to ~$2.5 billion operating cash flow for the year-ago quarter and comes despite weaker underlying fundamental indicators. Key commodity price benchmarks - Brent, WTI and Henry Hub - were lower year-on-year. Key refining indicators were also lower. The beat appears to be a reflection of significant cost efficiencies.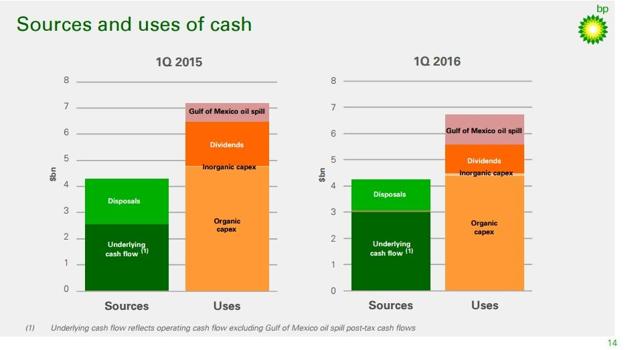 Click to enlarge
(Source: BP, April 26, 2016)
The relatively strong cash flows are a welcome development and indicate that BP is making tangible progress adapting to the low-price commodity environment. Still, the cash flow fell far short of the company's capital spending during the quarter. Asset sales during the quarter provided ~$1.2 billion of additional funds, which, in combination with cash flows from operations, was approximately sufficient to cover the capex. On the other hand, the dividends during the quarter, as well as Gulf of Mexico spill cash charges, were funded off the balance sheet.
BP re-iterated encouraging cost and capex guidance for 2017. The company believes it is on track to hit the $7 billion operating cost reduction target in 2017 (as compared to the 2014 level). It is difficult to estimate the reduction in operating costs in percentage terms on a "same store" basis, given the big reduction in capital spending and asset sales, but it appears that this metric may exceed 15%. For a company of BP's size, cost reductions of such magnitude would certainly be a accomplishment.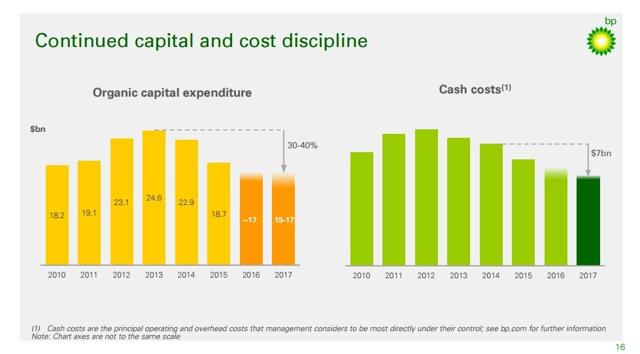 Click to enlarge
(Source: BP, April 26, 2016)
The reductions in capital spending are also significant. BP projects its capex to drop to the $15-$17 billion range in 2017, as compared to $24.6 billion at the peak in 2013. The strong reduction in spending will obviously have consequences for the company's production trajectory. During the five-year period from 2010-2015, BP's capex averaged ~$21.6 billion annually. However, despite this elevated level of spending, BP's oil production volumes (excluding Rosneft but including BP's share in other affiliates) grew only modestly, by ~1.7% from 2012 to 2015. With a lower level of capital spending, BP will struggle to fight off production declines that I expect to arrive within two-three years.
BP's believes that it will be able to balance its cash flows in 2017 if oil prices recover to a $50-$55 per barrel range for Brent. The forecast assumes $2-$3 billion of asset sales in 2017. However, it appears that a higher oil price would be required for the company to be able to cover its reduced capex and dividend payments while delivering sustained production growth, even at a moderate rate, within cash flow. At higher oil prices, supply chain cost re-inflation is likely to become a factor impacting the oil price threshold for sustained production growth.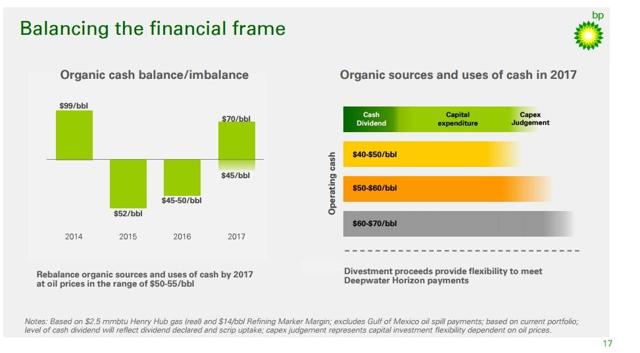 Click to enlarge
(Source: BP, April 26, 2016)
The investment in Rosneft (OTC:RNFTF), which on the surface appears to be a significant asset for BP, continues to disappoint in terms of the cash flow it provides. BP reported its share in Rosneft's dividends for 2015 at less than $0.3 billion. This represents a two-fold drop from the average for 2013-2014. The dividend stream from the investment in Rosneft in 2015 contributed less than 5% of the total dividend being paid by BP to its shareholders.
Moreover, the outlook for Rosneft's ability to increase its dividend remains uncertain due to the company's heavy debt burden and high capital requirements to sustain production. In addition to debt, Rosneft has massive advance payments liabilities that, according to a recent Bloomberg report, may amount to dozens of billions of dollars. According to Bloomberg, with reference to a Sberbank research report, Rosneft bears significant obligations related to funding infrastructure development under the company's oil supply contract with China's CNPC (NYSE:PTR). Rosneft has committed to future oil sales from East Siberian fields to China and has received significant cash advances for infrastructure development from CNPC. Rosneft is now obligated to complete the infrastructure build-out with an estimated cost of $35+ billion. According to Bloomberg's article, Rosneft has also received significant advance payments from international oil trading companies, including BP, for future oil deliveries.
Given that the dividends is the only stream of cash flow that BP receives from Rosneft, the asset's value to BP depends critically on Rosneft's ability to pay dividends. Moreover, BP's recent additional direct investments in Russia (significant asset acquisitions from Rosneft for cash) and cash advances to Rosneft raise a concern that BP's net cash flow related to its Russia position was in fact net negative in the past three years.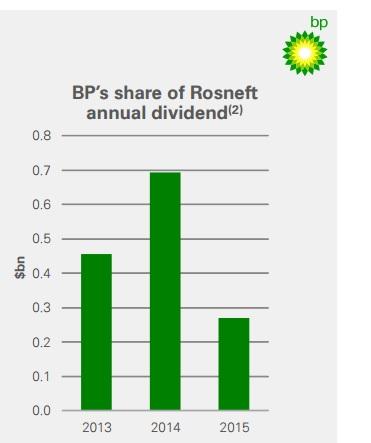 (Source: BP, April 26, 2016)
Implications For The Dividend
In the short term, BP has sufficient cash flow and financial resources to sustain its dividend payments at the current level, in my opinion. However, the persistent weakness in commodity prices and the company's continued strong cash flow deficits are putting pressure on the credit metrics.
As a result, in the medium term, BP's ability to sustain its high dividend payments (7.2% current yield) is predicated on a meaningful, sustained recovery in oil prices. Oil prices below $50 per barrel would raise concerns regarding dividend sustainability. Oil prices above $60 per barrel, on the other hand, would represent a comfort zone for the foreseeable future, although an even higher price levels would be needed for production growth.
For in-depth data and analysis of commodity fundamentals, please consider subscribing to Zeits OIL ANALYTICS that provides analysis of the crude oil and natural markets.
Disclaimer: Opinions expressed herein by the author are not an investment recommendation and are not meant to be relied upon in investment decisions. The author is not acting in an investment, tax, legal or any other advisory capacity. This is not an investment research report. The author's opinions expressed herein address only select aspects of potential investment in securities of the companies mentioned and cannot be a substitute for comprehensive investment analysis. Any analysis presented herein is illustrative in nature, limited in scope, based on an incomplete set of information, and has limitations to its accuracy. The author recommends that potential and existing investors conduct thorough investment research of their own, including detailed review of the companies' SEC filings, and consult a qualified investment advisor. The information upon which this material is based was obtained from sources believed to be reliable, but has not been independently verified. Therefore, the author cannot guarantee its accuracy. Any opinions or estimates constitute the author's best judgment as of the date of publication, and are subject to change without notice. The author explicitly disclaims any liability that may arise from the use of this material.
Disclosure: I/we have no positions in any stocks mentioned, and no plans to initiate any positions within the next 72 hours.
I wrote this article myself, and it expresses my own opinions. I am not receiving compensation for it (other than from Seeking Alpha). I have no business relationship with any company whose stock is mentioned in this article.
Editor's Note: This article discusses one or more securities that do not trade on a major U.S. exchange. Please be aware of the risks associated with these stocks.