Important note: This article is not an investment recommendation and should not to be relied upon when making investment decisions - investors should conduct their own comprehensive research. Please read the disclaimer at the end of this article.
Standard & Poor's Ratings Services just announced that it has lowered Exxon Mobil's (NYSE:XOM) corporate credit and long-term debt ratings to 'AA+' from 'AAA.' The outlook is stable. As a reminder, S&P placed the company's ratings on CreditWatch with negative implications on February 2, 2016. In its rating decision rationale, Standard & Poor's pointed out factors that have been obvious for quite some time: International Oil Majors - such as Exxon Mobil, Chevron (NYSE:CVX), BP (NYSE:BP) and Total (NYSE:TOT) - are not immune to low commodity prices.
Weaker Credit Metrics
Most of the Oil Majors have experienced strong budget deficits, as cash flows dropped but capital spending remained high. In the face of the weakening operating and financial metrics, the Majors have also found themselves under pressure to send assuring messages to their investors - income-focused in big part - that dividends remained safe. The lack of flexibility on the dividend front has exacerbated the cash flow deficits. As a result, debt levels have increased whereas cash flow-based credit metrics deteriorated sharply.
Exxon Mobil's cash flows in 2015 illustrate these challenges. As a reminder, 2015 was characterized by an average spot Brent price of ~$52.30 per barrel. In 2015, Exxon generated cash flow before asset sales of ~$30 billion. However, cash flow from operations was insufficient to fully fund Exxon's capital spending and cash return to investors (which was reduced from prior years). As a result, the company's net debt increased to ~$35 billion as of year-end 2015, the highest level in a decade.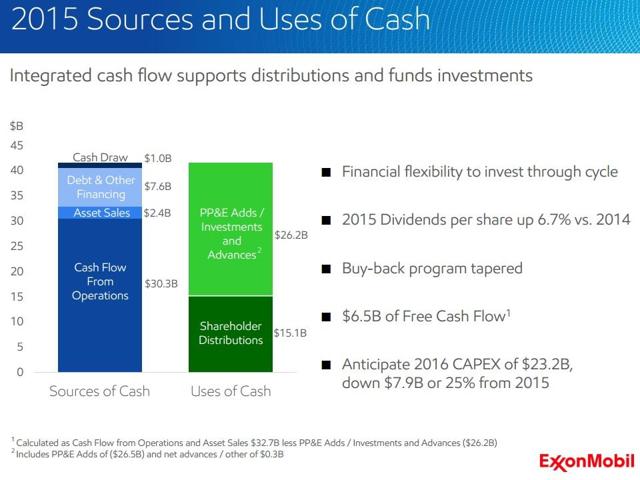 Click to enlarge
(Source: Exxon Mobil, February 2016)
Commenting on its rating decision, Standard & Poor's stated:
We believe Exxon Mobil's credit measures will be weak for our expectations for a 'AAA' rating due, in part, to low commodity prices, high reinvestment requirements, and large dividend payments. The company's debt level has more than doubled in recent years, reflecting high capital spending on major projects in a high commodity price environment and dividends and share repurchases that substantially exceeded internally generated cash flow. Exxon Mobil has reduced capital spending sharply, and will likely benefit from near-term production gains as major projects reach completion. Despite the favorable effect of lower service costs and improved efficiencies, we believe that maintaining production and replacing reserves will eventually require higher spending. As a result, we expect leverage to remain weaker than levels consistent with a 'AAA' rating, and we believe that lowering ratings to 'AA+' is appropriate. Furthermore, we believe the company may return cash to shareholders rather than building cash or reducing debt, limiting improvement in our projected credit measures when commodity prices improve.
Noting its expectation that Exxon Mobil would maintain its policy of "low leverage and responsible capital stewardship," Standard & Poor's highlighted other risks that will likely continue to characterize the company's business strategy: the rating agency expects Exxon Mobil to continue to undertake "large-scale, long-lead-time projects in politically challenging environments and to periodically make large acquisitions." While recognizing Exxon Mobil's long history of making such large investments and acquisitions "in a fiscally prudent manner," the agency obviously sees these aspects of the company's business model as credit risks.
Let's make no mistake, the AA+ rating is still pristine and reflects Exxon Mobil's strong cash flow and asset-rich portfolio. The company's rating remains the highest in the peer group. That said, S&P's downgrade is a reminder that Exxon Mobil is first and foremost an oil producer and, therefore, faces the same challenges as its smaller competitors.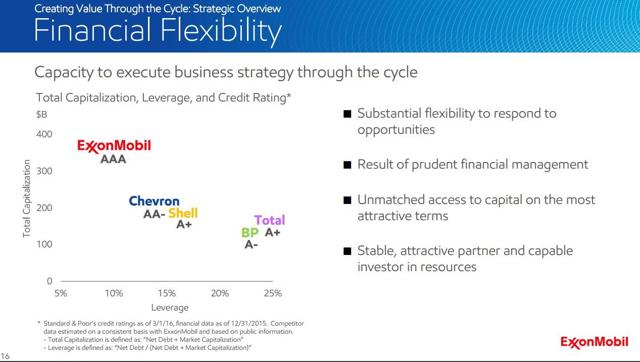 Click to enlarge
(Source: Exxon Mobil, March 2016)
The current downturn puts the Majors' business model to a test. In an environment where oil supply is no longer scarce, producers have to prove that their cost structure is competitive and they can generate adequate returns on new investments. Benchmarks for comparison are challenging.
On one side, the Majors compete with nimble North American E&P independents who have been able to dramatically reduce the cost of supply from oil shales by high-grading their drilling inventories and taking advantage of the 30%+ supply chain re-pricing. The independents also have much greater flexibility to react to changes in commodity prices by adapting their spending plans. The Majors' cost structures have not changed nearly as significantly and their flexibility to change capital spending is limited.
On another side, the Majors compete against national oil companies, many of which can produce oil profitably even at very low price levels. While over the previous decade many leading oil exporters have gotten used to $100+ per barrel oil, their cost to producer and deliver oil to consumers remains a fraction of the Oil Majors' cost.
The rapid curtailment by the Majors of their capital allocations to Deepwater - which has been one of their most important growth opportunities - is a clear indication that the Majors are struggling to generate adequate returns on new capital in the current environment. The Majors face a difficult choice: they can take the risk of continuing to invest (and generating poor or negative returns in the event commodity prices remain low for an extended period of time) or they can sharply reduce spending and see their production decline. From a value perspective, the first choice appears to be the prudent course. However, the Majors' flexibility is reduced by the multi-year nature of their developments.
Rating Risks Remain
Commenting on its rating decision, Standard & Poor's indicated that it expects Exxon Mobil to maintain FFO / Debt ratio above 60% and Debt / EBITDA ratio below 1.5x. Using year-end 2015 data, these thresholds appear to provide significant headroom. However, in a sustained low-price commodity environment, the borrowing capacity they afford may evaporate rapidly, which would put Exxon Mobil before difficult choices. As one can see from the slide below, Exxon Mobil's cash flow from operations before asset sales for Q4 2015 contracted to just $4.3 billion, or ~$17.2 billion on an annualized basis. The first quarter of this year is expected to be equally challenging, based on indicators for commodity prices and refining margins.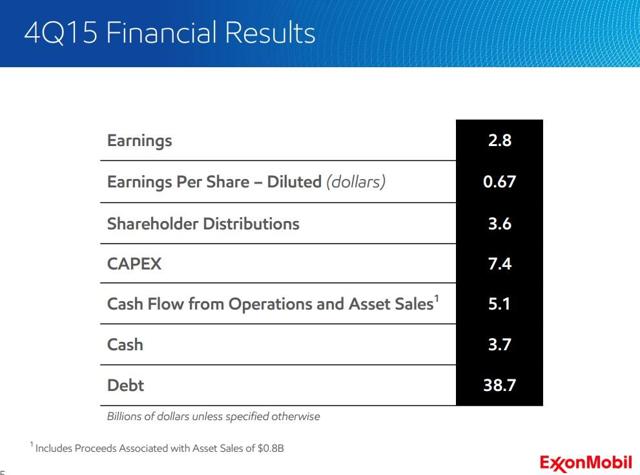 Click to enlarge
(Source: Exxon Mobil, February 2016)
Standard & Poor's decision sends a clear message that the agency will not make any exceptions and will downgrade credits according to its ratings criteria if the Majors' metrics continue to deteriorate.
If a meaningful recovery in oil prices fails to materialize, Exxon Mobil's credit ratings (and other Majors' ratings, for that matter) cannot be taken for granted. The rating agency will watch the Majors' progress in reducing costs and cutting capital spending. Cash returns to shareholders beyond internally generated cash flow also becomes a significant risk factor from a ratings perspective. Leveraging acquisitions will be closely scrutinized.
Exxon Mobil's potential ability to take advantage of the current downcycle to pursue asset acquisitions at attractive prices is often viewed as the company's important strategic strength. In reality, credit rating considerations may limit the company's ability to acquire growth assets on a scale that would make a difference.
For in-depth data and analysis of commodity fundamentals, please consider subscribing to Zeits OIL ANALYTICS that provides analysis of the crude oil and natural markets.
Disclaimer: Opinions expressed herein by the author are not an investment recommendation and are not meant to be relied upon in investment decisions. The author is not acting in an investment, tax, legal or any other advisory capacity. This is not an investment research report. The author's opinions expressed herein address only select aspects of potential investment in securities of the companies mentioned and cannot be a substitute for comprehensive investment analysis. Any analysis presented herein is illustrative in nature, limited in scope, based on an incomplete set of information, and has limitations to its accuracy. The author recommends that potential and existing investors conduct thorough investment research of their own, including detailed review of the companies' SEC filings, and consult a qualified investment advisor. The information upon which this material is based was obtained from sources believed to be reliable, but has not been independently verified. Therefore, the author cannot guarantee its accuracy. Any opinions or estimates constitute the author's best judgment as of the date of publication, and are subject to change without notice. The author explicitly disclaims any liability that may arise from the use of this material.
Disclosure: I/we have no positions in any stocks mentioned, and no plans to initiate any positions within the next 72 hours.
I wrote this article myself, and it expresses my own opinions. I am not receiving compensation for it (other than from Seeking Alpha). I have no business relationship with any company whose stock is mentioned in this article.