Author's Note: Subscribers to Income From Covered Option Writing received an advance look at this material.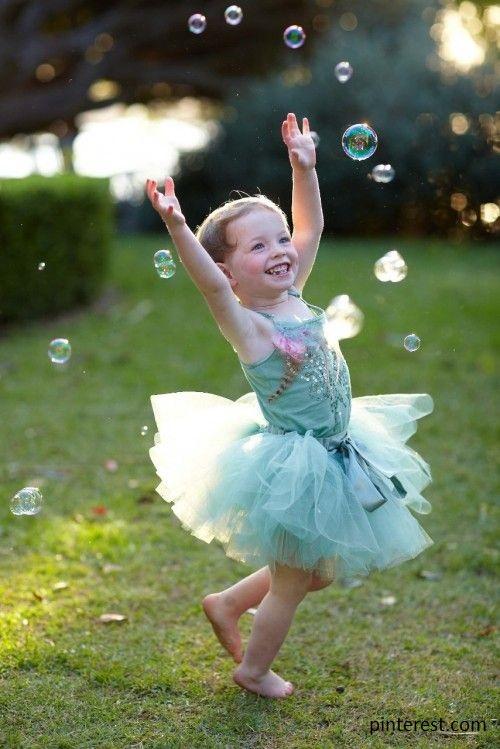 Children love bubbles. A bubble is often viewed as a thing of beauty. We seem to be naturally attracted to them for their buoyant playfulness as they float higher and higher, seeming to defy gravity. Some bubbles end in a bust, some can persist, even to form our universe, now 13.8 billion years old and with eons. In financial markets, bubbles may attract momentum players, but end in a burst or evaporate.
Company: McDonald's Corp. (MCD)
Current Price: $127.71
Dividend: $3.56 (2.79%)
Fair Value: YDP (@3.2% yield trend): $111.25
Price/FCF: $109.44
DCF model: $86.74
Peter Lynch: $77.80
Prior Research by Author:
Value analysis & Appraisal:
Benjamin Graham number and Robert Schiller ratio are metrics well known to value investors. Until 2013, MCD shares correlated with the Graham value for them. For the past 4 years, this has not been true, with shares trading at far higher multiples. The shares have also traditionally traded far higher than the Schiller ratio value.
A look at traditional value metric historical trends reveals that all the five presented show a reasonable correlation to share price. This is seen by the fact that the values have a general flat horizontal trend (constant, or confined range of value per dollar or a horizontal trending range).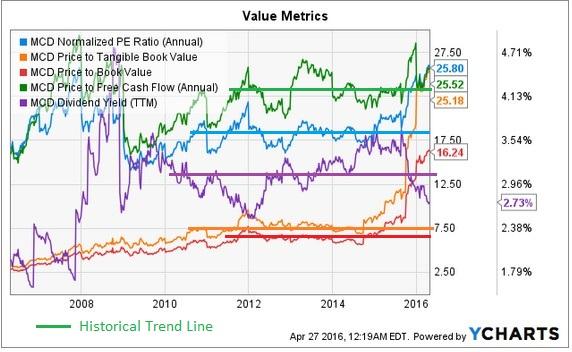 Since the close of 2014, the price to book ratios (previously very strongly correlated in a narrow flat trend range) have soared. This is possibly a reflection of the restructuring plans to return to the traditional franchise model; which will free a lot of cash from the tangible assets now locked up in property and equipment.
The extreme rise in the Normalized P/E ratio, which historically was strongly correlated to price in a narrow value range at about 18, has risen sharply to 28.8. This indicates buyers are currently paying 60% more per dollar of earnings than they have historically. Can this be justified by the planned restructure to franchisee owner model? Perhaps so. However, it makes no sense to pay now for anticipated (current blue sky) results, which will not be confirmed for 2 to 5 years (if ever). Fair Value based on the historical P/E trend is about $80.00. If you double a penny every day, in 29 days, you will have $2 billion. However, it is only worth a penny today!
The Price/FCF ratio, historically at about 22, is currently elevated at 25.52, about 16% overvalued. Fair value at historical P/FCF trend levels is about $110.00.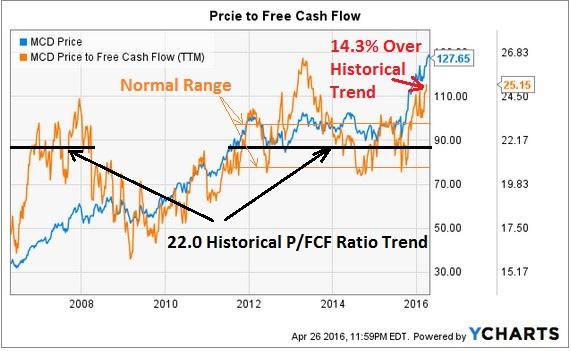 The dividend yield is simply the ratio of Dividends/Price, the 3 variables Y (yield), D (dividends), P (price) being linked by the mathematical ratio Y = D/P. This is the basis of YDP value analysis & appraisal. Yield has been dropping rapidly due to the share price rising far faster than increases in dividend distributions. Given the historical yield trend of 3.20%, the current fair value price for the $3.56 annual dividends should be $111.25, 12.89% below the present market price.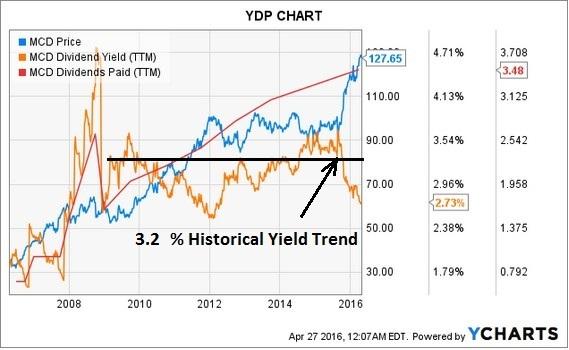 It is readily seen from this analysis and appraisal of value metrics that a value based price above $111.25 cannot be justified at this time. There well may be other reasons to pay more for the shares based on future blue sky expectations, momentum or other crystal ball gazing. However, any such higher prices are not value-based at this time.
The Outlook
Shares can be said to be in a price bubble at this time, trading well above fair value. This does not necessarily mean that a burst and crash is imminent or will occur at all. Continued growth of free cash flow per share and increases in dividend distributions, while share prices consolidate in a sideways drifting range for a few quarters, could allow prices and these value metrics to return to a balance with historical ratio trends.
I hope you have found this look at value metrics and how to determine fair value from them to be useful. I invite you to follow me to get notices of each of my new articles as they publish. Simply click the appropriate box at the bottom of this article.
If you would like a copy of my premium subscription research reports for MCD as referenced in this article, simply message me with your email address and I will send you a .pdf copy of these materials from the Income From Covered Option Writing program. You will find an index to all of my public articles at this link.
Disclosure: I/we have no positions in any stocks mentioned, and no plans to initiate any positions within the next 72 hours.
I wrote this article myself, and it expresses my own opinions. I am not receiving compensation for it (other than from Seeking Alpha). I have no business relationship with any company whose stock is mentioned in this article.