Honeywell International Inc. (NYSE:HON) is among those companies that have the potential to generate sustainable growth even in a challenging market environment. The company's business model is broadly diversified and is not dependent on any individual product, service or geographic area. Its business fundamentals are strong, since its end markets are immune to the recent whims of the economic environment.
In our recent article, we suggested investors should hold on to this stock, in light of its innovative technologies and smart business strategies. We predicted that the company's share price had significant upside potential and that its dividends could grow at a high single-digit rate. Honeywell's latest results for the first quarter of this year have only affirmed the accuracy of our opinion.
The company's strategies of expanding its footprint, diversifying its product portfolio, and investing in growth opportunities have been working. Its earnings per share have increased by 9% to $1.53; this approaches the high end of the company's recent guidance. Its consolidated sales of $9.5B represent a 3% growth over its $9.2B sales from the same quarter a year ago. In addition, its largest business segments - Aerospace and Automation and Control Solutions -providers of 75% of the company's overall revenue, are both growing at a considerable rate.
Honeywell is working under a smart strategy of attending to customer feedback when developing new products. Its sourcing organizations and its factories continue to mature, and the company continues to re-engineer its products in pursuit of less costly manufacturing.
Recently, Etihad Airways selected Honeywell's Aviaso business, which provides software to track and analyze fuel efficiency. In addition, Honeywell's recently acquired COM DEV, a part of its Defense and Space business, recently launched its world-leading ferrite technology on the European Space Agency's Sentinel 3A satellite.
Honeywell has remained highly disciplined in its participation in growth opportunities. It has invested billions of dollars to acquire small companies that align with its business model. In Q1, it completed three acquisitions, including the additions of Xtralis and RSI Video Technologies to its Security and Fire business and Mobilizer to its Sensing and Productivity Solutions division.
To top it all off, the company has been aggressively reducing its outstanding shares, a strategy designed to provide a massive boost to its share price, its earnings per share, and its dividends. In Q1, Honeywell repurchased more than $1B of outstanding shares, and it plans to increase its buyback program in the coming quarters.
On the back of its successful strategies and innovative technologies, the company has recently raised the low-end of its full-year earnings guidance by 10% to $6.70 a share. In addition, HON is expected to post $4.6B of free cash flows and its dividend payments are expected to be around $1.7B. The company will have plenty of room to realize ongoing double-digit growth in its dividends, thanks to a huge gap between free cash flows and dividend payments.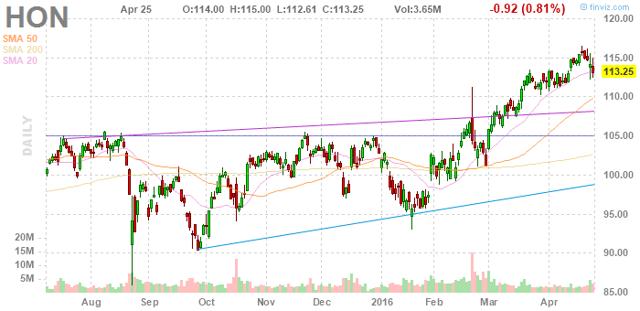 Click to enlarge
HON's share price has soared by 17% in the past three months, bringing its stock up almost 10% Y/Y. Recently, Deutsche Bank upgraded its price target for HON to $120 a share. The company's share price appears undervalued in my opinion, compared to its future business fundamentals and its approaching double-digit growth in earnings. Despite its recent rally, HON's stock still looks undervalued based on its price-to-earnings ratio of 18, since the industry average is around 36.
Shorting Honeywell following its huge appreciation over the last few months is not a good strategy in my opinion; the company is poised to provide a strong financial and operational performance in the coming days. Honeywell's business fundamentals are strong and its end markets are not depressed, despite micro-environment headwinds. The company is only exposed to currency headwinds, which are always deemed to be short-term in nature. Overall, I believe the company's stock is set for a fresh rally, following its strong first quarter results and its expected growth in earnings.
Disclosure: I/we have no positions in any stocks mentioned, but may initiate a long position in HON over the next 72 hours.
I wrote this article myself, and it expresses my own opinions. I am not receiving compensation for it (other than from Seeking Alpha). I have no business relationship with any company whose stock is mentioned in this article.