A nasty after-hours session Tuesday set the tone for today's downward pitch in trading long before the day even began and it appears we'll see the follow-through in the early going. But there are glimmers of hope elsewhere in the markets-watch crude-oil prices-that investors may want to focus on.
Big-name stocks like Apple (OTC:APPL), Twitter (NYSE:TWTR), and Chipotle (NYSE:CMG) are taking deep dives after disappointing investors by falling short of Q1 earnings estimates and serving up tepid Q2 outlooks. Will stocks be able to make it through earnings season?
That's a heady question when it comes to heavy-weighted Dow components like AAPL, which lost more than 8% of its value-equivalent to a whopping $46 billion in market capitalization-after it missed Wall Street's expectations across the board.
The pressure on all three major benchmarks was evident in early trading, mostly stressing the Dow (DJIA) and tech-heavy Nasdaq (IXIC). While the DJIA swings certainly affect trading, let's remind ourselves that the Dow is only 30 components and the S&P (SPX) has 500. It too is sliding, but at a much lower rate. Safe-haven gold and silver edged higher. What's more, crude oil is on a streak, rising better than 45% from its January lows as inventories dwindle, albeit slowly.
What else might weigh on markets today? The Federal Reserve's decision, due early this afternoon, on whether to raise interest rates. The CME's FedWatch tool is still firmly at zero chance of that happening but investors will be listening closely to hear how the dove-hawk sentiment is shaking out.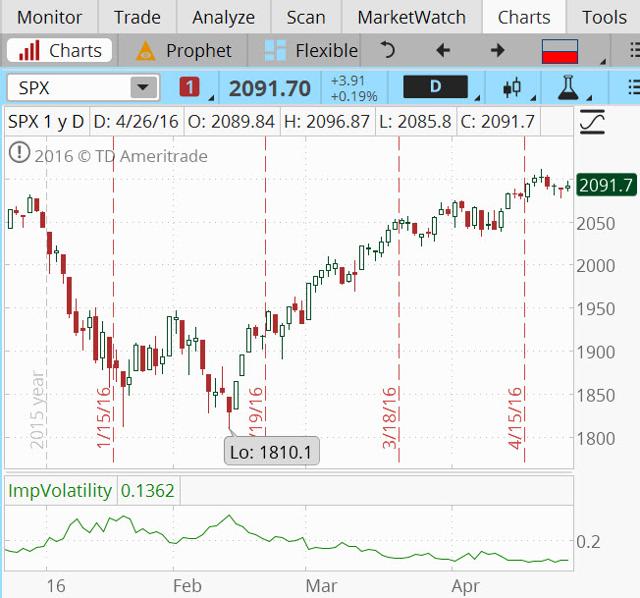 Click to enlarge
Figure 1: Inching Back Up. The S&P 500 (SPX), plotted through the end of Tuesday on the TD Ameritrade thinkorswim platform, inched up on its path to touch this year's highs again. Data source: Standard & Poor's. For illustrative purposes only. Past performance does not guarantee future results.
A Good Buyback for Apple? Apple disappointed Wall Street by missing earnings expectations and delivering its first-ever drop in iPhone sales Tuesday but managed to up its stock buyback program by another $35 billion to $174 billion this go-around. When all is said and done, AAPL says it will have shelled out $250 billion by March 2018 to reduce the number of outstanding shares on the market, which should add value to investors' shares. Considering the 8%-plus drop in share price since earnings were announced, it appears that AAPL could get a bigger bang for its buck.
Despicable Shrek? Can Shrek and Despicable Me live together? They might have to if reports are true that Comcast (NASDAQ:CMCSA) is in talks to fork over more than $3 billion to bring DreamWorks Animation (NASDAQ:DWA) to its corporate stable. The Wall Street Journal reported late Tuesday that, though a deal is far from imminent, the exploratory purchase price represents a "healthy premium" over DWA's current market value of $2.3 billion.
Exxon's Perfect Score Blemished. The oil bust appears to have ruptured into a burst for Exxon (NYSE:XOM) when Standard & Poor's Ratings Services knocked the perfect triple-A credit rating-something its held for more than 60 years-down a notch to double-A-plus. That leaves only two companies, Microsoft (NASDAQ:MSFT) and Johnson & Johnson (NYSE:JNJ), as the lone rangers of perfect ratings.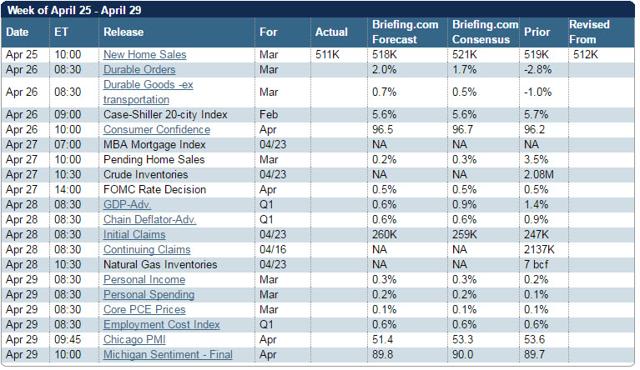 Click to enlarge
Figure 2: Economic Agenda. This week's U.S. economic report calendar. Source: Briefing.com.
TD Ameritrade® commentary for educational purposes only. Member SIPC.
Disclosure: I am/we are long AAPL.
I wrote this article myself, and it expresses my own opinions. I am not receiving compensation for it. I have no business relationship with any company whose stock is mentioned in this article.
Editor's Note: This article discusses one or more securities that do not trade on a major U.S. exchange. Please be aware of the risks associated with these stocks.