London based BP (NYSE:BP), which recently faced a major shareholder revolt at the company's annual meeting, has released its quarterly results in which its profits fell significantly as oil prices touched multi-year lows, but the worst might be over.
BP posted a net loss of $583 million compared to a profit of $2.8 billion a year earlier. Excluding the impact of one-off items and inventory changes, BP's profits slumped 80% from a year earlier to $532 million. But that was considerably better than analysts' consensus estimate of a loss of $244.9 million. The company also made $1.1 billion payment related to the deadly Deepwater Horizon oil disaster in the Gulf of Mexico.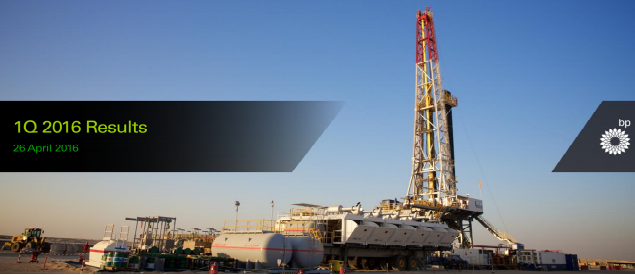 The first three months of this year was always going to be a tough one for BP since Brent oil price, which touched 13-year lows earlier this year, ended up averaging just $34 per barrel in the first quarter, down from $54 last year. The downstream or refining business, which typically performs better in the downturn and makes up for the losses at the upstream or exploration and production business, was also expected to struggle with weak margins and seasonal drop in fuel sales. Analysts' expectations were already pretty low, and BP ended up handily beating those. But the fact that the company remained profitable was encouraging and highlights the strength of the company's refining business.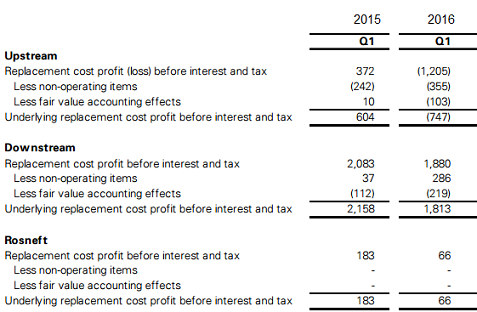 Amount in US$Mn
As expected, the upstream business bore the brunt of oil's collapse. The company's production, excluding Rosneft (OTC:RNFTF), climbed 5.2% from last year to 2.4 million boe per day. Total production, including Rosneft, clocked in at 3.5 million boe per day. But due in large part to lower realized prices for oil and gas as compared to last year, the upstream business swung from an adjusted profit of $604 million to a loss of $747 million. BP's share of profits from Rosneft dropped from $183 million last year to $66 million.
Meanwhile, adjusted profits at the downstream segment fell from $2.15 billion to $1.81 billion a year earlier, driven in large part by 27.8% drop in profits at the fuels business to $1.3 billion. The company's global refining margins averaged just $10.50 per barrel in the first quarter, down from $15.20 a year earlier, thanks to soft demand for diesel and strong levels of gasoline inventories in the US.
But overall, the decline in refining profits can be attributed to a weak business environment as opposed to any operational issues. In fact, BP's refining operations remained strong, with no meaningful drop in throughput volumes and improvement in availability from 94.3% a year earlier to 95% in the first quarter.
Meanwhile, BP continues to focus on cost cutting measures. The company, which slashed capital budget thrice in 2015 to $19 billion, now expects to spend a total of $17 billion in the current year. That's inline with the low-end of its previous estimate of $17 billion to $19 billion. Moreover, if oil prices continue to stay weak, then BP says that it can further reduce capital spending to $15 billion.
The company's aggressive cost cutting measures and efficiency programs seems to be working. BP is now eying cash flow neutrality in a $50 to $55 a barrel oil price environment by next year. In other words, at that price level, BP expects to generate enough cash to fully fund its capital expenditure and dividends. That's a significant shift from last year when BP predicted cash flow neutrality at $60 oil.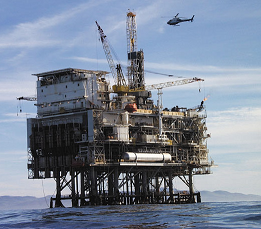 The oil spill payments, however, threaten cash flows, but BP expects to fund those mainly with asset sales. We got a glimpse of this in the previous quarter when the negative impact of spill payment on cash flows was completely offset by asset sales of $1.1 billion. The company expects to sell $3 billion to $5 billion of assets this year and around $2 billion to $3 billion in each year thereafter.
Meanwhile, earlier this month, a US District Court approved BP's $20.8 billion settlement with the US government and the Gulf states. That has substantially removed the uncertainty around how the oil spill might financially impact BP. The company itself has said that most of the costs from the accident are now known. That should have a positive impact on BP stock moving forward. The total pre-tax charge now stands at $56.4 billion, after including $917 million set aside in the previous quarter.
On top of this, it appears that BP may have bottomed and could report improvement in profits in the coming quarters.
The oil price environment has already improved since the first quarter, with Brent largely hovering north of $40 a barrel in April, higher than the previous quarter's average of $34 a barrel. Moving forward, BP expects demand to increase by 1.4 million barrels a day this year while supply is expected to be flat at best, with declining US production and inability of other major producers to meaningfully ramp up output from the current levels. The drop in supplies could be offset by increase in Iranian exports, leading to flat level of oil flows. The markets will slowly move into balance, according to BP, by the end of the year. I believe this could help oil price find support in $40 to $50 a barrel. An eventual drawdown on crude oil stockpiles could push prices higher. But even stability in oil prices around this level should lift the earnings of BP's upstream business, as compared to the first quarter.
Meanwhile, the refining margins are projected to improve in the second quarter as compared to previous one due to seasonal factors and uptake in turnaround activity in the US. BP's refining margins have already averaged $12.70 in the first few weeks of second quarter and could improve further in the future. That should have a positive impact on downstream earnings.
Conclusion
BP has reported a massive decline in profits which may appear disappointing. Though it beat the consensus estimate, but the market's expectations were already pretty low. The company, however, has managed to lower the cash flow neutrality level to $50s. The uncertainty around the Gulf of Mexico oil incident, which has weighed heavily on BP stock, has all but disappeared. Moreover, the company's upstream and downstream earnings could recover in the second quarter on improving oil prices and higher refining margins. For BP, the worst might actually be over.
Disclosure: I/we have no positions in any stocks mentioned, and no plans to initiate any positions within the next 72 hours.
I wrote this article myself, and it expresses my own opinions. I am not receiving compensation for it (other than from Seeking Alpha). I have no business relationship with any company whose stock is mentioned in this article.