Over the past week or so, Transocean (NYSE:RIG) came out with a couple of pieces of news that, in my eyes, are bullish in nature. Following true to my passion of keeping up with the enterprise, I decided that it would be a wise idea to dig into the numbers and see what the picture for Transocean looks like today and what this implies for long-term investors in the business down the road.
New contracts!
On April 21st, management announced that it had landed some new contracts. The first of these was a three-year contract for the Actinia at a dayrate of $101,000 per day. Over the course of that three-year period, Transocean believes the contract will be worth around $111 million in revenue. The second contract involves the Deepwater Invictus, which has been committed to drilling two wells in exchange for an estimated $28 million for the business. Finally, Transocean also arranged for a six-month contract for its Dhirubhai Deepwater KG2 but management has chosen not to disclose the location or dayrates of that rig. Because of this, any rigs for which this data is not disclosed are not included in my analysis below.
And a break for once!
In addition to landing some new contracts recently, management also made a statement last week regarding two of its Ultra-Deepwater Drillships. Originally, one of these units was due to be delivered in 2019 but management arranged the final delivery to be pushed back to the first quarter of 2020. As part of this, the final payment for the company, totaling $467 million, has also been pushed back. Meanwhile, the second unit has been pushed back from early 2020 to the third quarter of 2020, delaying a payment there totaling $458 million by a few months. As you will see in the analysis below, this could have a positive impact on Transocean's probability of survival.
A look into the future
By taking the most recent data available by management, I was able to create the table below, which shows the cost structure of Transocean over the past few years. Based on this data, you can see that management has done a great job in reducing costs and part of this change is attributable to the fact that when rigs come offline and are either stacked or idled, the cost of operating them decreases tremendously. It is by taking the average of 2015's quarterly data (after making the necessary adjustments) that I will be forecasting the entity's cash flow for the next few years.

Click to enlarge
In the next table below, you can see the cash flow position of Transocean between now and the end of 2019 if the current environment does not improve and if it also does not deteriorate (either of which would easily happen, especially the former). What you can see from this is that the overall trend for Transocean from a revenue perspective is quite bad but overall cash flow is still positive. For instance, without factoring in maintenance capex and newbuild capex, the company should see cash flow in 2016 of around $813.45 million, followed by $613.26 million in 2017. 2018 begins to see things fall quite a bit, when the company should generate cash of just $320.62 million, followed by 2019, which should see a decline to just $111.94 million.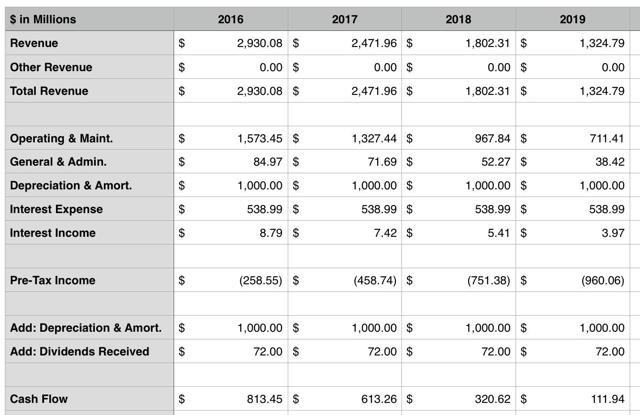 Click to enlarge
At first glance, it seems as though Transocean has plenty of time to wait around for a recovery but we need to be cognizant of two other costs in the pipeline. The first is maintenance capex, which I've pegged at around $200 million per year (though this should, in theory, fall as more rigs are stacked and idled), which is a mandatory expense in order for the company to operate. Even this guarantees positive cash flow through 2018 but then you need to consider the second item, which is the amount of cash management needs to dish out for its new rigs. This brings the cash flow position of the entity down to -$719.55 million this year, followed by a modest inflow of $90.26 million next year. Meanwhile, both 2018 and 2019 should see significant outflows.

Click to enlarge
This picture may look terrible and it's certainly not pleasant, but we should also consider Transocean's liquidity position. At the end of 2015, cash and cash equivalents for the business came out to $2.34 billion and the company also had $3 billion in untapped capacity on its revolving credit facility. If you add in the deal whereby management can more or less force Transocean Partners (NYSE:RIGP) to buy into some of Transocean's rigs, liquidity can still rise by at least $1.67 billion, bringing total liquidity to $7.01 billion.
Even if you make the assumption that Transocean must buy back all debt due between now and the end of 2019 using its liquidity and if you figure that no existing contracts will be cancelled and that no new contracts will come online, maximum cash outflow during this period would be $4.41 billion. If Transocean were to keep its ownership in existing rigs, it would still have extra cash on hand totaling $930 million by the end of 2019 if management elected to tap out the credit facility.
Takeaway
At this moment, a lot of interesting things are going on with Transocean but they seem to be more favorable as of late. With new contracts coming online and the company's financial position strong, there seems to be little to worry about that comes to my mind unless something really bad were to transpire (such as contracts being cancelled en masse or management committing fraud).
Disclosure: I am/we are long RIG.
I wrote this article myself, and it expresses my own opinions. I am not receiving compensation for it (other than from Seeking Alpha). I have no business relationship with any company whose stock is mentioned in this article.
Additional disclosure: My long position is in the form of call options that expire in January of 2017, not shares. I may buy shares in RIG or RIGP at any moment.