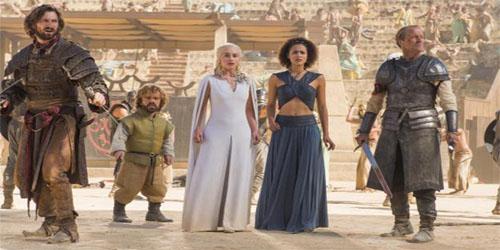 On Sunday night HBO (NYSE:TWX) invited audiences back to the seven kingdoms of its Emmy-winning smash hit series Game of Thrones. This year's season premiere may have been the most anticipated of any of the ones that came before, due in no small part to the shocking twist that ended season five.
For those of you who don't watch the show I'll refrain from going into spoilers, but let's just say it was a big deal. Although what we are seeing from the show's ratings is also important and speaks to a larger conversation about the media industry.
The season six premiere was watched by roughly 8 million people and scored a 18-49 demo rating of 4.2. Now those are just the linear traditional viewings, which on paper should be impressive regardless. Yet this is Game of Thrones and expectations are amplified.
If you look at the year-to-year numbers the show actually returned down roughly 1%. However, if you add in encores and more importantly the streaming numbers, now you're seeing a sizable increase. In total the new viewer count becomes 10.7 million, which tops the previous record set by the most recent season finale, which had 10.3 million viewers.
Simply put, HBO's shift toward inviting streaming audiences into the fold made a difference here and that's important, because this is the first year Thrones has NOT seen an initial rise in audiences from the traditional method. Yet because its overall count is up, the headlines are all positive which is all investors really want to see.
It's important to keep in mind that Thrones isn't the only mega-watt series seeing dips where there previously were none. Fellow juggernaut The Walking Dead is also seeing its linear numbers decline and when it happened to them at the start of its just wrapped sixth season, parent company AMC Networks (NASDAQ:AMCX) saw its stock take a hit as well. Time Warner Investors were likely relieved to see shares were relatively unmoved on Monday (in fact they were slightly up).
Now the real story will come later this week when the +3 and eventually the +7 numbers come out as those will tell more of a tale and likely goose the results even higher. Given that Game of Thrones is the most pirated show on television, the goal with this premiere was to give audiences every (legal) opportunity to see the episode. Last weekend was even one of the network's free preview weekends where everyone is given access to its programming, though ratings from non-subscribers were NOT included in the above data.
To me it's fascinating that both The Walking Dead and Game of Thrones are having these ratings situations crop up at exactly the same time in their life-spans. However, what gets lost in the shuffle is that both shows are also seeing strong +3/+7 bounces. Still that's surprising given the shows fall under the "watch now or risk being spoiled" umbrella. Yet that's a sign of the times and the overall change in viewing habits.
Even more of note is the global appeal of the series. This is especially true of Thrones which posted roughly 2.2 million viewers in the UK, which is the biggest overnight audience for any UK show ever. That's even more impressive given the UK simulcast aired at 2 am, and 1.4 million of those viewers noted above tuned in at that time. (And just because I think it's cool to note, 2.2 million was also the same number of viewers that originally tuned into the first ever episode back in 2011).
The truth though is HBO is at a crossroads right now and its executive team can't settle for steady, even if other networks would kill for that type of stability. It needs these milestones to draw in subscribers as those types of stories get more attention. Given HBO's latest drama Vinyl isn't getting the same buzz as hoped and its next big swing Westworld has been constantly delayed, the pressure on Thrones is greater than usual.
Remember, heavy is the head that wears the crown. And the crown doesn't have the same firm perch on HBO's head it once did with the growth of Netflix (NASDAQ:NFLX) and the recent success of Showtime, Starz and Amazon (NASDAQ:AMZN) (among others).
It's partly the reason why HBO has put such a heavy emphasis on exclusive content for its streaming platforms. The idea of content like a Game of Thrones after-show being available off-network brings more value to the overall network and value is the name of the game.
Investors need to be aware that for HBO, AMC and the other media heavyweights, the battle for viewers is getting harder and that means the rules of engagement are likely going to start to shift… again.
Image credit: HBO
Disclosure: I/we have no positions in any stocks mentioned, and no plans to initiate any positions within the next 72 hours.
I wrote this article myself, and it expresses my own opinions. I am not receiving compensation for it (other than from Seeking Alpha). I have no business relationship with any company whose stock is mentioned in this article.