Introduction
Quad/Graphics (NYSE:QUAD) is a provider of print and media solutions to large enterprise customers. Along with the typical print services, Quad produces specialty-printing products and a host of complementary services which it tries to upsell through the primary printing function. The company started off as a family business in 1971, and grew to one of the largest printing operations in the U.S., landing high-volume and high-profile clients like Newsweek and National Geographic. The company is currently run by the founder's son, Joel Quadracci, and the Quadracci family has 80% voting control due to the class B stock structure.
QUAD provides print and related services to some of the biggest publications in the world, including Newsweek, National Geographic, Conde Nast, Time and other big names. Given that demand for print materials is in a secular decline and excess printing capacity continues to persist in the U.S., the company has grown in recent years mainly through serial acquisitions in hopes of generating operating synergies and cutting costs to generate free cash flow.
Although QUAD appears to be printing large amounts of free cash flow, a more detailed examination of its financials reveals rapidly declining cash flows and recurring cash restructuring charges. These have largely been obscured by one-time adjustments which will be shown later. Also, revenue growth is due to a decline at a much steeper rate excluding one-time boosts from acquisitions, and management is doing a mediocre job of integrating acquired assets, with margins staying stagnant despite claiming to have achieved the promised synergies.
Aside from company-specific problems, the industry continues to struggle as severe headwinds prompted larger competitor RR Donnelley & Sons (NASDAQ:RRD) to announce a spin-off into three separate entities - we think this is an omen for increased headwinds as the roll-up strategy hasn't worked for consolidators in the commercial printing space due to persistent overcapacity, shrinking demand and higher postage fees.
On a range of conservative assumptions, QUAD appears slightly undervalued on a discounted cash flow (DCF) valuation, although the margin of safety is insufficient given the risks highlighted. If QUAD's share price falls further and free cash flow figures stabilize, the company could potentially be worth the price. At current levels, going long QUAD is a risky play given the nosedive in FCF in the recent year.
QUAD's Cash Flow Indicates Accelerated Decline
Initially, we were impressed with the amount of free cash flow QUAD was generating, especially given its revenue decline. However, a closer look reveals that free cash flow for FY2015 received a significant boost from a reduction in receivables and inventory. This means a greater proportion of receivables was moved off the balance sheet into cash flow compared to the prior year.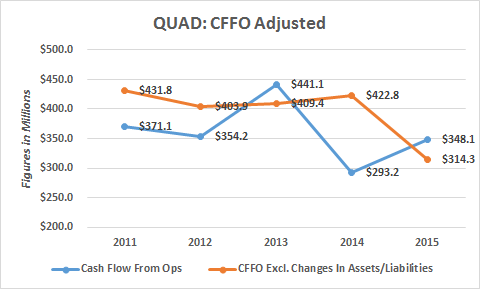 (Source: Author's work)
In some cases where working capital fluctuates significantly from a single year to the next, a much more accurate gauge of the company's ability to generate cash would be to strip out changes in working capital from CFFO. This is especially important for QUAD since it has a string of acquisitions which tends to distort working capital significantly.
Seen above, cash flow from operations (CFFO) was artificially high for FY2015 due to an adjustment in receivables, inventory and payables. In fact, when working capital is kept constant, CFFO took a nosedive from 2014 to 2015, suggesting a quickening deterioration in the business. We tried to seek other reasons that would explain the huge dip, but the only reasonable offsetting factor was a $16.7M employee expense related to acquisitions (which is offset by the $10M in termination fees it received from Courier Corporation (NASDAQ:CRRC)). Even after adjusting for the net $6.7M impact, CFFO for 2015 still experienced a sharp fall of ~24%.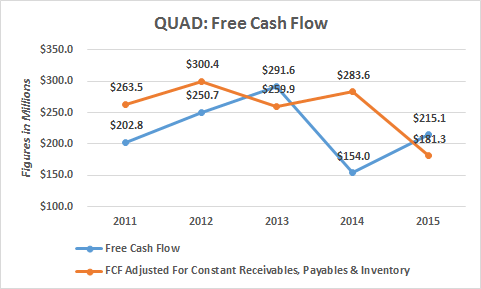 (Source: Author's work)
The effect of working capital on CFFO figures translates to FCF - the more accurate figures show that FCF is declining steeply instead of bouncing back from the low GAAP figures reported in 2014. This is largely due to a one-time gain from improved receivables collection, as QUAD's days sales outstanding dropped significantly in Q4 of 2015 compared to prior years.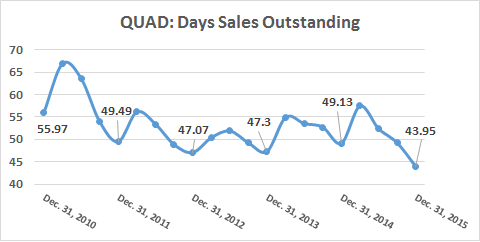 (Source: Author's work)
This has its pros and cons: first, a boost to FCF due to improved DSO is a positive because it suggests the cash conversion cycle is shortened; however, the flip side is that this boost is non-recurring and unsustainable unless the company can continually reduce its DSO (which is difficult given that billing periods are fairly standardized in the industry). Hence, we are inclined to think this is a one-time boost rather than the start of a trend of lower DSO cycles.
The probable conclusion is that cash flow figures for FY2015 are temporarily distorted, thus masking the steep decline in real FCF. Simply, if working capital levels are kept constant, a steep decline in operating cash flows is clearly observed, which suggests the business' ability to generate cash is declining quicker than it seems.
Guidance Is Weak Upon Closer Analysis
Management is guiding for free cash flow between $190M and $230M, with an expected $85-100M in CapEx - this means the midpoint estimate of CFFO for FY2016 would only be roughly $303M, suggesting a 15% drop from the previous year. This is consistent with our view that the company's ability to generate cash is deteriorating in the absence of large acquisitions.
Aside from issues with FCF guidance, the elevated cash impairments due to restructuring are also a concern. Typically, most investors view restructuring costs as one-time charges that are unlikely to persist. However, QUAD has incurred repeated cash charges of over $40-$50M in the past few years, with more to come in FY2016.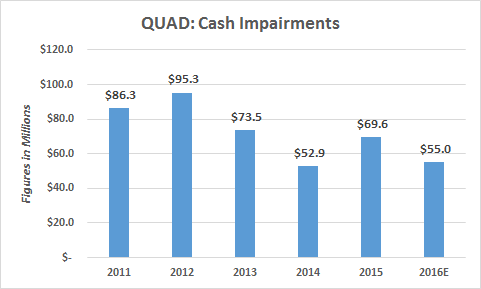 (Source: Author's work)
The persistent cash burn resulting from restructuring efforts is highly concerning, especially since they haven't had significant effects in reducing the company's SG&A expenses. In theory, restructuring should reduce run-rate expenses. A successful restructuring would be one where the cost of implementation is less than the amount of cost savings to be derived in the future. Thus far, QUAD's efforts have not yielded significant cost savings as overall margins have stagnated.
Therefore, FY2016 guidance is bleak in terms of the company's cash flow generation, and we think the market isn't paying enough attention to these factors. Given that top-line decline will continue, we think the risk of high operating leverage wiping out profits has yet to be priced in.
More Challenging Headwinds To Come
As the drop in cash flow indicates, 2015 was a challenging year for the company as there was significant revenue decline and margin compression compared to prior years. This was partially due to an absence of acquisitions, but it also allows us to see clearly the rate of organic decline without the inorganic boost to growth from new acquisitions.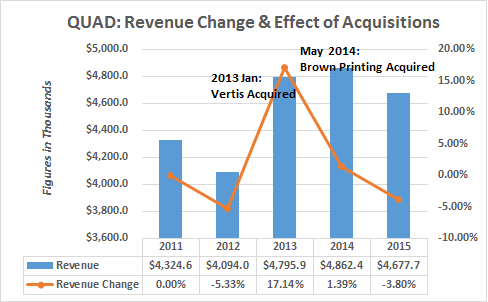 (Source: Author's work)
As seen above, significant top-line declines have been masked by one-time boosts from continuous acquisitions. FY2015 revenue figures indicate that organic decline is nearly 4% in the absence of any acquisitions, which is worrying considering that commercial printing operations like QUAD operate with a high fixed-cost base due to the renting of square footage, large-scale machinery and delivery infrastructure that need to be maintained (i.e. these costs cannot be scaled back easily to compensate for falling revenue).
Roll-Up Strategy Has Not Worked, Cost Pressures Persist Despite Promised Synergies
In many declining industries such as commercial print, bigger players with more dry powder often try to buy up smaller competitors at cheap prices in an effort to derive operating synergies. For commercial printing units, this hasn't exactly worked out because excess printing capacity and shrinking demand has continued to persist, leading to lower print prices on average.
A notable example illustrating our thesis is RR Donnelley & Sons, a large, direct competitor to QUAD. RRD has been very aggressive in acquiring smaller commercial printing operations and recently snatched the Courier Corporation acquisition away from QUAD after coming in with a late bid. However, even this behemoth has recently acknowledged that the roll-up strategy in this space has largely failed, and decided to spin-off the company into three separate entities. Also, RRD was forced to freeze its dividend due to deteriorating cash flows related to industry pressures. When a roll-up rolls down, it's a key indication that consolidation hasn't worked.
When we look at data specific to QUAD, note that despite its string of acquisitions, margins have stayed stagnant as promised synergies have not materialized. One of the key measures of whether the acquisitions have resulted in leaner operations is to look at the items in the cost structure as a percentage of net sales. Shown below, the acquisitions have not resulted in a reduction in cost structure whilst QUAD's debt load has ballooned.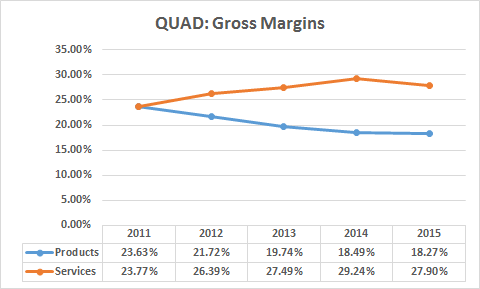 (Source: Author's work)
Seen above, it is telling that gross margins have actually decreased despite management's affirmations that there are operating synergies to be achieved with the acquisitions. It suggests that QUAD's COGS comprises a significant amount of fixed costs, and operating leverage is fairly high.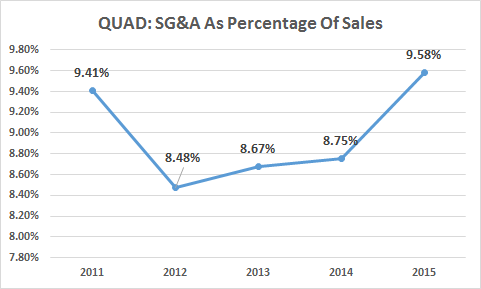 (Source: Author's work)
This isn't necessarily the result of incompetent management - it is simply what operating in a dying industry with multiple headwinds looks like. Significant cost pressures have also come from increased postage rates as it has become QUAD's largest expense item in terms of printing and delivering the final product (this explains why gross margins for product sales have been declining despite numerous acquisitions). Particularly in recent years, the USPS has increased rates annually at a rate far outpacing inflation, which has resulted in higher costs and QUAD's customers opting for lower volumes. In a 2013 senate panel hearing on the USPS, Joel Quadracci made these comments:
''There is a direct negative correlation between rate increases and volume. Our customers demand predictability and affordability and if prices suddenly increase more than expected they react by reducing their volume to cover the extra postage or move away from print altogether.''
Although QUAD has tried to respond by consolidating shipments from different plants, utilizing the new locations from acquired companies and improving its co-mail programme, there's no way to avoid these new costs as Quad ultimately depends on USPS for postage and has no choice but to take these rates. Management is downplaying this threat in conference calls - there was no mention of the increase in postage rates on the 2015 Q4 conference call.
Effective 17 Jan. 2016, the USPS essentially eliminated Commercial Plus Pricing discounts, and reduced the Commercial Base Pricing discounts. This directly affects large-scale commercial printers like QUAD, and should have a noticeable effect on operating costs. Given that the USPS has stated that it expects to increase rates in the coming years, we believe this represents a significant risk to QUAD's cost structure, and will increase operating leverage even further. As volumes and print prices decrease due to higher postage costs, a reduction in QUAD's cash flow should be observable in the next few years.
Acquisitions Have Provided No Observable Benefit
It's important to keep in mind that QUAD's results include a string of acquisitions in recent years, which have undoubtedly provided one-time boosts to financial performance. It is in this context that revenue has continued to decline in the low- to mid-single digits, with the 17% top-line growth in 2013 coming entirely from the large acquisition of Vertis (along with two smaller buys).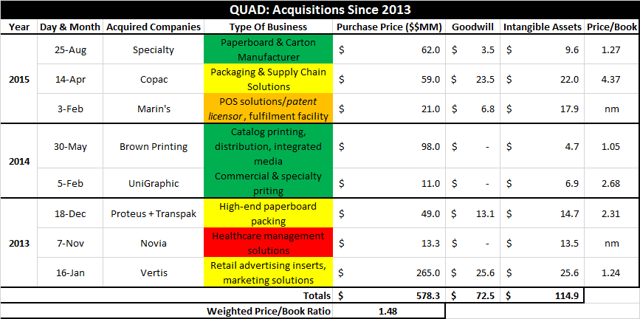 Click to enlarge
(Source: Author's work)
Seen above, the color code denotes the relevance of the acquired business to QUAD's core business of commercial printing and distribution. The spectrum varies from green (highly relevant) to red (completely irrelevant).
The first concern is that QUAD seems to be acquiring small businesses for far above book value, with some acquisitions like Novia having no tangible assets and, being a business that manages clinics, has no relevance to Quad's operations (Despite this, intangible assets were only discounted by $0.2M to reach the purchase price). The acquisition of Marin's has the same characteristics: a lack of tangible assets and a business which has little synergies with QUAD's existing operations (not to mention the company is based in Paris).
Next, despite spending $578M on acquisitions since 2013, revenue has actually fallen by 4%. This suggests top-line decline would be much steeper without the effect of acquisitions. Unfortunately, we are unable to strip out the effects of acquisitions from QUAD's financials since the management does not provide clearer data.
Despite management's claims that synergies were achieved, we see no observable evidence of this in the financials as margins have remained stagnant. Moreover, as mentioned earlier, it is a serious concern when gross margins for its Products category is actually declining despite the purchase and integration of numerous printing companies that are complementary to its core business - this suggests the numerous acquisitions are not able to compensate for QUAD's loss of pricing power.
Valuation
We think an accurate way of valuing QUAD would be a traditional DCF analysis, taking adjusted FCF by keeping receivables, payables and inventory at a constant level. According to the latest transactions on QUAD's bonds, the senior notes are trading with an YTM of 11.5%. If we take the $181.3M FCF figure for 2015 and value QUAD like a declining annuity, we can deduce that the market is pricing QUAD's FCF to decline at roughly 16.9% annually, taking the YTM on the bonds as its discount rate. Typically, we would say this is a pessimistic valuation, but the precipitous drop in FCF over the past year shows that the organic decline may be accelerating.

(Source: Author's work)
According to base assumptions, QUAD is fairly valued, with potential for upside should free cash flow stabilize. However, if any risk factors intensify, QUAD could also trade significantly lower. This fear would be validated if we see declining FCF in the next few quarters, which would suggest the drop in FCF from 2014 to 2015 was not an isolated occurrence but the start of an accelerated decline.
Relative to peers in the same industry, QUAD appears to be fairly valued.

(Source: Author's work. Note Courier was acquired by RR Donnelley, and the valuation multiples reflect RRD's purchase price).
From an EV/EBITDA perspective, QUAD is valued closely in-line with peers, and there are no larger peers that would conceivably offer to acquire Quad for a larger multiple (especially since RRD is spinning off, and QUAD is now the second largest company in the U.S. market). Although a private-equity takeout is possible, we think PE firms will be put off by QUAD's $1.27B debt load.
Therefore, on both an objective and comparative basis, QUAD seems to be fairly valued with little potential upside.
Conclusion
With cash on the balance sheet at $10M, QUAD no longer has the dry powder to make big acquisitions to slow its rapid rate of organic decline. We think the market has already begun to recognize that QUAD's secular decline may be much faster than previously anticipated, thus severely penalizing the company for missing estimates and weak guidance in the previous few quarters.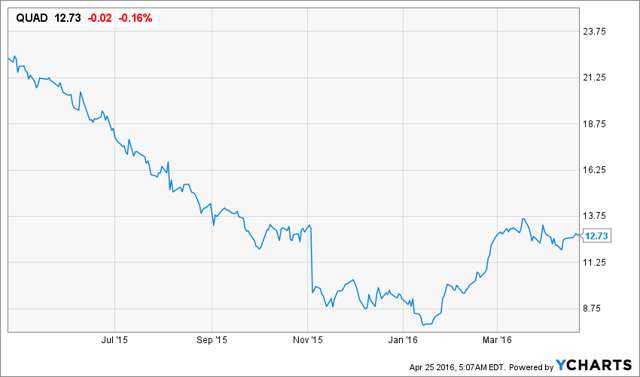 Click to enlarge
(Source: YCharts)
Despite the move downwards, we think QUAD is still not cheap enough. However, depending on price action, there could be significant upside given an entry point below $9.50. Given that the next large maturity of debt is in 2019, the company's balance sheet is fairly secure even in the absence of a cash buffer. Hence, we would watch the working capital levels, free cash flow and revenue declines closely over the next few quarters to determine if the risks presented above are validated or overblown.
Disclosure: I/we have no positions in any stocks mentioned, and no plans to initiate any positions within the next 72 hours.
I wrote this article myself, and it expresses my own opinions. I am not receiving compensation for it (other than from Seeking Alpha). I have no business relationship with any company whose stock is mentioned in this article.