For New Readers: It helps to understand certain basic concepts prior to reading this article. You should scroll to the bottom of this article to the "For New Readers" section.
One quarter of companies in the S&P 500 have reported earnings and these companies represent about one-third of the S&P 500 EPS number (the S&P 500 is a market-cap weighted index, which includes the earnings weight). In a sense, it's too early to garner much information from this quarter's earnings report. The SEC is even currently considering if companies should be required to report earnings quarterly.
I could put a blindfold on and tell you a lot about this quarter already. First, about 75% are going to "beat" their estimate; they always do (it's called managing expectations). Second, estimates for the year are too optimistic; they almost always are. The exception is that when the economy is emerging from a recession, analysts are still looking in their rear view mirrors of pessimism and underestimate the bounce back in earnings. Ed Yarneni is usually the strategist associated with charts like I show below, which is recent yearly and quarter estimate trends, and to see what Ed shows happening to yearly estimates since 1979, click on this article.
Chart 1 - EPS estimates over time (yearly="triangles," qtrly = "circles")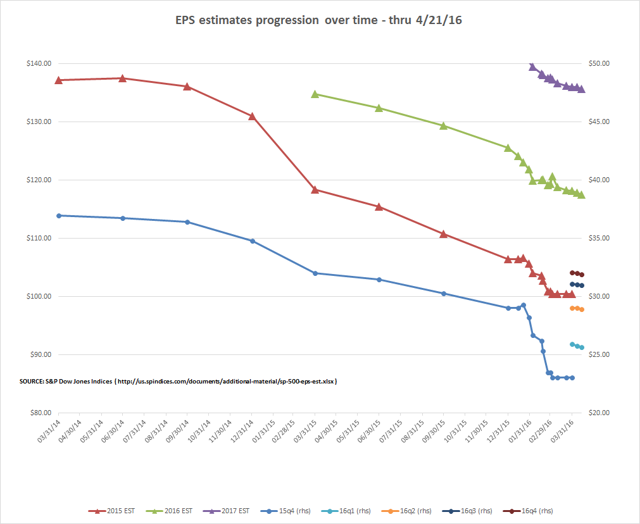 Click to enlarge
The S&P 500 index is proprietary to and is calculated, distributed and marketed by S&P Opco, LLC (a subsidiary of S&P Dow Jones Indices LLC), its affiliates and/or its licensors and has been licensed for use. S&P® and S&P 500® are registered trademarks of Standard & Poor's Financial Services LLC, and Dow Jones® is a registered trademark of Dow Jones Trademark Holdings LLC. © 2016 S&P Dow Jones Indices LLC, its affiliates and/or its licensors. All rights reserved.
Interestingly, in the chart, you can see that early 2015 estimates started about where 2016 estimates are now, just under $120/share, but finished the year around $100, about 15% lower. I am sure you have seen the valuation charts, so I'm not going to bother with those or even a chart of the S&P 500, which is flattish despite the 15% drop in estimates. Rather, let's continue to focus on the earnings.
Table 1 - S&P 500 and sector EPS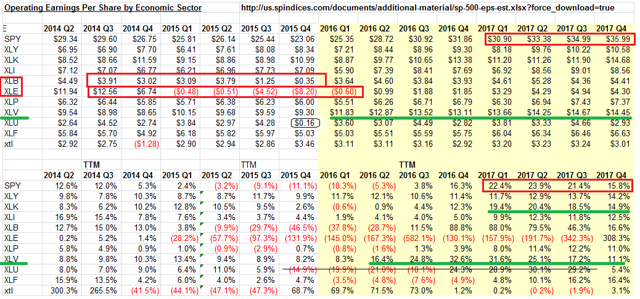 Click to enlarge
Source: S&P Down Jones Indices data.
Table 1 is the S&P 500 sector EPS and estimates from S&P Dow Jones Indices. Basic materials (NYSEARCA:XLB) and Energy (NYSEARCA:XLE) have been the big drags on S&P 500 earnings, driven by China's lowered commodity demand and the increased oil supply, driven by North America's new extraction technologies. These two sectors are projected to bounce back strongly, and thus far, commodity prices have bounced recently, so perhaps the analysts are not too optimistic here. However, oil futures have gone from record shorts to near-record longs, and as my links show, this commodity bounce appears to be a Chinese liquidity-driven bubble. (I have warned readers of ZeroHedge's uber-bearishness - a ploy that drives web readership - so I have provided numerous additional links confirming the fundamentals of their comments.)
On the other hand, the materials and energy "bounces off the bottom" are not in my opinion the most optimistic of projections. Healthcare (NYSEARCA:XLV) is projected to hit 30% gains on a trailing twelve-month trailing basis. I'm tracking EPS surprises and healthcare have all been positive surprises for the data I have, but that is only 11 names thus far (3 more than in the S&P, where just 20% have reported and 7 of 8 have beat according to S&P Dow Jones Indices).
While I don't show the quarter-to-quarter table, these 30% TTM gains are driven by projected quarter over prior year's quarter gains that reach 40% rates. The data off the 2009 bottom shows a maximum quarter-over-quarter increase of 17.9% for 2Q15 and just 7 of the past 28 quarters reached double-digit levels for the healthcare ETF. Nonetheless, seven of the next eight quarters for healthcare are projected to be double digit with this year being especially strong. One of two things is certain, either we all ought to have 100% of our portfolio in XLV, or more precisely, the healthcare technology and biotechnology subsectors, or the analysts are extremely optimistic in the healthcare area (or those two sub-sectors).
I did not highlight the technology sector (NYSEARCA:XLK) but it is projected to have double-digit quarter-to-quarter increases starting in the 2nd quarter. S&P Dow Jones Indices dropped the detailed "ISSUES" tab in the worksheet so it no longer provides individual stock contributions to the S&P 500 EPS (probably beyond my ability but I'm exploring the calculation). FactSet notes that Apple (NASDAQ:AAPL) is going to be the biggest drag on S&P 500 earnings for the technology sector. And thus far, tech earnings have been disappointing, although Intel's (NASDAQ:INTC) earnings surprised yet it announced it is laying off 11% of its workforce and analysts are slashing estimates.
Of note, the Internet bubble may have peaked in March of 2000, but the final nail in the coffin was Intel's August pre-announcement. And negative pre-announcements have been above average for the whole of the S&P 500 thus far (p.7), also known as "lowering the bar" so you generate an earnings beat, but it's too early to conclude anything about negative guidance during quarterly releases.
Earnings and revenue growth are not expected to return until around the 3rd quarter, but the market has been rallying despite the direction of EPS, as shown in Chart 2. This market rally appears to be unrelated to earnings thus far. Instead, it is driven by short squeezes, easy monetary policy and economic expectations, which until recently have been strong since the start of the year (p.7, figure 9) versus a more normal seasonal weakness at the start of the year.
Chart 2 - Q1 and Q2 estimates for 2016 vs. the S&P 500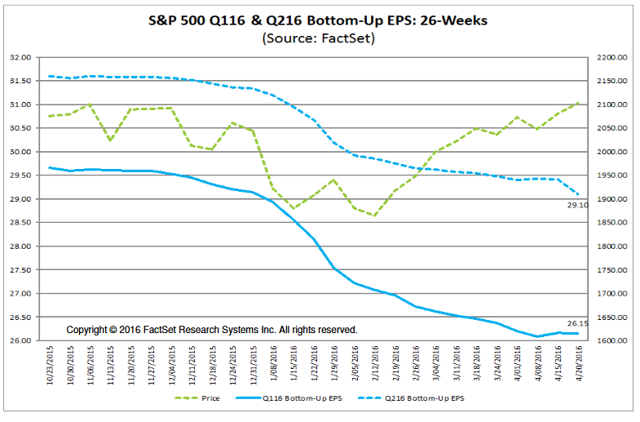 Click to enlarge
Earnings have been flat for about 2 years, or just a little longer than the market has been flat, with a recent dose of volatility.
Chart 3 - Long-term chart of earnings versus the S&P 500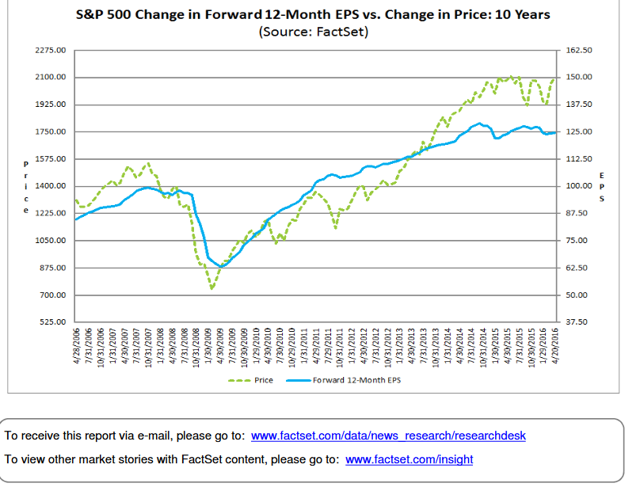 Click to enlarge
As shown in chart 4, for the last year and 6 months, the safe sectors of utilities (NYSEARCA:XLU) and staples (NYSEARCA:XLP) have led the market. More recently, energy has been particularly strong with basic materials close behind. Finance (NYSEARCA:XLF) has rallied amid the back-tracking at the Fed. Healthcare has also recently rallied.
Chart 4 - Percentage Comparison Chart for Sector ETFs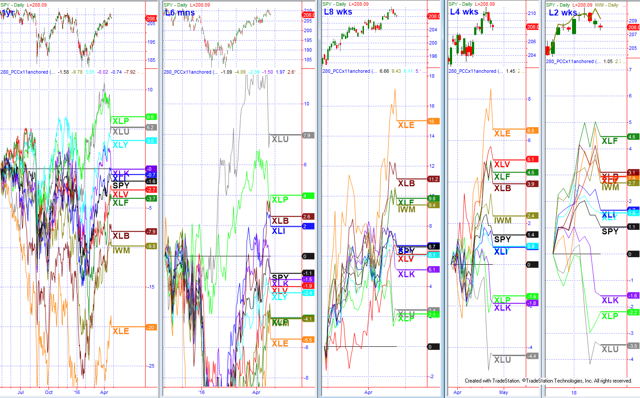 Click to enlarge
Percentage Change Charts ("pcc"): The charts "index" two or more price returns so they can be directly compared by showing the percentage change from some "anchor" point (or index base ). The primary use here is to show the ending percentage performance on the right-hand axis, a buy-and-hold return from the date of the anchor point, excluding dividends. StockCharts adjusts for dividends, which primarily impact long-term charts (>1 year), and can be seen here using my color codes (roughly). These charts can easily mislead because all performance is "anchored." For example, a stock may be down 30% and rally to "only" down 20%, making it appear that the stock rallied 10%; however, down 30% means it is at 70 (anchor=100) and the rally to down 20% means 80, but a move from 70 to 80 is a 14.3% return, not the 10% increase you might assume (i.e. 70% to 80%). You also have to be aware that looking at a 1-year "pcc" today versus a 1-year "pcc" last month means not only has the ending date advanced a month in time, but so has the anchor point, which can dramatically impact the results.
There has been so much written about this being a short squeeze rally that I have started tracking short interest in the sector ETFs. I only have data back to Feb. 25th, 2016, while the actual bottom was on Feb. 11th. In table 2 below, I show the days-to-cover ratio, the percentage of shares outstanding that is current short, the percentage short on Feb. 25th, the absolute change between the two percentages, and the percentage change in the shares short.
The obvious fact is that all sector ETFs except the staples sector have seen their short interest decrease. The details are not particularly relevant because this data is offset by record short interest, which appears to be explained by shorts covering in the ETFs but maintaining short interest in specific stock names. With so much short interest out there, if this is a covering rally, it could have legs.
Table 2 - Sector ETF short interest and change from Feb. 25th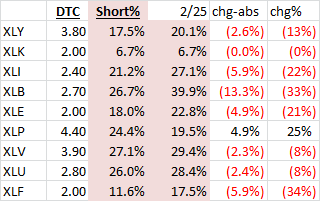 Conclusions
I have been bearish since before the sell-off last August. I expected a bounce and we got one, driven mostly by Fed (and ECB) speak, and decent Q3 earnings - especially a few large-cap tech names, but once that Fall bounce subsided I thought that was it, the top was in. It may still be, but I was wrong about the potential of another bounce, as this bounce since February has been relentless. We may be experiencing a blow-off top, but I have a hard time trading based simply on momentum and sentiment as some do. And given the level of short interest, the odds of a blow-off top appear to be increasing.
Having said that, my bearish option positions have been expiring and I have not replaced them. The technicals of this bounce, especially the breadth, have been impressive. Across all exchanges, the number of stocks above their 10-day, 20-day and even 50-day levels have reached levels associated with sell-offs rather than continued rallies, although the number of stocks above their 200-day moving average show further room to run.
And ratio comparisons like an equal-weight S&P 500 to the market-cap weighted S&P 500 turned up a couple of days after the low. Small (NYSEARCA:SLY) and mid-cap (NYSEARCA:MDY) stocks have been outperforming the S&P 500 (NYSEARCA:SPY), while high beta (NYSEARCA:SPHB) are outperforming low volatility (NYSEARCA:SPLV), and these are all signs of a bullish market.
I still believe the fundamentals like earnings and valuations are poor. Citigroup's economic surprise index was strong early in the year but is turning down. And below, I show the Atlanta Fed's GDPnow from February 17th and the most recent as of April 19, 2016. Economic fundamentals also look to be in a serious decline.
Chart 5 - Atlanta FED GDPnow… and then, just 2 months ago.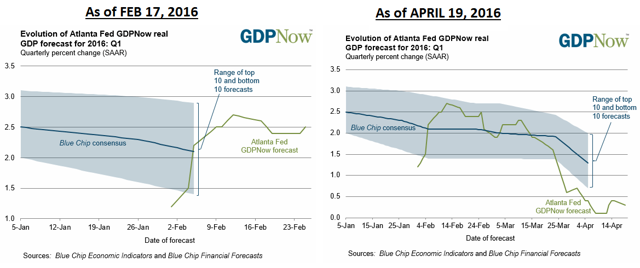 Click to enlarge
So earnings, valuations and even economics look poor. Regular readers know I prefer the Austrian school of economics, and they also know I blame Keynes for the distorted Keynesian economics played by the FED and our government, but among the things Keynes got right, my absolute favorite is "The market can stay irrational longer than you can remain solvent."
I'm still short but the cost of being bearish in the face of the strong rally we've witnessed has me holding my towel. I'm not ready to throw it in yet, but my options are May expirations and they'll throw in my towel in a few weeks. So unless I can get beyond the behavioral biases I have that relate to having been wrong, I'll effectively be on the sidelines soon. Given my reduced bearish position, we may be very near the end of this move, especially considering the coming seasonal weakness known as "Sell in May."
For "Followers:" Should you decide to follow a Seeking Alpha author, if you want to receive notifications of Instablog postings, you need to sign up for "real-time alerts."
For New Readers
I have focused on the sector rotation model after writing my first article on Seeking Alpha, which was in response to an article that advocated rotating into safe sectors at the start of a bear market, even though the author could not tell if the waterfall crash of August 2015 was, in fact, the start of a bear market. It must be worth a read because it was an Editor's Choice article. I followed it up with two other primer articles that all investors need to know. As primer articles they are long; investing is a marathon, not a sprint, it takes preparation. Because my first article was a counter-argument to a Seeking Alpha article, my first 3 primers were written in reverse order from which they should be read; follow the numbers below:
1) Secular Movement in Interest Rates: Interest rates exhibit long cycles of up and down movement. Finance 101 teaches that the valuation of an asset (stocks+) is inversely related to the "capitalization rate" (or the inverse, depending upon the industry: it's P/E ratios for stocks, "cap rate" and/or "gross rent multiplier" for real estate, etc). The market P/E ratio is therefore directly related to the level of interest rates. This really is the starting point for equity investing, but far too many investors ignore it because they think it is not important, or is for bond investing. This article is basic finance 101 combined with the history of bear markets and panics.
2) Equity Markets - Secular Bulls and Secular Bears: The stock market also exhibits long cycles of up and down movement (often driven by interest rates). The caveat, bear markets are volatile, so much so that some of the largest stock market rallies actually occurred during bear markets. This article also makes sure you understand real return, after discounting for inflation.
3) "Sector Rotation in a Bear Market": Being my initial article, much of what might have gone in #2 above was written in this article. It introduces:
3.a - Percentage change charts, which show relative performance of different sectors (or could be stocks, etc.), and discusses some of the problems with them.
3.b - It discusses misleading charts, where the wrong scale is used (log vs. linear), or other misleading chart techniques used to enhance an author's point of view.
3.c - It discusses math; for example, how riding a stock down 50% and then up 50% still leaves you down 25%.
3.d - Behavioral finance is discussed extensively, and how investors fool themselves due to biases in investing.
3.e - The 2000 and 2007 bear markets are extensively reviewed from a sector performance perspective.
3.f - Ratio charts are shown, which create a buy/sell type signal relative to two different investments.
All these issues are critical to debunking the belief that you can "hide in safe sectors in a bear market," although sector rotation provides good clues as to what the professionals are doing. Individual investors can go to cash during bear markets, but professionals are paid to be invested, even during bear markets. Consequently, they move to safe sectors during bearish economic or market times. Following the sector rotation model can provide clues to where the stock market is headed, or at least, where the paid professionals believe it is headed.
Chart 0 below shows the sector rotation principle. For a quick read on understanding of the principle and causes of sector rotation, you can read the "Sector Rotation Background" in this article (at the very top), but I would recommend you skip it and go straight to the more comprehensive "must read" article #3 (after reading the first two).
Chart 0 - Understanding the Sector Rotation Model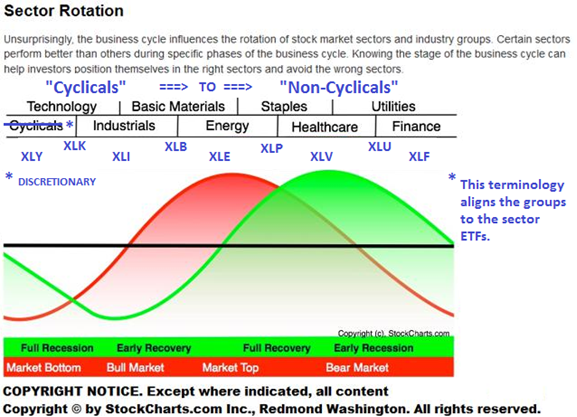 Disclosure: I am/we are short SPY VIA OPTIONS.
I wrote this article myself, and it expresses my own opinions. I am not receiving compensation for it (other than from Seeking Alpha). I have no business relationship with any company whose stock is mentioned in this article.
Additional disclosure: Also short cotton and soybeans. ADDENDUM (Monday): Pleasant surprise = I so rarely trade meats I forgot I got long LC on FRI.