Precious metals sector is a cyclical industry. It means that, according to Investopedia:
"A cyclical industry is a type of industry that is sensitive to the business cycle, such that revenues are generally higher in periods of economic prosperity and expansion, and lower in periods of economic downturn and contraction.
Companies in cyclical industries can deal with this type of volatilityby implementing cuts to compensations and layoffs during bad times, and paying bonuses and hiring en masse in good times. Cyclical industries include those that produce durable goods such as raw materials and heavy equipment"
Generally, it is not easy to predict business cycles. Any analyst tackling this issue will face many problems as, for example, a problem with finding the correct data. What is more, business cycles are very often counter-intuitive, which make them even harder to understand and nearly impossible to predict.
However, sometimes it is possible to find at least some indications that make these predictions a little bit easier. In this article I am putting a thesis that:
There are some indications signaling the end of a bull market in precious metals
To prove this thesis, I will look at two companies, which are the suppliers of mining equipment applied by the resource industry. These companies are Caterpillar (NYSE:CAT) and Sandvik (OTCPK:SDVKF).
My thesis is based on the following two assumptions:
Both companies are very large and complicated suppliers conducting their operations in a few business segments. The resource sector accounts for just a fraction of their overall activity. However, due to the fact that Caterpillar and Sandvik regularly report the results achieved by their resource segments, it is possible to monitor the performance of these segments in detail.
It is nothing new to say that the precious metals sector and its suppliers have to be in some way interconnected. If it is true, the analyst, monitoring developments taking place in one sector, may predict how the other sector may perform in the future.
Note: I am taking into consideration the results delivered by Resource Segments of Caterpillar and Sandvik; all other segments are beyond the scope of this analysis.
How the business cycle in the precious metals sector works
The data delivered by Caterpillar and Sandvik discloses that the precious metals down-cycle (transition period between a bull and a bear market in precious metals) works in the following way:
A. First of all, mining companies (in this article exemplified by Newmont Mining (NYSE:NEM), one of the world's biggest gold producers) start showing weaker and weaker results from mining operations, defined as revenue less direct operating costs
B. Then the resource sector's suppliers report weaker results
C. Then the average prices of gold and silver (measured on a quarterly basis) go down
Let me show the charts, supporting this sequence:
A and B - Newmont Mining's profit from mining operations had peaked in the fourth quarter of 2011 (1); then, in the second quarter of 2012 we saw a peak in Caterpillar Resources Segment's operating profit (2):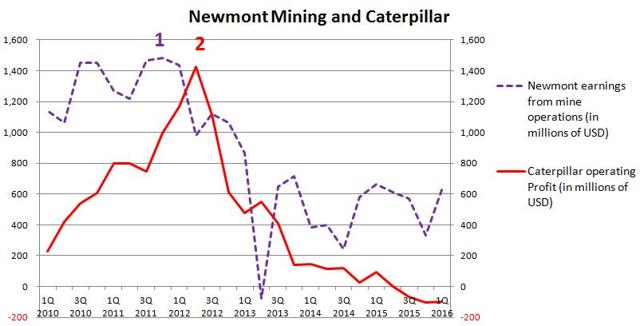 Click to enlarge
source: Simple Digressions
Note for skeptics - profits from mining operations of other big miners, for example, Barrick Gold (ABX) and Goldcorp (GG), peaked in 3Q 2011 and 4Q 2011, respectively.
B and C: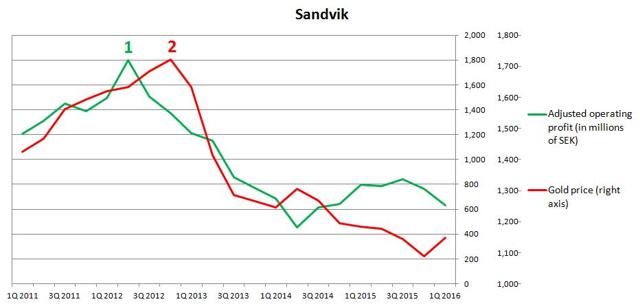 Click to enlarge
source: Simple Digressions
It is easy to spot that Sandvik's operating profits started going down in the second quarter of 2012 (1). Then, in the fourth quarter of 2012 the average price of gold started going down as well (2).
Now, Caterpillar: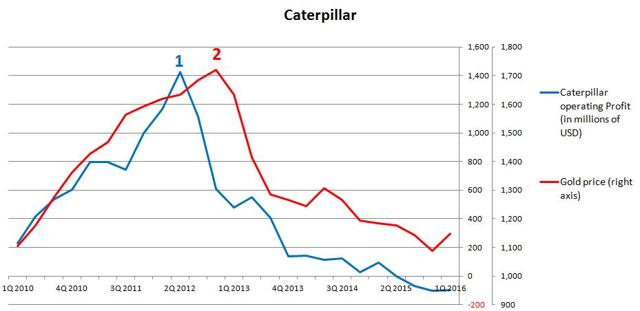 Click to enlarge
source: Simple Digressions
Similarly to Sandvik, Caterpillar's operating profits peaked in the second quarter of 2012 (1).
Summarizing:
Profits from mining operations, reported by big precious metals miners, peaked at the end of 2011; Caterpillar's and Sandvik's operating profits peaked in 2Q 2012; The average gold prices peaked in 4Q 2012.
Conclusion
In this article I have discussed an investment thesis that may be applied to identify a top in the precious metals market. This thesis has been confirmed by data delivered by a few companies (Caterpillar, Sandvik and Newmont Mining) in the previous years.
However, I am not sure whether the inverted sequence of events is to be seen during a bottoming process. Taking Newmont Mining as an example, it seems that we have already seen a bottom in its results from mining operations. However, the results reported by Goldcorp or Barrick make me doubtful whether we have seen a bottom in their results from mining operations.
Similarly, it looks like in 2Q 2014 Sandvik started delivering better results, achieved by its Resource Segment. However, a similar improvement in Caterpillar's results is not so obvious.
Therefore, I think that during a bottoming process in the precious metals sector we may encounter quite a different sequence of events.
Note: I strongly encourage my readers to visit my blog. It is a continuation of my Seeking Alpha activity where you will find the articles posted on a daily basis.
Disclosure: I/we have no positions in any stocks mentioned, and no plans to initiate any positions within the next 72 hours.
I wrote this article myself, and it expresses my own opinions. I am not receiving compensation for it (other than from Seeking Alpha). I have no business relationship with any company whose stock is mentioned in this article.
Editor's Note: This article discusses one or more securities that do not trade on a major U.S. exchange. Please be aware of the risks associated with these stocks.