Tenneco (NYSE:TEN) is a play I've been harping about on SA for quite some time at this point, and with the shares up another 13% after reporting Q1 2016 earnings as of this writing, it is worth highlighting the company again. For older reviews, see "Tenneco: Pricing Disconnect Continues" (written after reporting 2015 full year results), and initial coverage opened through "Tenneco: Strong Pick in the Automotive Sector." Even if the recent pop in the share price post-earnings holds, there is still 25-30% upside to fair value in my opinion, although the $55.00/share barrier will be a tough technical barrier to crack.
Cursory Business Review
For those who have not read the prior research notes, Tenneco operates two divisions: Clean Air and Ride Performance. Clean Air, which drives roughly two thirds of revenue, is a regulation-driven business. The company sells emissions control products (catalytic convertors, exhaust recirculation, products, monitoring, etc.) to nearly every auto manufacturer out there: big and small, American to Japanese to European. This is, at its core, a story of scale. Tenneco earns the margins it does because auto manufacturers, despite being the behemoths they are, don't want to invest the time and money to develop these products in-house. For automakers, it also moves some regulatory risk outside the organization; mistakes by an outside parts wholesaler will be treated more kindly by automotive regulators than a screw-up done internally. But given that auto manufacturers also want to avoid any scrutiny at all, they also give business to the largest players with the best track records; which is why they give their business to Tenneco.
The Ride Control business is less of a compelling story to drive an investment in my opinion, but it does provide diversified revenue and is also growing. Much of the sales here are aftermarket sales (shocks, struts and other ride control systems undergo wear-and-tear) which insulates this segment from worries that plague Clean Air, such as a collapse in global automotive sales or a possible secular shift towards alternative-fuel vehicles which should demand less when it comes to emissions control.
While you might expect Tenneco revenue to largely track global auto sales, you'd be off the mark. As regulations on emissions grow, emissions control products have become both more numerous and more complicated. Tenneco has historically grown revenues at double the pace of global automotive sales, and this is likely to even accelerate given the company's 2016-2018 outlook: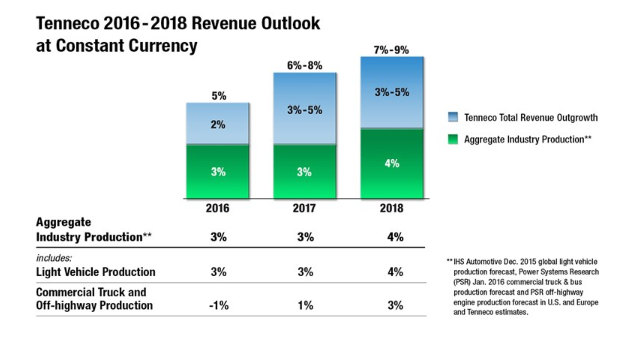 *Tenneco, 2015 year-end presentation
Q1 2016 Results
There are a couple of big highlights from Q1 results besides the general overview you'll get from Seeking Alpha's news update:
Revised Full-Year Outlook. A look back up to the Tenneco 2016-2018 guidance image above shows the company previously expected 5% growth in 2016, before an acceleration in 2017 and 2018 due to the onslaught of new regulations in the Americas, Europe and AsiaPac. Tenneco upped its expectations for this year to 6% revenue growth in constant currency. While marginal, this fact, coupled with the weakening of the dollar over the past several months, is always warmly welcomed by a stock trading at just 5x EV/EBITDA.
Gross Margin Expansion. 17.79% in Q1 2016 (excluding restructuring charges) versus 16.90% in Q1 2015 and 17.46% for the full 2015 year. Everyone likes margin expansion, and some minimal positive moment on the gross and operating margin side helped propel the company to the $0.06/share earnings beat, that came 5.4% ahead of expectations. Tenneco's ability to continue to sustain the margins it does is a key driver of whether or not the investment thesis for the company is successful or not, and it is good for longs to continue to see these numbers continuing to head in the right direction.
Driving this margin expansion was primarily improved results from Europe/South America/Indian operations, which Tenneco reports all together. This segment (basically rest of the world from North America besides AsiaPac) has been a bit of a pain in Tenneco's side. Operating margins have run half of that of the North American operations, and that is part of the reason why the company has started some restructuring here. Already, we're starting to see some improvement here, driven by both restructuring gains and a general improvement of foreign economies, especially within Latin American and Indian operations.
Share Buyback Tailwinds. Basically due to how this business works, Tenneco traditionally runs an operating cash flow deficit early in the year due to working capital adjustments. The company sees large increases in receivables and inventories that gradually fall off, as it sells through its products and customers pay what they owe, heading into the traditionally stronger automotive sales market in the back half of the year.
This creates a situation where most of the company's free cash flow hits the books later in the year, and it has to tap its revolving credit facility in situations where it needs cash. This is why we've seen Tenneco borrowing against the revolver increase from $105M at year-end to $288M at the end of the first quarter. The company is generally restricted from using revolver cash to finance buybacks, so you'll see more of its buyback executed in later quarters. This is a pattern that was executed in 2015, which saw share buybacks accelerate from just $11M in Q1 to $28M in Q2 to $114M in Q3 and $54M in Q4. There is no reason to suspect anything different this year, and these buybacks should help the stock along as the company rolls into what should be strong years for Tenneco in 2017 and 2018.
Conclusion
The market is coming around to the fact that Tenneco is a solidly operated company. There is simply no reason why it should trade at 5x EV/EBITDA, heading into what will be a period of solid growth for the company through 2018.
Automotive stocks in general have carried exceptionally low valuations throughout the past couple of years, but automotive sales have done better than expected, and Tenneco really is best-of-breed when it comes to this segment. My fair valuation has fluttered between $60-$70/share for this company, more so towards the high side of that range now that we've seen a little bit of confidence come from management in regards to potential 2016 results. Assuming $550M in 2016 operational cash flow and $300M in capital expenditures, the company would trade a 5.4% free cash flow yield at $70/share, which still represents a solid discount to the rest of the market - especially considering almost certain cash flow growth as it sees 17% total revenue growth through 2017 and 2018. While the easy money on this one is likely gone, I still think it represents a good value for investors to pick up if they missed the early boat on this one.
Disclosure: I am/we are long TEN.
I wrote this article myself, and it expresses my own opinions. I am not receiving compensation for it (other than from Seeking Alpha). I have no business relationship with any company whose stock is mentioned in this article.