NXP Semiconductors (NASDAQ:NXPI) stock has experienced a mixed start to the week as both negative and positive news tug at share price. After the close on Monday, NXP reported Q1 earnings that topped estimates and issued guidance that impressed investors. During trading on Tuesday NXPI rose more than 6% and approached $90 for the first time since the end of 2016, and eventually ended the day with a very solid 4% gain.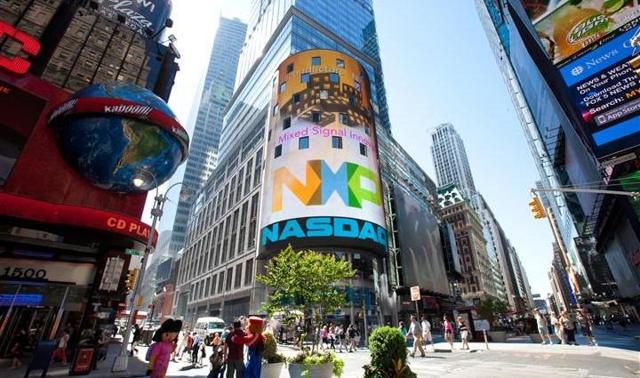 Click to enlarge
As an NXPI long, I was fairly excited about the jump and thought maybe the stock would break higher in the coming days and weeks, but then Apple (NASDAQ:AAPL) released earnings after hours and it was not pretty. Revenues declined year-over-year and Apple management issued light guidance. As a key supplier to Apple products, NXPI dropped after hours on the report, which indicates that investors view NXP Semi's future results as significantly intertwined with those of Apple going forward.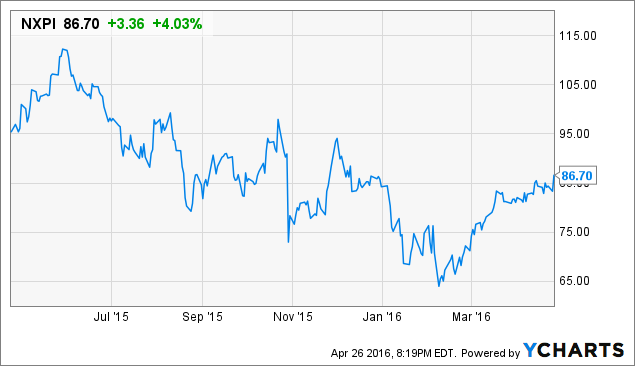 NXPI was down 2% after hours Tuesday, but gained some ground Wednesday morning, up $0.30 at $86.99. Looking at NXP Semi's Q1 report, I believe any dips provide a nice buying opportunity for bullish investors looking to get NXPI at a discount after the strong earnings release.
An Impressive Start to 2016
The integration of Freescale Semiconductor appears to be progressing smoothly as revenue increased 51% year-over-year to $2.22 billion in Q1. Even with merger-related inefficiencies and adjustments, NXP still managed to record a non-GAAP gross margin of 50% and non-GAAP EPS of $1.14. Revenue beat consensus estimates by $10 million and EPS beat by $0.05.
But what likely really caught investor attention was NXP's Q2 guidance, which forecasts quarter-over-quarter product revenue growth of between 3% and 7%, gross margin about 50%, and perhaps the most impressive part, EPS of between $1.30 and $1.40.
Using the midpoint of the expected EPS range, management is projecting a 15% quarter-over-quarter earnings increase for the second quarter. This comes despite iPhone weakness that NXP likely already gleaned from lower supply orders from Apple. This evidences NXP's independence from Apple and the company's diversified product portfolio, which is distributed evenly across its different product segments.
Management's expectations for a 15% sequential growth in EPS is due to what the company said was the general subsiding of headwinds faced in the second half of 2015. However, the company also acknowledged that demand in the semiconductor sector remains subdued. Despite this weakness, NXP is still managing 50% gross margins and expects EPS to bounce back next quarter.
It is for these reasons that if NXPI drops Wednesday on perceived iPhone weakness, investors should add to long positions at a discount. The company's merger with Freescale will incrementally boost revenue and, once Freescale is completely integrated, NXP will be a dominant force in the automotive semiconductor market.
I am setting a 3-month price target of $100 a share for NXPI considering the Q1 report and the progress of the Freescale merger.
My question to you, the reader, is:
Do you think NXP Semi is truly insulated from iPhone weakness or should bullish investors be more concerned about Apple's lower expectations for its flagship product? Feel free to leave a one word answer or a long-winded tirade in the comments section below.
If you want to stay up-to-date on my articles, you can Follow me by going to my author page or by clicking "Follow" at the top of this page.
Thanks for reading!
Disclosure: I am/we are long NXPI.
I wrote this article myself, and it expresses my own opinions. I am not receiving compensation for it (other than from Seeking Alpha). I have no business relationship with any company whose stock is mentioned in this article.