Vuzix (NASDAQ:VUZI) released the company's spring 2016 shareholder newsletter today.
Image Source Vuzix (click to enlarge)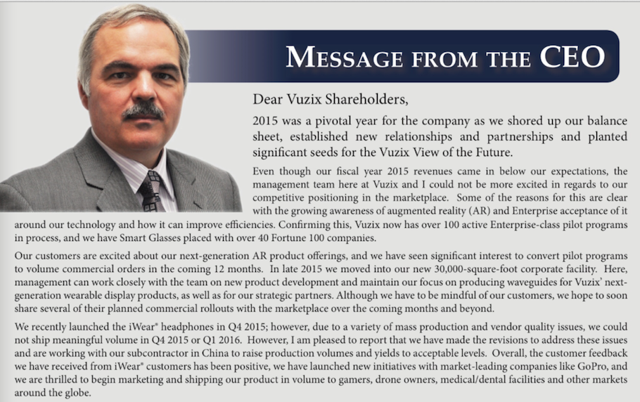 The newsletter summarizes 2015 and highlights some important events that shareholders should expect over the remainder of 2016. The most important takeaway for investors is that the second half of 2016 is setting up to be a blockbuster for the company driven by the planned conversion of several augmented reality smart glass pilot programs to commercial rollouts. I know for some investors we have heard this story before (flashback to calendar year 2015), but my industry contacts and recently published industry reports confirm that the augmented reality enterprise freight train is on the verge of leaving the station.
Vuzix has over 100 active enterprise-class pilot programs including over 40 Fortune 100 companies. The company has seen significant interest in the company's next generation products (M300, M3000) and expects to share several planned rollouts with the investment community in the coming months. As a reminder the M300 is expected to be ready for volume shipments over the next few weeks somewhere in the May/June timeframe.
I'm keeping a close eye on General Electric through Vuzix's relationship with APX Labs and DHL through the company's relationship with Ubimax. I expect both companies are on the verge of introducing smart glasses with commercial volumes within their respective operations centered around manufacturing and logistics over the coming months.
My expectations of commercial rollouts by DHL and General Electric are based on various interviews and public comments I have come across from the respective companies. Vuzix is in an ideal position to be the recipient of these large commercial orders and multi-million dollar accounts. Vuzix has active and/or expanding pilots programs with both of these massive companies.
During the Q3 conference call Vuzix referenced General Electric as a company that was leveraging Vuzix hardware to deliver ROIs and improved client experiences. In a November 2015 interview APX Labs CEO Brian Ballard indicated that General Electric is not only an investor in APX labs but also a customer of smart glasses.
It's been six months since the November 2015 interview and it also means that General Electric's is less than six months away from a major deployment of augmented reality smart glasses. General Electric's large deployment will represent a big win for Vuzix and a major industry milestone for the augmented reality enterprise sector.
GE is a customer and they are going to do a large deployment within the next 12 months that will be a serious test case for the platform. (Brian Ballard's - November 2015 Tech Crunch interview)
In a Washington Post interview in February 2016 APX Labs CEO Brian Ballard painted a very bullish outlook for the adoption of smart glasses in 2016.
Smart glasses really cemented themselves as something companies were using in 2015, but … it takes almost a year to get through everything. You'll start seeing them used on a much larger scale than they were in 2015: Moving from one line to the whole factory, or from one factory to the whole bullpen of factories that support a process (Brian Ballard's February 2016 Washington Post interview).
During the Q4 conference call Vuzix acknowledged that DHL was expanding the company's pilot program to two sites in Columbus, Ohio. In an interview published last week DHL CEO Frank Appel mentioned that his company has expanded the company's pilot program to six sites outside of The Netherlands where the initial pilot program was performed. In an interview with Fleet Owner published last DHL's senior vice president of strategy, Matthias Heutger listed augmented reality smart glasses as a key trend in logistics that is likely to make an impact in under five years (see images below).
The use of augmented reality (NYSE:AR) accessed via "smart glasses" is exceeding predicted levels of impact within the logistics sphere, DHL said. Mainly adopted for order picking in logistics (also known as "vision picking") smart glasses enable intelligent, hands-free operations. DHL noted that a pilot program it conducted with computer printer maker Ricoh in the Netherlands showed a 25% efficiency increase as well as strong positive feedback from the users. (Matthias Heutger's April 2016 Fleet Owner interview)
Image Source DHL Logistics Trend Radar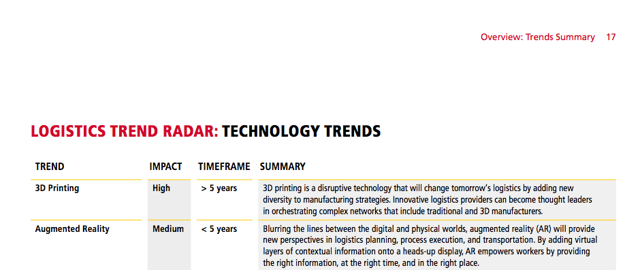 Image Source DHL Logistics Trend Radar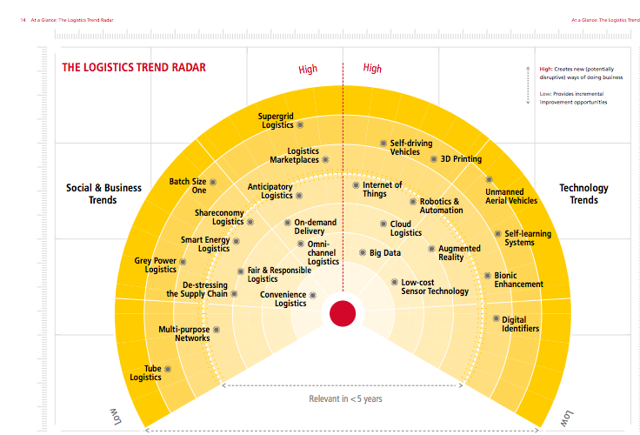 Vuzix iWear video headphone manufacturing and supplier issues have been resolved according to the shareholder newsletter. Vuzix is working with the company's subcontractor in China to raise manufacturing yields to acceptable levels. Shipments of the iWear are expected to begin shipping in volume shortly after failing to contribute any meaningful revenue in Q4 2015 or Q1 2016. Vuzix expects to leverage new initiatives like GoPro (NASDAQ:GPRO) and ship units in volume to gamers, drone owners and medical/dental facilities around the globe.
Cash on hand was deemed as sufficient to fund several new product launches in 2016. Management also is looking ahead to continued business growth in 2017 stemming from current and new product introductions. Vuzix will be launching the M300 in Q2, which will be followed by the M3000 (monocular waveguide based enterprise smart glasses) in the fall. The binocular version of Vuzix's enterprise smart glasses (B3000 series) will be introduced after the M300 and M3000 begin shipping.
Research and development efforts will continue as the company works on the development of waveguides from a new 30,000 square foot manufacturing facility. R&D efforts inside this manufacturing facility will support waveguide development for Vuzix products as well as the company's strategic partners.
My top three Vuzix OEM waveguide partners include Intel (NASDAQ:INTC) alongside Luxottica (NYSE:LUX), LG and Samsung (OTC:SSNLF). Vuzix is in prime position to deliver low cost high quality 1.4mm thick waveguides that will bridge the form factor gap that is required to bring inexpensive fashion smart glasses to the consumer marketplace.
Vuzix's shareholder newsletter provided some key updates to reset revenue expectations for Q1 and Q2.
Q1 Revenue - Investors should not expect any meaningful contribution from the iWear or M300 products in Q1. Expectations should be for revenue to run flat or slightly above revenue levels reported in Q4. M100 unit sales will make up a vast majority of Q1 revenue as the company works through inventory ahead of the M300 launch in Q2.
Q2 Revenue - We are just four weeks into Q2 and we should expect an uptick in iWear product revenue as we move forward throughout Q2. The M300 should contribute revenue in volume beginning as early as late Q2. Overall Q2 revenue will increase sequentially versus Q1, with revenue levels dependent on M300 and iWear shipment volumes. M100 product revenue will make up less than 50% of total revenue in Q2 as contributions from the iWear and M300 begin to provide meaningful contributions.
Source Vuzix Shareholder Newsletter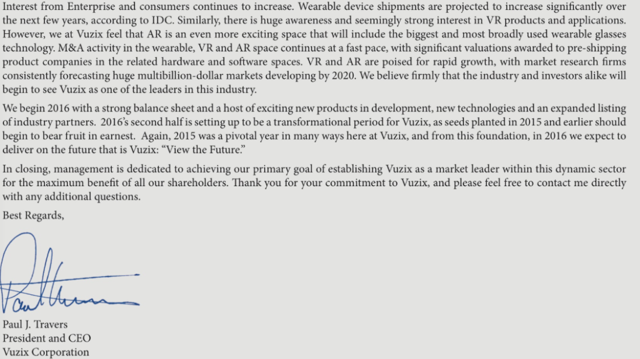 In conclusion, Vuzix's share price is down over 20% since the company reported disappointing Q4 earnings in early April. I have been greedy when others are fearful and have been buying shares on the dip. By all industry accounts Vuzix's augmented reality hardware offerings are first in class and with a wave of planned commercial rollouts expected over the second half. I believe Vuzix shareholders will finally be rewarded. The augmented reality enterprise rubber will meet the road in the very near future and Vuzix is the sleeping augmented reality giant and market leader that is on the verge of awakening.
Image Source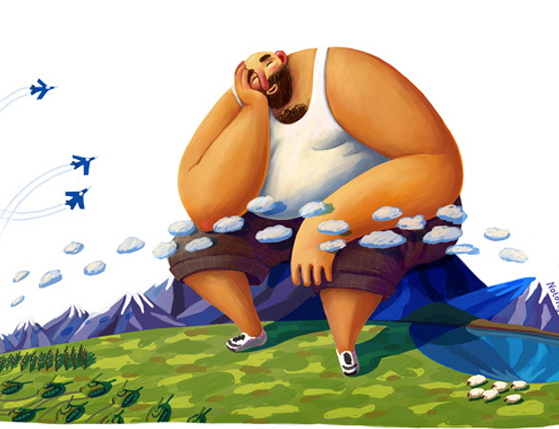 Disclosure: I am/we are long VUZI.
I wrote this article myself, and it expresses my own opinions. I am not receiving compensation for it (other than from Seeking Alpha). I have no business relationship with any company whose stock is mentioned in this article.
Editor's Note: This article covers one or more stocks trading at less than $1 per share and/or with less than a $100 million market cap. Please be aware of the risks associated with these stocks.