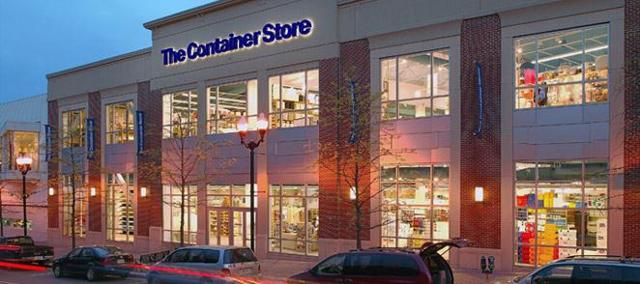 Click to enlarge
For those who are tracking The Container Store (NYSE:TCS), my short thesis on the stock remains unchanged despite the recent pop to $7, which is hinging on future strength in same store sales, or SSS, and announced cost-cutting efforts. Little or no growth in same store sales in 2015 made market participants ecstatic, and I think there is too much faith in Kip Tindell's ability to deliver on his promises.
Salaries Freeze
TCS has one of the most bloated SG&A structures among specialty retailers, whose average SG&A ranges from 20% to 30% of revenues. TCS's SG&A is about 50%. While there are many reasons behind this high number, the main one is the company's high wages paid to its employees. TCS pays 30% to 40% more to its part-time workers according to Glassdoor, compared to the average retail salary. TCS's full-time employees are paid twice the retail industry's average.
Kip Tindell takes a special pride in paying above average salaries. Yet, weak financial performance forced him to cut back on his 1=3 philosophy, which says pay one employee higher salaries and he shows the productivity of three people. The announced salary freeze will contain further bloating in SG&A, but it only preserves the current status-quo, unless there is a meaningful increase in SSS or if product prices are raised. One certain measure that will immediately produce about a $2.5 million bump for the bottom line is a 401(k) freeze, but I wonder if this measure will alienate some of TCS's employees. As 2016 evolves, it remains to be seen if TCS will be able to produce a sizable reduction in its payroll, as it gave a very vague statement on where reductions will come from. Some of the prior payroll increases came from online shipping, which will not go away if online sales will continue growing.
Low Bar for Same Store Sales
TCS's CEO managed investors' expectations very well to the point of decreasing the SSS bar so low that mute or 0% SSS gives its stock a big boost. I still find it disconcerting that if not for TCS Closet with an average ticket of $10,000, the company would have reported negative SSS. In my mind, TCS Closets will generate very little repeat sales going forward, which may create a sales cliff throughout 2016 and punch further holes in SSS growth. My concern that reliance on expensive items to drive SSS is increasing has been confirmed when TCS announced that a 140 basis points increase in SSS came from TCS Closets. This means that while TCS retail sales from its regular products decline, the TCS Closets initiative will not be capable of offsetting the downward trend in SSS.
Financial Performance
While market participants cheered the optimistic outlook, TCS's financials paint a totally different picture. Operating cash flows are actually falling, even after taking into account increases in accounts receivable. Also, the company has consistently run lower cash balances in 2015.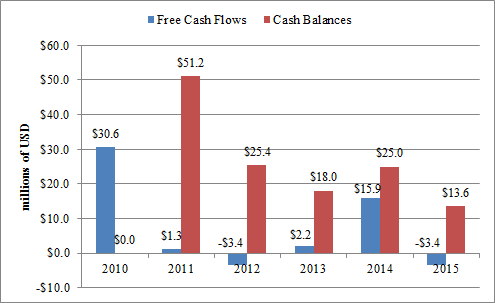 Source: company's filings
Given these dynamics, it is not surprising at all that Kip Tindell wants to slow down store openings or seek smaller store formats beyond 2017 - the company simply does not generate enough cash to afford higher number of store openings. Unless TCS's returns are improved dramatically, stalling store openings will slow down the company's sales growth trajectory. Surprisingly, The Container Store does not have negative covenants with respect to leverage or interest coverage, which provides it with some flexibility, but a lack of incentive to maintain financial discipline. While the company has about $90 million in its revolving line of credit, TCS cannot incur any more unsecured debt if its leverage ratio based on adjusted EBITDA is above 4.5x. At the end of 2015, TCS's leverage ratios stood at 4.6x based on adjusted EBITDA and 5.3x based on EBITDA.
Conclusion
I continue to view TCS as a financial underperforming company with false signs of turnaround. All operating problems I mentioned in my previous post remain on the table with a lack of meaningful initiative to drive same store sales growth being the main obstacle for growth.
Correction: The article incorrectly stated previously that there is a leverage ratio covenant with respect to the secured term loan. The leverage ratio only applies to any additional unsecured debt taken by The Container Store.
Disclosure: I am/we are short TCS.
I wrote this article myself, and it expresses my own opinions. I am not receiving compensation for it (other than from Seeking Alpha). I have no business relationship with any company whose stock is mentioned in this article.