Many investors are turning to ETFs as a simple way to invest their cash and get a diversified portfolio without paying for high management fees. The rapid expansion of ETFs leaves many dividend growth investors seeking the benefits of diversification and low costs, but how can they pick the right ETF? Remember that dividend investors aren't all focusing on acquiring the highest yields possible. There are substantial benefits to having a lower level of volatility or a faster growth rate in future dividends. To further complicate the issue some investors have already picked out several individual stocks for their portfolio and need to find an ETF that will fit around the holdings they already selected.
The Solution
Investors can solve these issues by having a quick way to rapidly compare several potential ETFs to determine which ones would fit best in their portfolio. I put an emphasis on low expense ratios so any ETF with an expense ratio of .40% won't qualify. The following list shows several ETFs that I think investors should consider as allocations:
| | |
| --- | --- |
| Ticker | Name |
| | Schwab U.S. Dividend Equity ETF |
| | Vanguard High Dividend Yield ETF |
| | Vanguard Dividend Appreciation ETF |
| | iShares Core Dividend Growth ETF |
| | iShares Core High Dividend ETF |
| | WisdomTree LargeCap Dividend ETF |
| | WisdomTree U.S. Dividend Growth ETF |
| | PowerShares S&P 500 High Dividend Portfolio ETF |
| | Utilities Select Sector SPDR ETF |
| | Vanguard Consumer Staples ETF |
The First 5
The top five dividend ETFs were the focus of a very popular article. The format used there has been altered some to preserve some of the best factors while incorporating some comprehensive charts that should make it easier to compare the ETFs at a glance.
Expense Ratios
The expense ratios run from .07% to .30%. I would prefer to see expense ratios limited to .20%, but the fact remains that several of these ETFs are still quite attractive.

Click to enlarge
Dividend Yields
For the investor seeking high dividend yields this may be one of the largest considerations. It is an important factor, but investors need to treat it as only one data point.

Click to enlarge
It probably shouldn't be a surprise that HDV remains the winner for the highest dividend yield. The portfolio emphasizes high dividends even when there is some risk to the high yield. SPHD would come fairly close if the expense ratio was cut by 18 basis points and the cash was paid out to shareholders. That would bring the yield up to 3.5%.
Sector Allocations
For easy comparison, here is a new chart demonstrating the sector allocations for the first five:

Click to enlarge
Since they were extensively discussed in the first piece, the chart here provides a quick reference point for comparison.
This article adds 5 additional ETFs, but XLU and VDC are materially different from the other options. XLU is entirely utilities and VDC is almost entirely consumer staples. Because of their extremely heavy weights to a single sector, they would distort any sector allocation chart. Why were they included then? They offer one of the quickest ways for an investor to grab some moderately diversified sector exposure. XLU and VDC are ETFs an investor can use to adjust their sector weightings.
The following chart demonstrates the other ETFs:

Click to enlarge
Sector Impressions
Oil prices started to rebound but remain at exceptionally low levels relative to the last several years. The low oil prices puts dividends in jeopardy for many oil companies. An allocation to "Energy" usually indicates oil exposure. These allocations wouldn't have been seen as so risky two years ago, but there is some elevated risk to dividends in this sector.
Telecommunications is another area where margins are under pressure courtesy of Sprint (NYSE:S) declaring an intense price war on AT&T (NYSE:T) and Verizon (NYSE:VZ). The growth rate of dividends for AT&T and Verizon will depend on their ability to put this price war to rest so they can get back to the day to day operations of an oligopoly. The market leaders here don't want to compete on price, they wanted to make contracts more confusing for consumers because it improves their pricing power. The ideal competition for Verizon and AT&T would focus on quality of service rather than prices.
On the opposite side of the spectrum are utilities and consumer staples. Utilities are generally regulated monopolies. They are trading at fairly high levels currently but the low interest rate environment is encouraging investors to pay a premium for the reliable earnings and dividends.
Consumer staples also offer fairly solid levels of sales and some certainty of earnings even in a down market. The ability to withstand a downturn in the economy encourages investors to bid higher prices since they are able to achieve a respectable dividend yield with some earnings growth without the volatility in earnings experienced by more aggressive sectors.
DLN
The WisdomTree LargeCap Dividend ETF offers a reasonable level of diversification in the portfolio, but it does remain moderately low on the utility allocation. The allocation to energy is materially higher than any of the other ETFs in the same chart. From the original five options the allocation for HDV was materially higher.
If an investor chooses to use DLN as the central piece of their equity portfolio, then it would be wise for them to seek more exposure to interest rate sensitive securities. That could come in the form of long duration bonds, utility allocations, or REITs. For bonds I would suggest the Vanguard Long-Term Corporate Bond Index ETF (NASDAQ:VCLT) or the iShares 20+ Year Treasury Bond ETF (NYSEARCA:TLT) as excellent compliments to DLN. For investors looking for utilities, they could look at adding a small allocation to XLU. If the investor has free trading on Vanguard ETFs they may want to consider the Vanguard Utilities ETF (NYSEARCA:VPU) as another alternative. It has a slightly lower expense ratio than XLU with a ratio of .12% compared to the .14% for XLU but VPU is significantly less liquid.
The consumer staples allocation here runs about 15%. I prefer to go a little higher in my domestic equity allocations, but it isn't low enough to need an entire dose of VDC. The most logical companies to add here would be Altria Group (NYSE:MO), Philip Morris International (NYSE:PM) or Reynolds American, Inc. (NYSE:RAI). Yes, all three suggestions are tobacco because it is one of the most fundamental consumer staples.
DGRW
DGRW is such a unique dividend ETF it needs another chart brought out to show the entire sector allocations: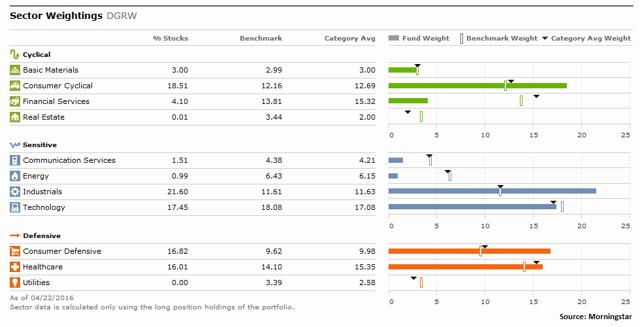 Click to enlarge
The utility allocation is next to nothing. This portfolio seems to be begging for interest rate sensitive investments as a way to diversify the risk. The allocation on consumer cyclical is also fairly high. All in all this is one of the more aggressive of the dividend ETFs. For this ETF to be used as the central piece of the portfolio it would make sense to look at adding a few other allocations.
While going low on oil may make sense if investors believe that low oil prices are here to stay, it doesn't make sense to completely eliminate it from the portfolio. For an investor wanting exposure to oil with less sensitivity the natural choices are Exxon Mobil (NYSE:XOM) and Chevron (NYSE:CVX). They have held up dramatically better than most oil sensitive plays, carry solid dividends, and have large enough operations to suggest they would have a hand in encouraging any new legislation for the sector.
Since this portfolio is so light on interest rate sensitive securities and has no allocation to real estate it would make sense to compliment it with allocations to a very high quality triple net lease REIT such as Realty Income Corporation (NYSE:O), National Retail Properties (NYSE:NNN) or STOR Capital (NYSE:STOR). These REITs demonstrate almost as much correlation with treasuries as they do with the general equity market.
SPHD
The PowerShares S&P 500 High Dividend Portfolio ETF has a fairly conservative portfolio. The heavy allocation to utilities is great for an investor seeking a fairly simple portfolio. The only weakness I notice here is that the consumer staples allocation is fairly low so this portfolio would benefit from adding some VDC. An investor could simply add tobacco, but when the allocation to consumer staples is so low it would be a little too simplistic to just add tobacco.
This ETF was still carrying a 3.32% yield which is fairly strong a fairly defensive portfolio. The biggest drawback here is just the expense ratio. If this came down to .12% it would immediately warrant expanding my top five choices into a top six.
Over the last 22 months SPHD had an annualized volatility of 12.7% and a beta of .76. The S&P 500 clearly has a beta of 1, but it also had annualized volatility of 14.6%. I don't use historical performance relative to SPY as a significant factor in assessing ETFs, but it is interesting to see SPHD demonstrating a total return of 27.6% over that period compared to the 12.2% for the S&P 500.
Historical Demonstration
Investors shouldn't get too focused on historical returns, but I believe it warrants a quick look: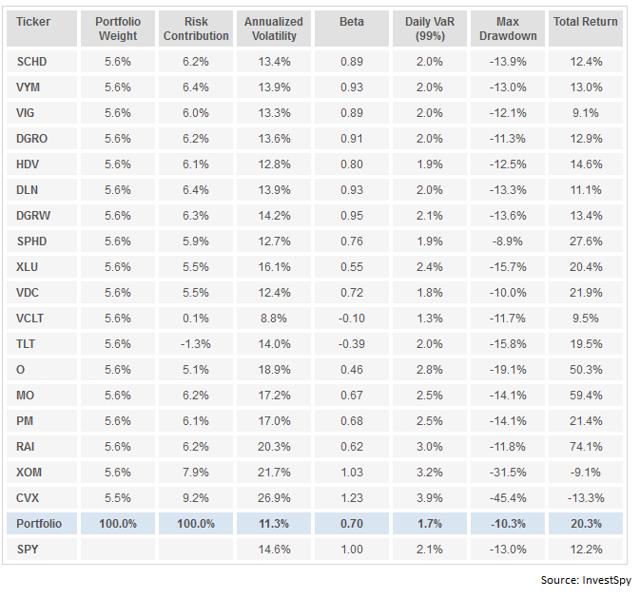 Click to enlarge
The portfolio was set up as a simple equal weight portfolio of each of the investments discussed in this article. Due to rounding the allocation for CVX is slightly lower than the rest. By putting together all of these conservative investments in a simple equal weight portfolio the returns were a solid 20% with materially lower annualized volatility and lower beta. This is the kind of performance dividend growth investors are dying to create. A portfolio with solid yields, strong total returns, and less volatility.
Conclusion
Using a dividend focused ETF as a central piece of the portfolio is a logical way for investors to begin designing a portfolio to meet their needs. Each investment has unique strengths and weaknesses so the portfolio needs to be assessed based on the strengths and weaknesses that remain after combining the different investments.
If you want to know more about my portfolio, why not have a look inside?
If you appreciated this piece, I'd love to get some social shares (see buttons at the top of the article) of my work to boost the search engine rankings for the best dividend ETFs.
Disclosure: I am/we are long SCHD, NNN, STOR, MO, PM.
I wrote this article myself, and it expresses my own opinions. I am not receiving compensation for it (other than from Seeking Alpha). I have no business relationship with any company whose stock is mentioned in this article.
Additional disclosure: Information in this article represents the opinion of the analyst. All statements are represented as opinions, rather than facts, and should not be construed as advice to buy or sell a security. This article is prepared solely for publication on Seeking Alpha and any reproduction of it on other sites is unauthorized. Ratings of "outperform" and "underperform" reflect the analyst's estimation of a divergence between the market value for a security and the price that would be appropriate given the potential for risks and returns relative to other securities. The analyst does not know your particular objectives for returns or constraints upon investing. All investors are encouraged to do their own research before making any investment decision. Information is regularly obtained from Yahoo Finance, Google Finance, and SEC Database. If Yahoo, Google, or the SEC database contained faulty or old information it could be incorporated into my analysis.