Normally I would write several paragraphs explaining an opinion and then provide data to support my view. In the case of Apple's (NASDAQ:AAPL) highly touted "capital return program," it is easier to let the numbers do the talking. It is quite obvious the route Apple has chosen to (supposedly) pay out its massive cash hoard is hurting shareholders.
First, consider a visual of Apple's net cash per share over the last ten years: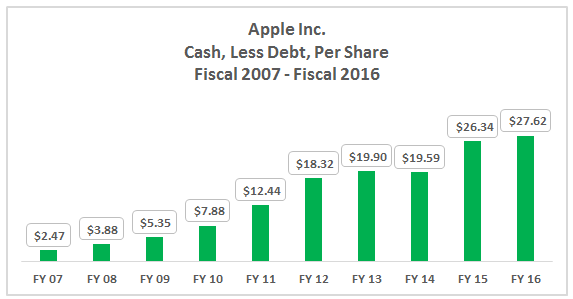 From this graphic, can you tell when the company started paying out dividends and buying back its own shares? Would you conclude that the company is doing an adequate job of returning years and years of accumulated profits to the folks who actually own the company?
Rational observers with no other information would likely conclude that Apple returned a lot of cash during fiscal year 2014 and quickly reverted to its old ways.
Actually, the company paid out its first dividend in late fiscal 2012 and began a large stock buyback plan in fiscal 2013. Total capital returns peaked in fiscal 2014, declined in fiscal 2015, and are on pace to decline again in fiscal 2016 (which is halfway completed).
As you can see, Apple's so-called return of capital is really a complete joke. All they have done is issue debt and use the proceeds to pay dividends and buy back shares. They claim this has been a raging success, but the numbers tell a different story. Net cash at Apple now sits at more than $150 billion, or $27 per share. Shareholders began to really become upset in fiscal year 2012 when net cash crossed $100 billion. It's become even worse four years later, to the tune of 50%.
Okay, so the continual buildup of net cash is one thing, but are shareholders really being harmed by this misguided capital allocation strategy? Let's look at the company's stock price relative to the cash hoard over the last ten years: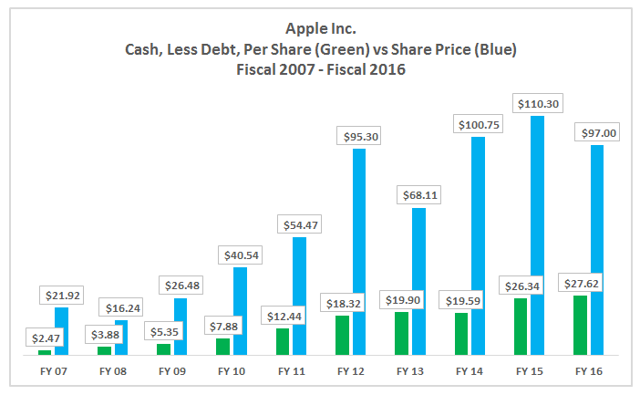 As you can see, Wall Street has been giving Apple less and less credit for its cash hoard as time has gone on. Net cash as a percentage of stock price has risen from roughly 10% in 2007 to around 20% between 2008-2012. In 2013, net cash represented 30% of the stock price, and that is about where the ratio stands today.
We can conclude one of two things. One, investors are ignoring more and more of this cash when they value the company (since all it is doing is building up and earning close to zero return). Or two, Apple's business has deteriorated so much that investors have dramatically reduced their estimate of the value of the actual operating business, and the stock is being propped up by the cash hoard, which investors value highly. To me the answer is obviously the former.
Apple needs to actually return its past cumulative profits to shareholders. All they are doing now is returning a portion of future profits, which is causing net cash to continue to rise. Even better, given the company's growth trajectory lately, would be large scale acquisitions of leading innovative tech companies to reinvigorate growth at the company. Very few tech players have the money to pay large amounts for the cream of the crop, and Apple is on the short list. So far the best they have done is buy Beats (what a letdown).
All in all, I believe one of the main reasons that Apple stock sits at the same price it was four years ago, despite annual operating free cash flow growing from $42 billion to $70 billion during that time, is misappropriated capital.
In terms of valuation, the stock is trading below $100 Wednesday after a quarter of negative growth, lack of innovation and acquisitions, and increasing cash hoarding. Don't get me wrong, the shares are very cheap despite the capital issues. Consider that assigning zero value to the $27 of net cash per share and using a 10x annual free cash flow multiple gets one to a value of $120 per share. It's hard to argue that the stock should trade lower than that, even if the cash hoarding continues unabated.
Disclosure: I am/we are long AAPL.
I wrote this article myself, and it expresses my own opinions. I am not receiving compensation for it (other than from Seeking Alpha). I have no business relationship with any company whose stock is mentioned in this article.