As the upstream oil & gas industry begins climbing back upwards after its sharp fall over the past 18 months, Marathon Oil Corporation (NYSE:MRO) gets ready to report Q1 2016 earnings after the market close on May 4. Several strategic maneuvers have materially increased Marathon Oil's liquidity position, including a secondary offering and significant non-core asset sales. Having its undrawn revolving credit line's $3 billion borrowing capacity increased by $300 million further enhanced Marathon Oil's access to liquidity.
Before its latest divestiture, Marathon Oil had $2.4 billion in cash at the end of 2015 pro forma for its equity raise. On April 11, 2016, Marathon announced that it had divested $950 million in non-core properties. Marathon Oil received $870 million for its Big Horn and Wind River basins operations, including its 570-mile long pipeline that exports crude out of the region. The assets pumped out an average 16,500 bo/d during Q1 2016 primarily through waterflood operations, and the deal is expected to close by the middle of this year.
In that same press release, Marathon Oil also noted that it had sold off "its 10 percent working interest in the outside-operated Shenandoah discovery in the Gulf of Mexico, operated natural gas assets in the Piceance basin in Colorado, and certain undeveloped acreage in West Texas for a combined total of approximately $80 million." Combined, these transactions would put Marathon Oil's cash balance around ~$3.35 billion. Add in an undrawn $3.3 billion revolving credit facility and the chance of a cash crunch is next to none. Marathon Oil's next debt maturing isn't until October 2017, when $680 million will come due.
As Marathon Oil Corporation slashed its 2016 capex budget down to $1.4 billion versus $3 billion in 2015 and $5.7 billion in 2014 while cutting its dividend payments by 76%, investors should see how its cash flow streams stack up against expenditures. Including dividend and interest costs, Marathon Oil will spend around $1.8 - $1.9 billion this year. Energy prices were lower during the first quarter of 2016 than where they are at as of this writing, so it will act more as a barometer as to what a possible average of $40 WTI and $43 Brent will look like in Q2 than what to expect throughout all of 2016 (unless of course prices move lower again).
STACK and SCOOP updates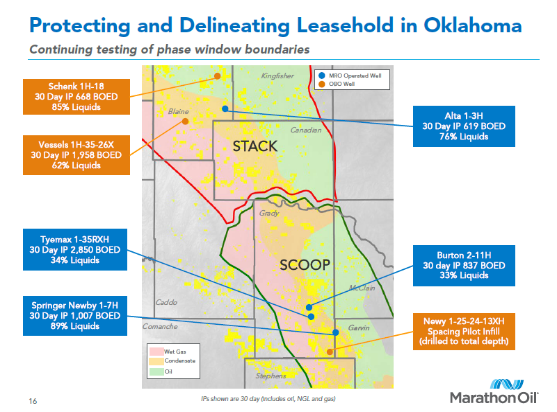 Source: Marathon Oil Corporation Q4 2015 Presentation
The STACK region in Oklahoma has seen a recent surge of interest as stellar well productivity points towards the play being on par with the Eagle Ford and the Permian Basin in terms of well economics, making it a top tier play. Recent wells targeting the Meramec and Oswego formations in the area point towards "breakeven" rates in the core of the oil window that average just above $30/barrel realized crude price. That goes down to as low as $20-$22/barrel in the core of the core of both plays.
Marathon Oil is directing two-thirds of its Oklahoma budget to developing the emerging Meramec oil play, with plans to have 70% of its STACK acreage held by production by the end of 2016. The Meramec play is centered around Blaine, Canadian, and Kingfisher counties in Oklahoma. Investors should look out for any comments regarding Marathon Oil tacking on additional acreage in the region like it did last year, where it acquired 12,000 additional acres in the prolific Blaine County for the low cost of less than $3,000/acre.
It's also worth watching out for further gains on the operational front, including faster drilling times and well productivity enhancements, as that will help drive Marathon Oil's economics going forward. Drilling times for Marathon's Meramec wells were down 35% last year relative to 2014, while completed well costs dropped by 25%. Management is guiding for an additional 15% decrease in completed Meramec well costs in 2016.
Another factor that will significantly impact Marathon Oil's economics is the upstream player's ability to effectively delineate and target the oil window of the Meramec. There is a very good chance management will update investors on Marathon's recent well results, which should be closely monitored. The wells Olive June XH (Blaine County), Voss SL (Kingfisher County), and Irven John XH (Blaine County) should have been completed last quarter, providing a look at both standard and extended length lateral wells. Being able to prove that Marathon Oil is sitting on prime real estate would remove doubts around just how much of its position is actually valuable and how much is outside of the core oil window.
The OBO (operated by others) Scheffler 1H-9X extended lateral well in Blaine County yielded a solid 30-day IP rate and high liquids cut as you can see below. Marathon Oil is attempting to recreate or possibly surpass those results with its Olive June XH and Irven John XH wells. Next to its Mike Stroud 1-28H well with a much shorter standard lateral length, the Voss SL is Marathon Oil's way of continuing to delineate the SW corner of Kingfisher County to see if it's on par with its Blaine County results.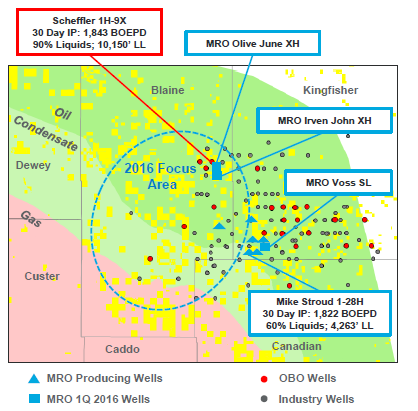 Source: Marathon Oil Corporation Investor Presentation
Marathon Oil is also aiming to keep optimizing its operations in the neighboring SCOOP play, particularly by extending the length of its well laterals (the horizontal reach). Five extended lateral wells are planned for 2016 in the Woodford play, that when combined with the 23% drop in completed well costs last year and a guided 10% cut this year, could allow the company to generate a 20%+ IRR at $40 WTI on those wells. Longer well laterals have been shown to yield much higher levels of well productivity in shale basins across America, with material gains in initial production and EUR (estimated ultimate recovery) rates, at a cost that enhances drilling economics.
In the Springer shale, another emerging liquids-rich play that is located in the SCOOP region, Marathon Oil turned its first operated well online back not that long away. Management noted that the Newby-1H well produced 45% more cumulative barrels of oil equivalent than previous OBO wells Marathon had participated in. This is due to the industry rapidly gaining a much better understanding of the horizon and is a solid sign that future gains could lay ahead. Marathon Oil's second Springer well was turned online at the end of Q1 2016, implying that it will be referenced during the upcoming update.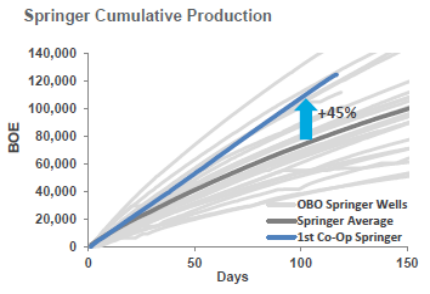 Source: Marathon Oil Corporation Investor Presentation
Shareholders and interested investors should look out for how Marathon Oil plans to proceed in the SCOOP region, specifically regarding its Woodford operations and recent foray into the Springer shale. The SCOOP and STACK plays are expected to represent 14% of Marathon Oil's 2016 capex budget.
Final thoughts
Marathon Oil Corporation's stock price has rallied alongside the rest of the industry, but remains a far cry away from the ~$18 share price it supported back before its dividend was cut in late-October of last year. The STACK and SCOOP regions have become very interesting over the past year, with Marathon Oil Corporation being one of the major players spearheading development in the area. With its rock solid financial position and recent liquidity raises, Marathon Oil Corporation is a upstream player worth keeping an eye on as the crude markets potentially begin entering the recovery phase.
Disclosure: I/we have no positions in any stocks mentioned, and no plans to initiate any positions within the next 72 hours.
I wrote this article myself, and it expresses my own opinions. I am not receiving compensation for it (other than from Seeking Alpha). I have no business relationship with any company whose stock is mentioned in this article.