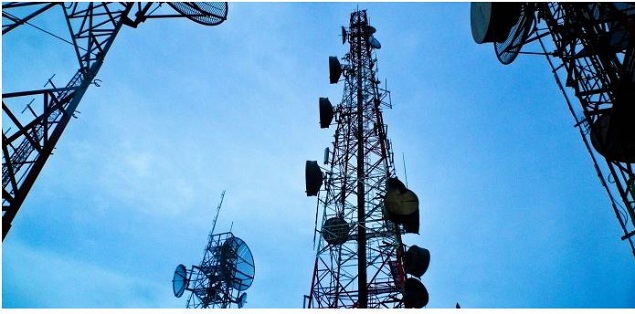 Source: rcrwireless.com
Wireless tower REIT Crown Castle International (NYSE: CCI) reported another strong quarter, and raised its AFFO guidance slightly for FY 2016.
Management expects to see 6%-7% annual AFFO growth moving forward to grow its quarterly distribution, while maintaining a 75% AFFO payout ratio. This should be sufficient to put this S&P 500 company on most DGI radar screens.
Additionally, Crown Castle's balance sheet was upgraded by S&P and Fitch last December to investment grade - albeit BBB- which is the lowest rung on that exclusive ladder.
While Crown Castle has only been a dividend paying REIT since 2012, it has a solid business model backed up by reasonably long-term leases with the four US wireless carriers:
AT&T (NYSE: T) - 29% of revenues; weighted-average 7 years remaining term.
T-Mobile USA (NASDAQ: TMUS) - 22% of revenues; weighted-average 6 years remaining term.
Sprint (NYSE: S) - 19% of revenues; weighted average 5 years remaining lease term.
Verizon (NYSE: VZ) - 18% of revenues; weighted average 7 years remaining lease term.
All Others - 12% of revenues; weighted average 4 years remaining lease term.
I described the Crown Castle strategy in detail for Seeking Alpha readers in mid-March, and concluded that CCI pursued a recession resistant dividend growth business model.
The three major things that make CCI different from its peers are: 1) A lack of forex exposure due to a portfolio of wireless assets based entirely in the US and Puerto Rico; 2) A significant investment of ~$3 billion in 16,500 miles of fiber and 17,000 small cell nodes; and 3) A REIT dividend yield of 4%, which is more than double the only other REIT player in the sector.
Sector Overview
Wireless tower REITs control the land and own the steel structures which the carriers use to send and receive signals to your smartphone and other mobile devices.
Crown Castle and its two third-party wireless infrastructure peers, American Tower (NYSE: AMT) and SBA Communications (NASDAQ: SBAC), all offer equipment co-location or shared infrastructure solutions on wireless tower masts.
American Tower is a REIT which pays a dividend yielding just under 2 percent. Notably, SBA Communications is not a REIT, although it reports REIT metrics. SBAC has returned capital to shareholders in the past through stock repurchases, but does not pay a dividend.
In the US, the four large wireless carriers are the customer base for all three of these companies. Crown Castle operates about 40,000 tower masts. These CCI "macro" sites average 2.2 tenants each.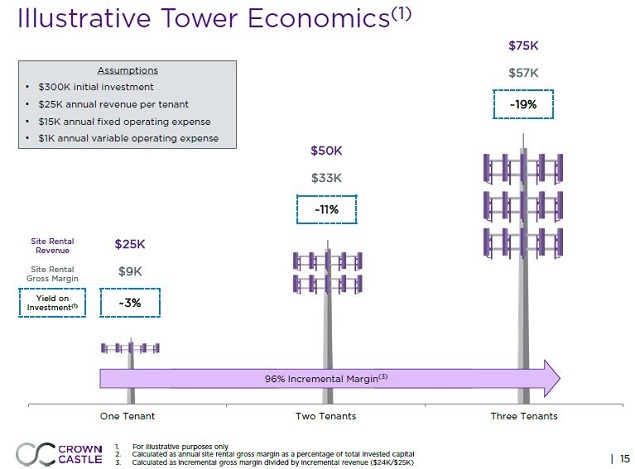 Source: CCI - Q4 2015 Earnings presentation
CCI underwriting assumes when new single-tenant tower sites are purchased, an average of 0.1 tenants will be added each year over the initial 10-year lease term. Initial returns on towers are low to mid-single digits, but they become far more attractive over time as the customer density increases.
Q1 Call Was Fiber And Small Cell Focused
As of March 31, 2016, the CCI small cell and fiber business segment was responsible for 12% of total revenues. This was the first quarter the management has broken out earnings between tower operations and small cells.
During the CCI Q1 earnings call, the discussion was dominated by analysts asking questions regarding the small cell business segment to update their models. These non-stop inquiries covered the gamut, including: new metrics, economics, growth potential, and earnings forecasts.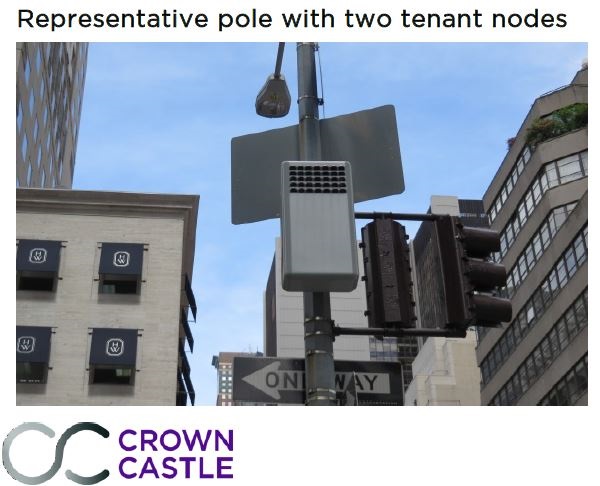 Source: CCI Q1 2016 Earnings presentation - Small Cell example
Moving forward, CCI intends to report additional metrics on small cells, including "revenue per fiber-mile." The company expects to average ~$55 million per year of incremental revenues from this business segment. The rule of thumb would be a mix of 75% new nodes and 25% co-location. However, unlike counting the number of towers, well-located fiber with capacity is the main asset (and largest percentage of cost), not simply the nodes themselves.
One way to conceptualize this would be to imagine the fiber is a tower laid horizontally, with telecom equipment located at strategic intervals along the route.
CCI - Expect Fewer Large Deals
Crown Castle's recently announced $461 million Tower Development Corporation 366 tower acquisition was a one-off transaction. The TDC acquisition is expected to add $25-$27 million of "site gross margin," and be accretive to AFFO in 2016. Management explained on the earnings call how the TDC deal was actually a result of CCI exercising an option to purchase, which was included in the original agreements back in 2008-2009 between all of the parties.
In a similar vein, the $1 billion Sunesys small cell and fiber acquisition last year was expected to be the last transformative acquisition for the $3 billion CCI business segment. Any future acquisitions are more likely to be within a single US market if the buy vs. build economics are favorable.
Notably, building out incremental small cell deployments generates much higher margins than buying a large portfolio of fiber assets.
According to CEO Ben Moreland on the call,
"…it is easier to remember the $3 billion because we can remember the two distinct events. One was $1 billion for NextG at about a 4% yield and the Sunesys acquisition last year of $1 billion at about a 6% yield. So you can see that obviously the incremental contribution on that last $1 billion, then, is very significant, gets into double digits to drag the whole thing up."
Crown Castle now has fiber assets in the top 25 US markets, and management feels that there is a huge addressable market expanding "block by block" within the existing markets.
Huge Secular Drivers - Competitive Industry
Macro towers will remain the first option for carriers when capacity is available. However, unloading data onto small cells in urban areas allows for better quality voice traffic to be delivered from existing maxed out tower locations.
Moreland's opening remarks covered the wireless data tailwinds:
"…according to Cisco, US mobile data consumption grew 56% in 2015, compared to 2014. The year-over-year growth alone represents a staggering amount of data consumption. It is almost equivalent to all the mobile data that crossed the cellular networks in 2013.

Importantly, as we look out to the future, this growth is expected to continue. US mobile data consumption is projected to increase six-fold between 2015 and 2020, a compound annual growth rate of 47% or roughly doubling every two years.

Given these projections and consistent with carrier commentary, we expect the carriers to continue to invest on a consistent basis to maintain and improve network quality."
At the margin, the third-party shared infrastructure growth strategy is dependent upon ongoing wireless carrier spending to upgrade and deploy new equipment. The good news is that this is necessary in order for carriers to monetize their newly acquired spectrum.
Organic Earnings Growth Drives Dividends
The relatively large scale of existing revenues vs. CCI's anticipated new carrier deployments, helps to smooth out results.
Moreland's rule of thumb on AFFO sensitivity sums it up nicely:
"…you have heard me say this many times, that up or down 20% on tower leasing in any given year is about a 1% change in AFFO per share outcome and one of the many reasons we like this business."
Since co-location is cheaper than building new towers, (assuming that a tower option is available where more coverage is needed), it appears that the Big 3 will continue to benefit from the growth in mobile data.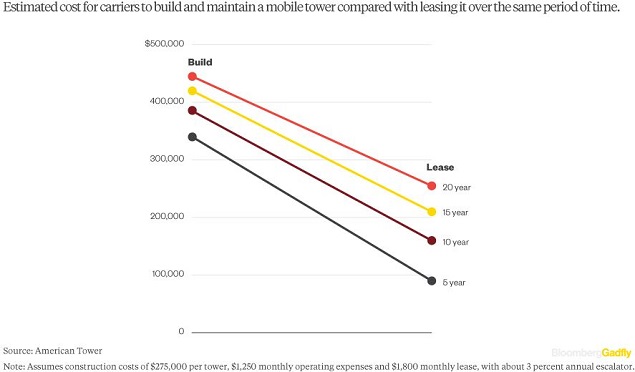 Source: Bloomberg.com - American Tower
Something else to keep in mind is that Crown Castle and its rivals work closely with their customers to provide infrastructure to augment carrier network growth. Typically, there is an 18-24 month lead time to acquire land or rights to use right-of-way, design, permit and expand fiber to construct new outdoor small cell nodes.
Choppy Results YTD
During the past 52 weeks, Crown Castle's shares have traded in a range of $74.22-$88.82 per share.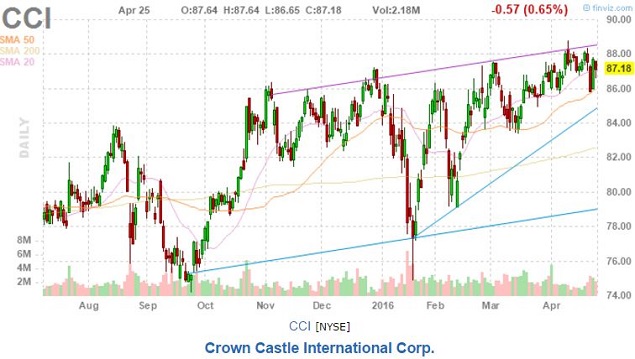 CCI's shares are currently trading near their 52-week high.
On April 25, three investment banks raised price targets for CCI after earnings.
Deutsche Bank - $98 to $99 per share.
RBC Capital Markets - $100 to $102 per share.
Stifel Nicolaus - $95 to $97 per share.
Mr. Market has basically ignored this enthusiasm, at least for the time being. Frankly, I tend to agree. I'm just not sure at this point what the near-term catalyst would be for CCI's shares.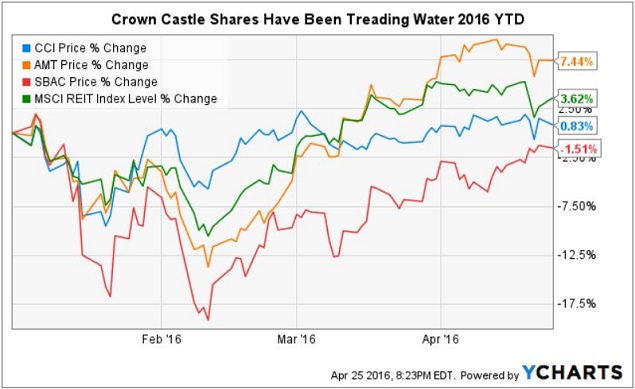 Crown Castle essentially remains a block and tackle story. It is a REIT which is paying a 4% yield, which is likely to continue to grow steadily.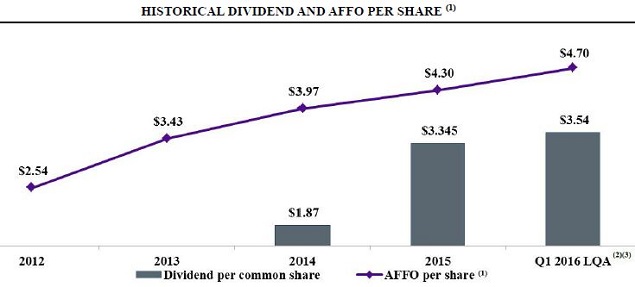 Management expects average AFFO growth of 6%-7% annually over the long term.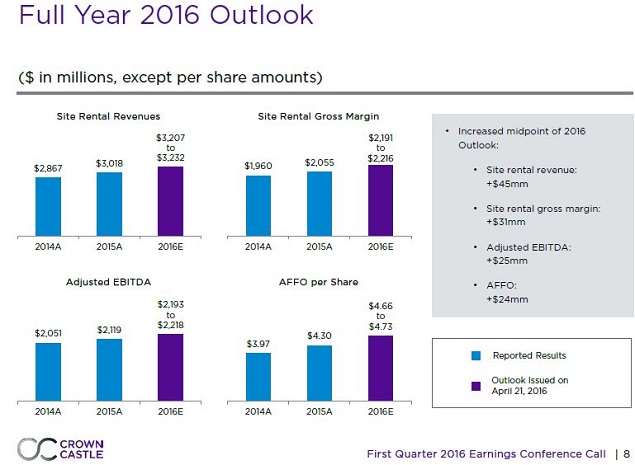 Source: CCI - Q1 2015 Earnings presentation
The $4.66 to $4.73 per share, represents $4.70 of AFFO at the midpoint. This was a couple of pennies higher than the outlook management shared on January 27, along with results for Q4 and FY 2015.
AFFO takes into account the actual cash rents received, which adjusts FFO for higher GAAP straight-line rent reported during the first half of 10-15 year leases. Notably, the compounded 2%-3% contractual annual rent increases become a cash tailwind during the later years of these leases.
Management has also guided to a 75% AFFO payout ratio, which implies that the current quarterly dividend of $0.885 per share will not be raised substantially in the near term.
Investor Takeaway
The ability for carriers to design and build their own networks, and competition among the Big 3 wireless infrastructure companies limits initial yields. However, contractual rent bumps and tenant co-location tend to substantially improve margins over time.
Crown Castle has no FX risk to its AFFO growth which makes it a more reliable choice for income-focused investors compared with American Tower.
The 4% dividend distribution combined with management's 6%-7% AFFO annual growth forecast should result in solid returns for a patient long-term DGI investor.
However, the recent steady rise in the 10-year note to 1.93% as of this writing could become a price headwind for the entire REIT sector in the near term.
The question which investors looking to initiate a long position need to answer is will Crown Castle shares pull back prior to hitting $95 and higher analyst price targets?
My sense is, yes, that is likely to happen.
Having just three or four carriers in most markets exposes these wireless REITs to headline risk. Early this year Re/code reported that Sprint might pursue a different infrastructure strategy. This led to a knee-jerk reaction by investors. Subsequently, the Big 3 wireless tower shares recovered nicely.
This type of headline risk can exacerbate the choppy nature of this sector beyond the "usual tantrums" which can be caused by investor expectations regarding REITs and higher interest rates.
While I would Hold CCI's shares here, I would wait to add or initiate a long position. Based upon the information I heard on the Q1 2016 call, I would suggest moving the CCI Buy target up to $80-$82 per share, from the $78 to $80 target I had suggested previously.
I relentlessly hunt for diamonds in the rough and rising stars, in addition to closely following data centers, covering REIT blue chips and breaking news. Please consider following me as a Seeking Alpha author if you would like to be notified when my future articles are published.
Disclosure: I/we have no positions in any stocks mentioned, and no plans to initiate any positions within the next 72 hours.
I wrote this article myself, and it expresses my own opinions. I am not receiving compensation for it (other than from Seeking Alpha). I have no business relationship with any company whose stock is mentioned in this article.