The interactive entertainment industry has seen strong growth in recent years, and those growth drivers should continue to boost the industry; however, there are additional catalysts that should lead to even more prosperity. Investors should note:
Five primary growth drivers (mobile, strong consoles, digital, DLC, microtransactions) from recent years that still have legs and are changing the face of the industry.
The creation of synthetic subscription services.
Three additional future catalysts that are only just beginning to scratch the surface and show up in financial statements (eSports, VR, and services).
This tide of growth is lifting many gaming companies, but it is also dramatically changing the gaming landscape, and many companies aren't navigating this change well.
Activision Blizzard (NASDAQ:ATVI) has a leading IP and is my favorite way to "play" the interactive entertainment companies. Even after a sharp run-up in the stock price over the past year, I see more room for appreciation, with a $44 price target (roughly 25% above its current price). The KING acquisition is particularly attractive as a driver of cash flow, massive user reach, and complementary products/IP. Electronic Arts (NASDAQ:EA) has been very aggressive in moving into growth areas. Its portfolio of IP is not quite the class of ATVI, but a number of shrewd decisions have it firing on all cylinders. However, after a significant price appreciation in recent years, my recommendation would be to HOLD the stock of EA, as it's in line with my current $65 price target.
Nine Interactive Entertainment Growth Opportunities
Gaming has been the beneficiary of several structural changes, societal adoption, technological advancements, and innovation over the past several years. These helped some areas and hurt others, but the overall effect has been positive, with the industry seeing strong revenue growth and expanding margins. I highlight five growth drivers that have changed the face of the gaming/interactive entertainment industry.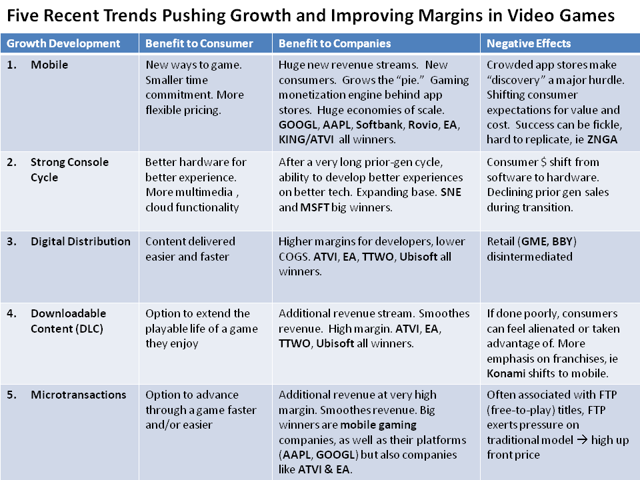 Click to enlarge
These growth drivers aren't new, but they have more room to run. Digital's share of revenue varies by company, but is rising across the board. Most companies are still just around 50% digital share, and in my conversations with industry executives, they expect this will continue to grow by around 10 percentage points/year. I agree.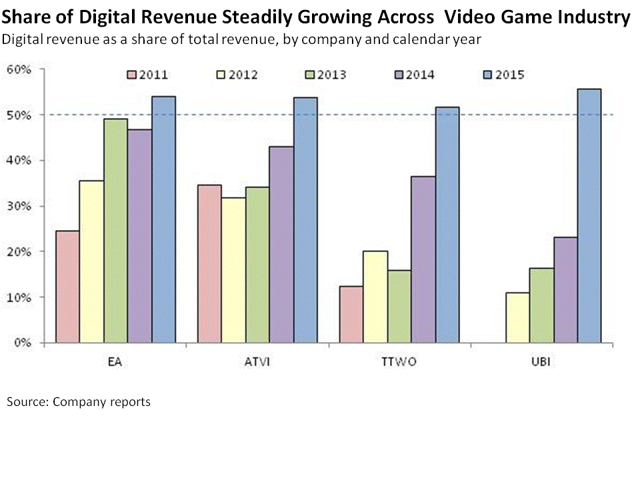 Click to enlarge
Newzoo recently estimated that mobile now holds a plurality of the gaming industry. While my estimates for the market are larger than Newzoo's, the trend I expect is the same: mobile accounts for roughly 39% of the overall market in 2016, and continues to take share as growth outpaces the rest of the industry. Much of this growth is coming from Asia. It's very important to note however that the overall gaming market is growing at a steady pace. Mobile growth is not merely cannibalistic, but is bringing new, casual users into the market, while other growth drivers continue to expand the rest of the industry.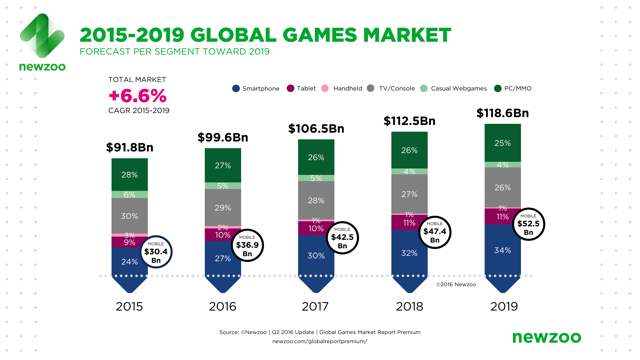 Click to enlarge
Consoles remain well above the prior generation, even for Xbox One, which is often viewed as a "disappointment" (only in relation to the PS4 strength does that appear to be true). My estimates for 26m unit sales (PS4 and Xbox One) in 2016 would continue a strong pace of growth, representing about 8% y/y unit growth.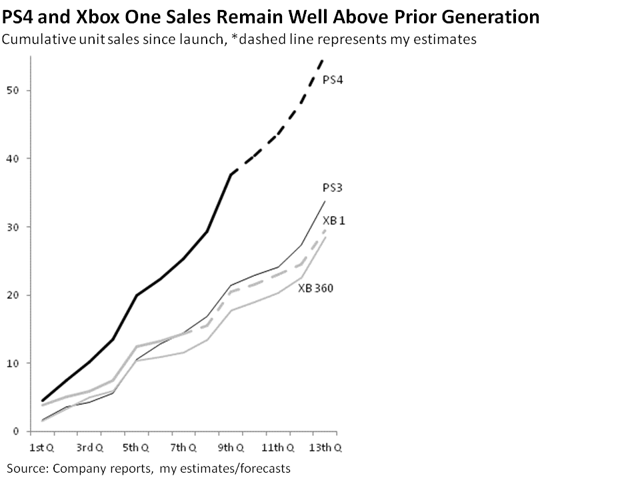 Click to enlarge
"Synthetic Subscription Services" Smooth & Growth Revenue
Taken together, many of these growth drivers are similar in that they create what I call a "synthetic subscription service" (the sixth growth driver). Historically, gaming revenue has been transactional, which creates a lot of seasonality and cyclicality driven by the release schedule. The new model is still mostly transactional, but the transactions are no longer singular. As transactions become more frequent, especially with timed releases around DLC, or with microtransactions in the extreme, the stream of transactions begins to approximate a subscription model. This transition means more revenue for those able to generate strong franchises.
Key to building a synthetic subscription service is "engagement," which is the name of the game right now in interactive entertainment. Engagement is eyeball share, mindshare, and (at least theoretically) eventually wallet share. Mobile companies tend to measure this by monthly active users (MAUs), which is part of the reason that ATVI's acquisition of KING's 500m MAUs is so attractive. But it's also why metrics like hours played, enemies killed, or others that can sound astronomical and meaningless, can ultimately be very meaningful.
Catalysts For Future Growth: eSports, VR and Services
The above-mentioned factors have driven growth of the interactive entertainment industry in recent years, and I fully anticipate that these factors will continue to drive strong growth for the industry for years to come. Perhaps more important, however, are two additional catalysts that may turn growth into acceleration: 7) eSports and 8) virtual reality (VR).
eSports is, and will be, a huge driver for engagement. eSports events are selling out Madison Square Garden, drawing tens of millions of viewers online, and about to take a regular place on TNT's prime-time lineup. It's yet another avenue to keep people excited about franchises, which may help open up wallets as consumers remain interested in longer titles.
The big picture with eSports is to drive indirect revenue opportunities by driving engagement: watching creates excitement and interest, which spurs increased engagement, which then spurs more transactions. However, I'd also highlight direct revenue opportunities for companies via ticket sales, advertising, streaming rights, etc. Both ATVI and EA have set up dedicated eSports divisions in recent months. Major companies are gobbling up eSports assets, with ATVI buying Major League Gaming, IBM (NYSE:IBM) acquiring Ustream, even Amazon (NASDAQ:AMZN) acquiring Twitch and Google (NASDAQ:GOOG) (NASDAQ:GOOGL) launching YouTube Gaming.
VR is something that major developers will have limited exposure to in the early going, so don't expect it to show up in earnings this year, but it will be a driver of growth in coming years. The potential for VR is massive, and gaming has proven itself as a monetization engine for smartphones and tablets, and has a natural presence in VR. One exception will be Sony (NYSE:SNE), which I expect will have big advantage over its competitors in the early going based on gaming experience, relationships, an installed base of PS4, and especially price.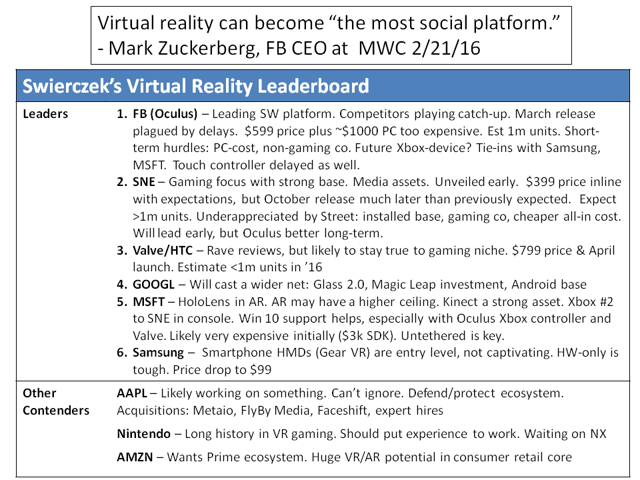 Click to enlarge
Aside from the move to synthetic subscription services, we've also seen the rise of 9) literal subscription services in gaming. The most obvious examples are SNE's PSN and Microsoft's (NASDAQ:MSFT) Xbox Live, or even PC titles like ATVI's World of Warcraft or (formerly) EA's SWTOR, all of which have been around for a long time, but also more recent attempts at SaaS like EA Access and PS Now, or even over-the-top TV with PS Vue.
Services are one thing to keep your eye on going forward. Hardware (consoles) has been the predominant gatekeeper, but this is now more about PSN and Xbox Live than it is about PS4 and Xbox One. While there's been some recent lip service paid to allowing for players to compete across those ecosystems, I don't believe this is anywhere close to happening. These contained ecosystems are likely to continue, and software developers don't like ceding this market to the hardware companies. We're currently hearing rumors swirl regarding new upgrades to the consoles, which will be interesting to watch. Overall, if hardware is minimized and value shifts up the stack to apps and services, as we've seen throughout tech's history, then eventually the value of SNE's and MSFT's gatekeeper status could be threatened.
Gaming is a proven monetization engine for many new technologies, and deep pocketed tech companies like Apple (NASDAQ:AAPL), Google, Amazon, Facebook (NASDAQ:FB), Disney (NYSE:DIS), Time Warner (NYSE:TWX), and Vivendi (OTCPK:VIVHY) are trying to carve out a niche against incumbents like Microsoft, Sony and a host of pure plays. For instance, I estimate Google's Play Store is now generating around $6 billion annually, still smaller than about $13 billion for Sony, but at a much higher margin (SNE's op income from gaming was <$1 billion last year). SNE's turnaround has been led by gaming. M&A has been an avenue for some, with Amazon acquiring Twitch, Facebook purchasing Oculus, and Vivendi making hostile plays for Ubisoft and Gameloft after unwinding its prior Activision stake. However, despite all the attention, these companies have given to gaming, and despite it being a big growth area for many, it remains a relatively small part of overall revenue. FB has a key asset in VR with Oculus (see my prior "FB Monetization Engine Just Getting Started" from 4/20/16), but you wouldn't buy FB today just for exposure to gaming. So how best to play all this growth?
ATVI, Best Stock To Play
ATVI is my favorite stock in interactive entertainment. It's also the largest, with a market cap around $25b after an incredible run, up nearly 100% since the start of last year despite some recent pullback, and one of the top performers (along with EA) in the S&P 500 last year. Yet, it still has room to grow. My price target is $44, representing approximately 25% upside from its recent close. I see significant growth opportunities driven by industry growth factors, including margin expansion and revenue growth. CEO Kotick has proven himself again and again and is the class of the industry. ATVI's IP is unmatched in several categories, with leading mature titles like Call of Duty and World of Warcraft, but also newer ones like Skylanders and Destiny representing multiple ~$1 billion franchises. Many of these titles innovated new genres. Cash returned to shareholders via buybacks post-Vivendi have been helping the stock.
There are also significant synergies and advantages from its acquisition of KING. Activision has a knack for developing a leading IP, and KING's portfolio fills perhaps the one hole ATVI had. Hearthstone has been a nice (albeit late) entry into mobile, but ATVI's overall exposure to mobile had been lacking. There are significant synergies for ATVI and KING that create great opportunity. KING brings with it a demographic of 500m users very different than those who play a title like Call of Duty or Diablo. That presents a nice opportunity for ATVI to bring some of its classic IP to mobile and market it to its new user base. Something Warcraft-like could work very well on mobile, and ATVI could face reduced issues around game discovery. Mobile games have had success marketing new games to existing users, and well known IP has held a decided advantage. Further, mobile games in general are under-monetized. Most FTP games only generate revenue from around 1-3% of users. That leaves an awful lot of users to be tapped, either via ads or other revenue opportunities.
In addition to recent moves to address its hole in mobile, ATVI has been more proactive in addressing the opportunity around eSports. ATVI recently acquired MLG (Major League Gaming) to take a leading asset in eSports, and brought in Steve Bornstein, former CEO of ESPN, to help lead its efforts to create an "ESPN of eSports." Between KING and MLG, ATVI has opened up its pocket-book and acquired two key assets to prudently address two major growth areas where its presence was lacking.
However, while this cutting-edge eye for innovation in the space has positioned ATVI as the market leader, it has been quickly followed by imitators in a very competitive industry. Call of Duty is becoming tired and competes against numerous first-person shooters (FPS); World of Warcraft subs have fallen dramatically; Skylanders is pressured by DIS's Infinity, TWX's Lego Dimensions, and even Nintendo's amiibo; and even Destiny is being challenged by Ubisoft's The Division. Yet, even under pressure, sales are still strong. Leading franchises, strong management, exposure to crucial growth drivers, and the KING acquisition represent more upside to the stock. Further, ATVI is launching new initiatives around bringing its IP other media, open a TV and movie studio at the end of last year.
With what should be achievable margin expansion via revenue growth in higher-margin areas, very conservative estimates of mid-single-digit revenue growth (ex-KING), and some stabilization in KING's mobile business, I see a strong buy with $44 easily within reach.
EA Is A Close Second
Electronic Arts is a close second as far as best ways to play the stock, but it's not as attractive at its current level. EA has been aggressive in expanding into growth areas, with a leading presence in mobile, a dedicated eSports division, a huge share of digital revenue, a subscription service (Access), and very strong IP. Under the leadership of CEO Andrew House, EA has been very proactive to establish a quick presence in nascent technologies, and the stock has responded, up roughly +150% during his ~2.5 years at the helm.
In particular, EA has been aggressive at expanding core IP via mobile and DLC (Ultimate Teams, Sims, season passes, etc.). Its Madden and FIFA franchises are industry leaders and new IPs like Star Wars Battlefront and Titanfall are opening up new revenue streams. Whereas ATVI may struggle to keep its annual releases fresh, EA's annual sports titles are a natural fit for annual releases with constantly changing real world rosters and skill sets.
EA has a long history of partnering with sports brands (NFL, FIFA, NHL, etc.) and other well-known IPs (Star Wars, Transformers, etc.) on consoles and is moving that model to mobile, lining up licensed properties like Monopoly, Scrabble, The Simpsons and Minions. This has given EA an advantage, especially crucial in mobile where game discovery can create a high hurdle due to the crowded nature of the marketplace. The flip side of that coin is that EA is faced with significant royalty payments to its partners that its competitors don't face to the same degree. EA is currently on the hook for a minimum of more than $1.3 billion in commitments to developers and licensors. This pushes down gross margins, which are around 52% for EA, compared to around 65% for ATVI. This also creates a bit more uncertainty around future revenue streams, though a significant history and future contracts reduce this to something that shouldn't keep investors up at night.
EA recently appointed industry veteran Peter Moore to head up its eSports initiatives. EA has many titles that transition very well into the eSports realm, including team-based FPS titles like Battlefield and Battlefront, as well as sports titles like Madden and FIFA where it faces little competition.
Neither ATVI nor EA yet has much of a presence in VR. They've made comments over the past few years that it didn't make sense to be in the industry before the installed base was there, but now that VR has launched in multiple forms, there has been a softening of these positions. I'm particularly interested to see what EA's Frostbite Engine could do in VR. It's produced some incredibly stunning visual gaming, including Star Wars Battlefront, arguably the most impressive visual game ever. We're probably at least a year out from significant revenue from VR for EA or ATVI, but long-term investors might want to consider the additional upside this catalyst could bring.
Investment Conclusion
The gaming industry will see significant growth in coming years. Investors would be wise to invest in ATVI ($44 PT), even after significant appreciation, though I'd avoid EA at current levels ($65 PT). The view that ATVI is relatively cheaper than EA is consistent with the Street expectations, which have Activision at a forward P/E of 16.7x versus Electronic Arts at 18.6x, but as I expect better revenue growth, margin expansion and free cash flow opportunities from ATVI than EA, this relative valuation shouldn't hold. As such, for some investors, a pair trade going long ATVI while shorting EA may make sense.
Disclosure: I am/we are long ATVI, FB.
I wrote this article myself, and it expresses my own opinions. I am not receiving compensation for it (other than from Seeking Alpha). I have no business relationship with any company whose stock is mentioned in this article.