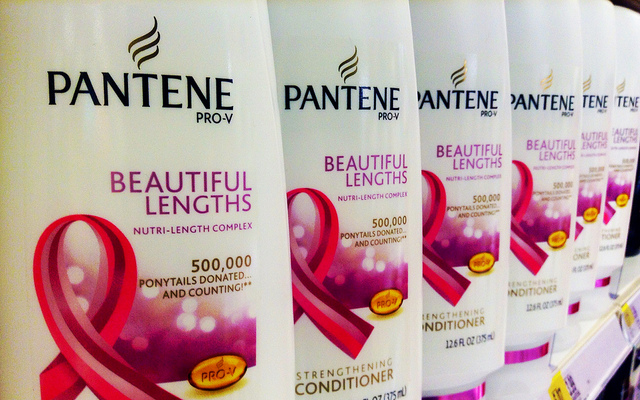 Procter & Gamble (NYSE:PG) is a great company. Perhaps one of the most iconic consumer defensive blue chips in the world. With brands as diverse as Gillette, Head & Shoulders, Olay, Fairy, Oral-B, Pampers and Pantene it has served investors well for generations.
Yet it has been having a bit of a rough time of late. Revenue and volume figures have been deteriorating exaggerated by an extensive restructuring involving the divestiture of slow-growing brands to focus on core brands.
Ongoing as this is, you expect a degree of disappointment at results time. Nonetheless, back at Q2 time I wrote that "efficiency improvements great, but volume and revenue growth needed." Unfortunately, on reading Q3 results I am left with a deep sense of déjà vu which leaves me with little else to do but recycle the title from before. Despite some reasons to be optimistic we really need to see revenue and volume growth for them to "stick."
Let me explain what I mean by this.
Revenue and Earnings Slide Continues
Headline figures were not great. Yet, on the plus side, it is clear that revenue shrinkage is slowing and operating income growth is accelerating in Q3 2016 over a three month as opposed to nine month (that is, FY to date) period: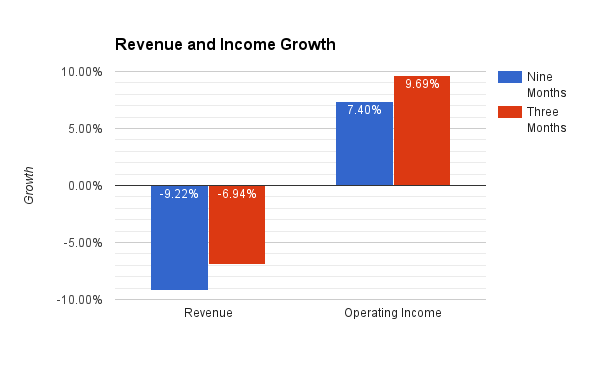 This is encouraging. Even if we accept that some of this improvement is courtesy of softer (though still deeply negative) foreign exchange effects on the last three months than the last nine we still come out with an improvement.
Unsurprisingly, with revenues declining and income growing, margins continue to improve: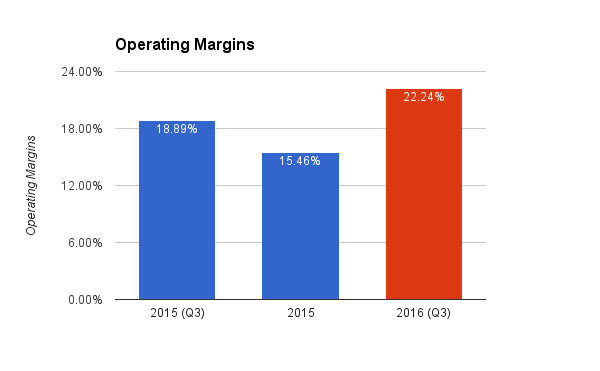 Again, it is hard not to find this encouraging. Yet it hardly seem worth highlighting that this would be much more warmly received had the margins improved on top of revenue growth. This is especially true as I still have concerns elsewhere.
Volumes Decline
Yet what comes across clearly is that volumes are still declining. Maybe there is a silver lining hidden somewhere. Perhaps the rapid divestiture program at the company will reveal this? Clearly this has an effect. Yet what remains true is that volumes continue to decline even adjusting for this: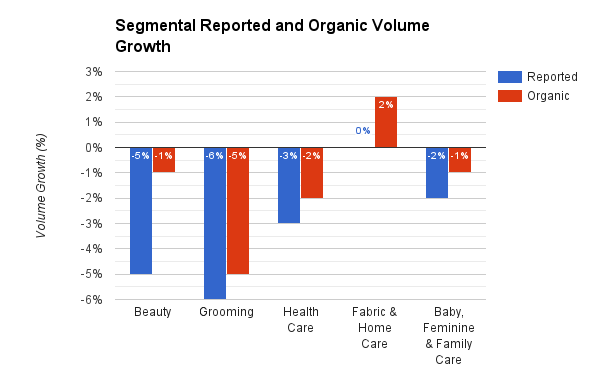 On the plus side, what is clear is that in the largest segments ("Fabric & Home Care" and "Baby, Feminine & Family Care") volumes have improved in the last three months compared to the nine month performance so far: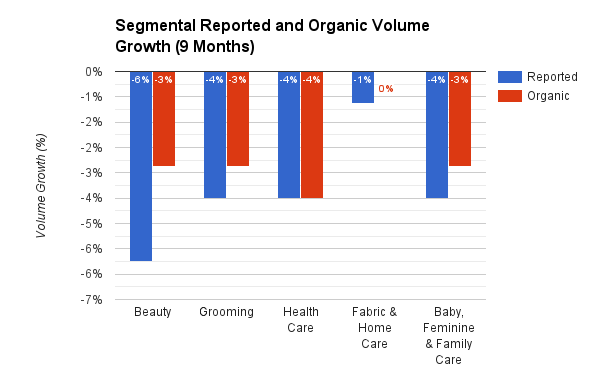 There is no doubt that this is good news. Indeed, looking at the company volumes as a whole it is clear an improvement is occurring: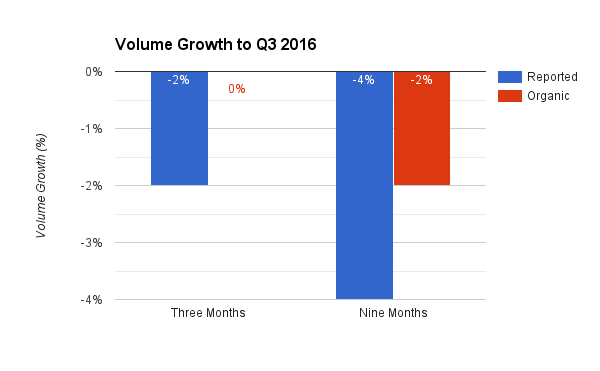 Reversing organic volume decline of 2% to flat is, maybe, hardly something to make investors jump for joy. Yet it is, at least, a sign that some progress is being made.
Pricing Opportunity Waning?
Another concern is related to pricing power. Back at Q2 2016, Procter & gamble hiked prices up heftily. This pricing power is, of course, one of the main attractions of brand-power businesses like Procter & Gamble. Price hikes do, however, often lead to volume declines. In time (six to nine months according to the company) these tends to reverse a little as competitors also hike prices driving customers back to their favorite brands as the price difference narrows.
In this light, the modest improvement in the last three months compared to the nine month time frame is even more encouraging. Yet I remain worried about pricing. What is clear is that with volumes still declining pretty sharply (even on an organic basis) they are having to rely on pricing hikes even more. Spot the only consistently positive movements in their sales change drivers (from SEC Filing):

Click to enlarge
The only growth is from pricing. The issue is that this is likely to compound volume declines. Even before the hefty hikes at Q2 time have had time to bed in and for competitors to react (and customers respond in kind) Procter & Gamble have loaded further sometimes hefty price hikes.
What I am left thinking is that Procter & Gamble has been left with just one working tool at its disposal to bring about growth: price hikes. Short term, this is fine, but long term this still needs to be supported by volume growth somewhere along the line.
Free Cash Flow
Encouraging signs do emerge on the cash flow efficiency front, however. Operating cash flow has leapt in 2016 so far compared to 2015. Similarly, CapEx has dropped:
This is great news. All told it means that despite the fact that shareholders' equity levels have dropped since Q3 2015 on flat debt levels Procter & Gamble leaves Q3 2016 with strong looking CROIC figures.
CROIC (cash return on invested capital) gives us a good idea of the cash generation abilities of a company. Calculated by dividing the FCF by the sum of its debt and shareholders' equity it tell you how much FCF is generated from total invested capital. A CROIC of 10% means it generates $10 for every $100 of capital invested. An attractive return.
So far, Procter & Gamble has produced more cash from its capital than in 2015. Assuming a similar Q4 contribution to FY results as in 2015 I predict a CROIC of around 13.2% at present: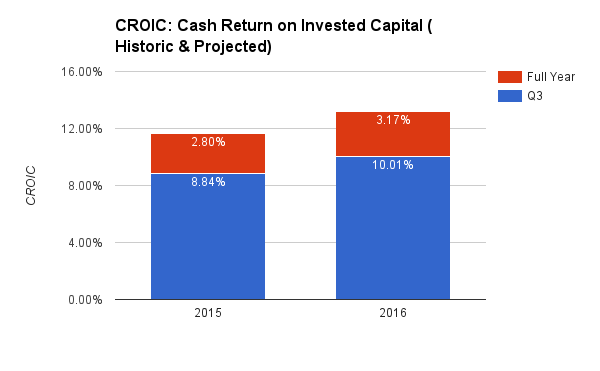 Indeed, I still expect to see Procter & Gamble leaving 2016 with a CROIC around the 13% to 14% mark. This would mark a significant improvement on 2015 where it only managed a CROIC of 11.6% which in itself was a recent high: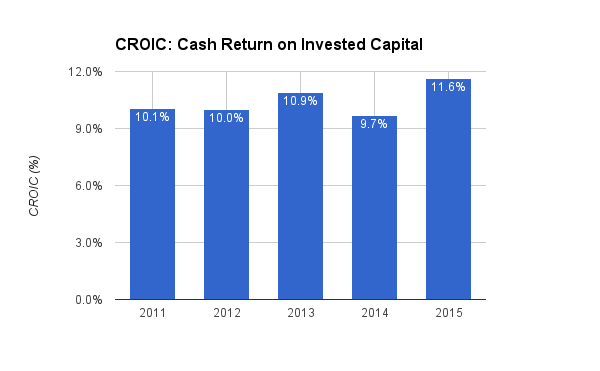 Overall, it is hard to argue that Procter & Gamble's incredible attraction as a highly cash-generative consumer defensive business have deteriorated. Far from it, in fact. Improvements on this front are certainly pleasing to see and look set to support Procter & Gamble's strong shareholder return history and investment in their remaining, core brands.
Conclusion
Procter & Gamble's Q3 results were another mixed bag. Optimism shines through in the fact that, again, efficiency improvements are making strong progress. Margins have grown. Cash flow continues to improve rapidly. Revenue and volume shrinkage has slowed. Yet it is hard to shake off entirely the pessimism derived from continued organic volume and revenue declines. There is no doubt it is becoming a more efficient business. Yet right now I want to see it become a more energized one too. Not only making more of its sales, but making more sales.
Volumes must grow, as must revenues. Until this is the case I will not be able to shake off a certain degree of cautiousness on the company and the nagging feeling that I should book some of my profits now looking to reenter at a more modest valuation level.
Reality is that without volume or revenue growth I very much doubt that Procter & Gamble can grow their all-important dividend at the pace investors have become accustomed to. In other words, 1% rises will probably be the norm until volumes and revenues start to trace an upward trajectory.
Procter & Gamble remains an incredibly attractive business with remarkable brands. Yet right now there are others with similar attractions at lower valuations relative to growth. Another of my holdings, Unilever (NYSE:UL), is one of them. Their results earlier this month show that a consumer goods company-even a massive one-can find solid growth in today's market. Procter & Gamble still has yet to prove it can do the same.
Notes
Unless otherwise stated, all graphs and the calculations contained within them were created by the author. Creative Commons image reproduced from Flickr user jeepersmedia.
Disclosure: I am/we are long PG, UL.
I wrote this article myself, and it expresses my own opinions. I am not receiving compensation for it (other than from Seeking Alpha). I have no business relationship with any company whose stock is mentioned in this article.