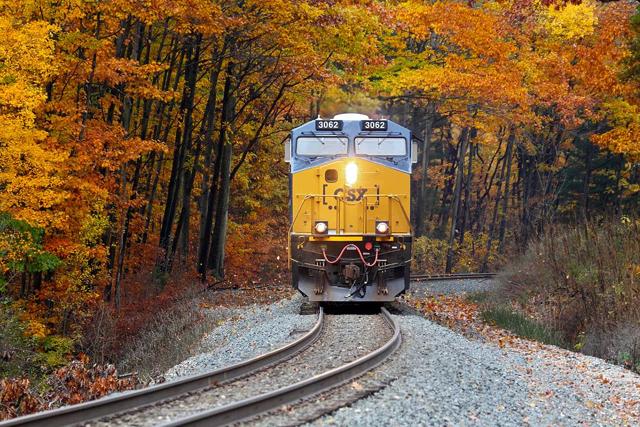 Click to enlarge
CSX Corporation's (NYSE:CSX) Q1 results were so depressing that even I was taken aback. Directionally, top line growth for CSX and the entire railroad industry has been in decline. It won't abate anytime soon; rail traffic is a harbinger of economic activity and the global economy is worse than the powers that be would have you believe. Investors should avoid CSX for the following reasons.
Anemic Top Line Growth
Q4 revenue was off 14% Y/Y from $3.0 billion to $2.6 billion. This followed a 13% decline in Q4.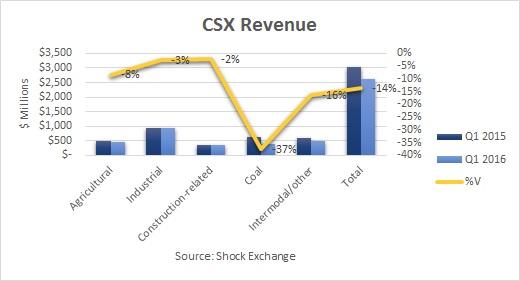 Consistent double-digit declines in top line growth are starting to mirror oilfield services firms. The biggest decliners were Coal (down 37%) and Agricultural (down 8%). The Industrial segment (down 3%) included automobile products. When the auto sector declines due to a reduction of subprime loans or demand, it could amplify CSX's pain.
The Bloomberg Commodity Index was down over 25% in 2015. That has contributed to the decline in revenue. The narrative changed in 2017; the majority of the commodities in the index showed positive gains year-to-date. However, coal is a different story. The company generates 15% of its revenue from Coal, slightly better than the 17% exposure for Norfolk Southern (NYSE:NSC). Not only are coal prices down, but it has at also had to compete with low natural gas prices.
Volume for the quarter fell 5% and revenue per unit also fell 9%. Pricing pressure is what separates U.S. railroads from their Canadian counterparts like Canadian National (NYSE:CNI) and Canadian Pacific (NYSE:CP). The Canadians have been able to pass through price increases to offset declines in carloads. However, Q1 may be an inflection point as prices to transport grain and crude oil are expected to face headwinds going forward.
Margins Have Room For Improvement
Amid anemic revenue declines, a key measure will be how efficient the company is with the revenue it can generate. EBITDA of $1.0 billion was 11% less than the $1.1 billion generated in the year earlier period. CSX got some pick up in fuel costs which fell from 9% of revenue to 6% of revenue this quarter. Of note is that labor costs rose slightly to 30% of revenue from 29% last year. Management cut headcount by 4,500 over the past year, and will likely cut more jobs going forward.
By streamlining operations and closing facilities within its Coal network, management claims to have generated $130 million in efficiency gains. CSX expects $250 million in efficiency gains for the full year. Cost cuts mirror those being initiated by Norfolk Southern and Canadian National. It appears competitors are attempting to close the gap between their EBITDA margins and the 49% margins generated by Canadian Pacific. Margin improvement could help spur their share prices and keep them out of Canadian Pacific's cross hairs.
Margin improvement could create a floor for earnings and the stock. Nonetheless, with such anemic top line growth I don't see a reason to own CSX. Investors should continue to avoid the stock.
Disclosure: I am/we are long CNI.
I wrote this article myself, and it expresses my own opinions. I am not receiving compensation for it. I have no business relationship with any company whose stock is mentioned in this article.