Introduction
Express (NYSE:EXPR) is a specialty apparel retailer that targets the 20 to 30 year-old age demographic. It is an underappreciated retail company that many investors do not fully understand.
Express remains underappreciated because it is still in the midst of a turnaround in a sector that most investors have written off as hopeless. But in spite of the headwinds facing the broader retail sector, Express continues to demonstrate strong execution on its turnaround plan.
Express will outperform its peers in the retail sector this year. I base this assessment on a detailed look at its business model and how it continues to focus on increasing shareholder value. Furthermore, its savvy CEO continues to provide conservative guidance that provides room for potential long term outperformance. Institutional investors are buying Express' turnaround and retail investors should seriously consider doing so as well.
Demonstrating A Turnaround
At the beginning of 2015, a potential buyout of Express by Sycamore Partners fell through. In an 8-K filing from January 19, 2015, Express noted that it had ended buyout talks because Sycamore Partners had been unable to find financing for its takeover bid. Because of the failure to buyout Express, Sycamore Partners began to sell out of its position and sent its share price plummeting into the $12-range.
But investors watching the deal understood that Sycamore was attempting to buy Express on the cheap. Ultimately this failed deal turned out to be a blessing in disguise because it has allowed Express to continue to rebound and focus on increasing shareholder value.
Since January 2015, Express has continued to grow and has experienced significant share price appreciation. In fact, Express topped $21/share last month before its current pullback.
All of this follows strong positive financial developments. For example full year comps were up 6% and adjusted diluted EPS grew 79% to $1.45 in 2015 compared to 2014. This is a significant improvement in EPS share growth that reflects Express' improving position.
Looking at the e-commerce segment, sales increased 11% compared to 2014. In fact, e-commerce sales represented 17% of total net sales in 2015. Furthermore, this increase followed up a more limited increase of 4% in 2014 compared to 2013. The double-digit jump last year is a positive development and a clear demonstration of robust growth.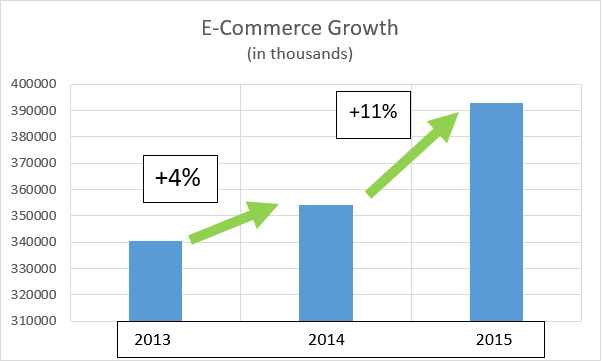 Going forward, Express' management team has projected low single digit comparable same-store sale growth for this year. Although this may not seem like a lot, this is actually quite positive given broader weaknesses in the retail sector.
As a point of comparison, looking at Gap Inc.'s (NYSE:GPS) comps demonstrates a significant divergence between these competitors.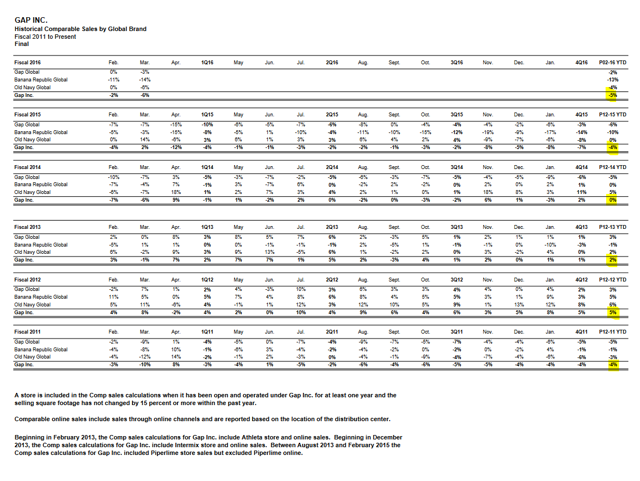 Click to enlarge
Based on this data, Gap Inc. had a weak 2011 followed by a turnaround in 2012. And since 2012, Gap Inc. has been on a gradual march downward. In general, it appears that Gap Inc. has just performed poorly in the last couple of years.
But what is even more important than historical trends in the ever-changing retail sector is what is going on right now and how this could potentially impact the future. Looking at the top portion of the chart highlights an important point.

Click to enlarge
Out of all of the companies that make up Gap Inc., only Old Navy did not experience significant declines in its comps last year. And the data so far this year paints an even bleaker picture.
Contrast this with Express. Express comps were up 6% in 2015 and its management team projects growth again this year. Given that its peers continue to struggle with comps, this helps demonstrate why comps actually do matter. Relative to Gap Inc., Express is doing really well and investors should keep this in mind.
A Good Business Model
Express' business model continues to focus on high growth sectors line online shopping, developing its core market, and creating brand loyalty through smart marketing campaigns.
In addition to growth in the e-commerce sector noted above, Express is focused on increasing this segment as much as possible. In the Q-4 earnings call, CEO David Kornberg noted:
We expect continued growth in our e-commerce business during 2016. All of the in-store product is offered online. Additionally, we offer product extensions in the form of additional colors and sizes of products. Beyond that, we will continue to carry online exclusives, which enable us to project the Express lifestyle free from space constraints. Our men's branded third-party products represent an example of this approach.

From an operational standpoint, we will continue upgrading the e-commerce experience. We have enormous opportunities to take advantage of segmentation and greater personalization. That could mean many things, for example, disseminating more personalized e-mails or delivering customized page views in response to customer searches.
Here we see how Express plans to continue to grow its e-commerce business. Not only are all of products available for purchase both in-store and online, but there is a new focus on providing personalization. For example, if a consumer puts an item in their shopping bag on Express.com but does not make a purchase, they will receive a follow up email with a subtle recommendation to complete the purchase. Furthermore, online shoppers can read reviews right below an image of the product alongside what percentage of people actually recommend it.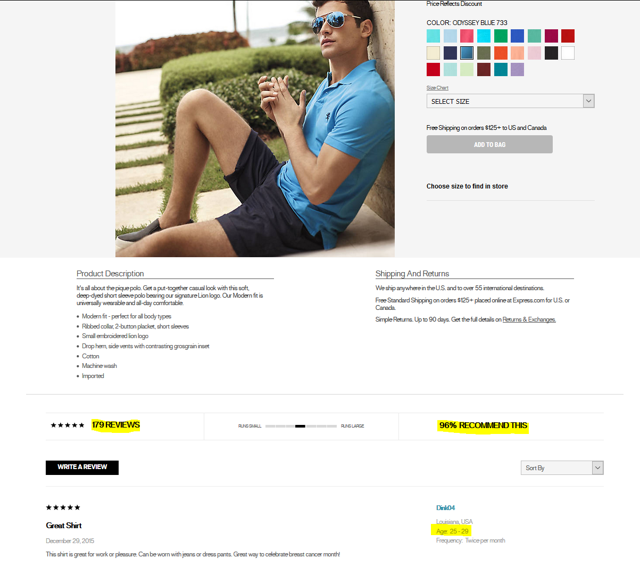 Click to enlarge
Source: Express
In a McKinsey & Company study titled "How retailers can keep up with consumers" the authors note that:
Already, 35 percent of what consumers purchase on Amazon and 75 percent of what they watch on Netflix come from product recommendations...
These product recommendations are based on algorithms derived from what other consumers are interested in based on the particular product they are browsing. Having Express recognize the importance of peer recommendation and then utilizing this to drive online growth will be a successful strategy in the long run.
Another focus for Express in 2016 is to strengthen its core business operations in the United States. As such, Express will close 23 retail stores in fiscal 2016 and 2017 while opening 21 new Factory Outlet stores, 2 of which will be conversions of existing retail stores. A reduction of weaker retail locations alongside an expansion of outlet stores will help reduce costs and bring in additional value-focused consumers.
Express utilizes smart marketing campaigns to drive growth. Express utilizes a number of different sales during each quarter to keep consumers coming back for more. One sale technique that is utilized is a weekly online only "After Party Sale". The deep discounts offered in these sales help stimulate consumer demand.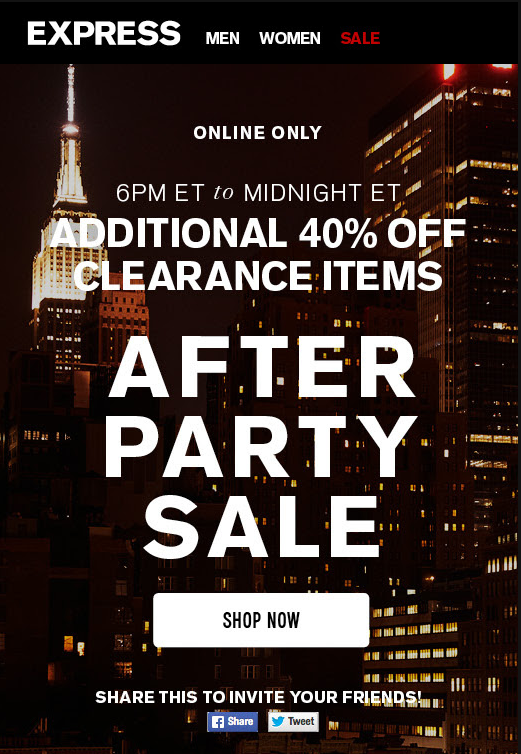 Express' also continues to effectively use its brand ambassadors. In 2015, Express utilized NBA MVP Stephen Curry as its men's brand ambassador to help increase visibility and drive sales.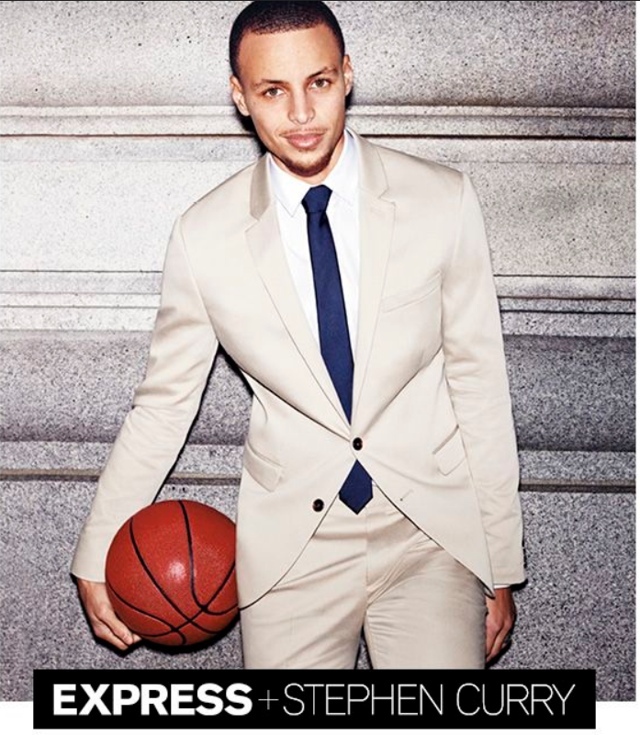 Click to enlarge
In a discussion with GQ, Stephen Curry explained his decision to be a brand ambassador for the company:
What made Express the right fit for your brand?

It's a brand I've worn for a long time, even without a professional affiliation. When I first got to the league, me and my wife would go shopping for my game looks, I didn't have a stylist or anything, and Express was one of my staple stores. When they called, it made perfect sense.
There are few important points to consider based on his comment.
First and foremost is the fact that Stephen Curry - who just led the Golden State Warriors to a record shattering 73-9 season - used to wear Express before he was a brand ambassador. Even when he began to play in the NBA, Express was one of his "staple stores". If Stephen Curry liked Express before he was a brand ambassador for the company, then it goes to reason that a lot of people in the 20 to 30 year-old age demographic that Express targets also find value in its products.
Next, bringing Stephen Curry on board immediately increased Express' visibility. Consumers who followed Curry's lead in 2015 may now be loyal customers of Express.
Finally, Stephen Curry matters a lot for any company. For example, Stephen Curry has been a huge boon for Under Armor (NYSE:UA). Stephen Curry helped increase Under Armor's shoe sales by 95%. Under Armor's collaboration with Stephen Curry has helped it tremendously and it undoubtedly has also helped Express.
Although Stephen Curry is no longer Express' men's brand ambassador, another talented young star represents the company today. Kris Bryant is its current men's brand ambassador. The 24-year-old Chicago Cubs' third baseman was the 2015 National League Rookie of the Year. Having another up and coming star to represent Express will continue to increase its visibility and cachet.
A key feature that provides Express with a competitive edge compared to its peers is its brand ambassadors. Gap Inc. does not have anything similar and this will remain a distinguishing feature for Express. Although the subjective quality of products will vary from consumer to consumer, Express' brand ambassadors will serve to enhance its appeal and improve its overall image.
Lots of Advantages
Express has numerous advantages working in its favor. In particular, its excellent CEO, superb balance sheet, and an aggressive share buyback program will help it outperform in the long run.
Above all, Express is led by a long-standing member of the company. CEO David Kornberg has held a variety of positions since initially joining Express all the way back in 1999. Since 1999, he has mostly worked at Express and done so in different capacities. He became President of the company in 2012 and was appointed CEO in 2014.
Since becoming CEO, Kornberg has executed a strong turnaround for Express in spite of broader secular headwinds. He has been able to do so by keeping a relentless focus on improving Express' business model based on his deep knowledge of the company and the challenging retail sector. On top of all of this, he has helped to increase shareholder value.
After the failure of Sycamore's attempted buyout, Kornberg began to proactively increase shareholder value. The first step in this process was the redemption of all $200.9 million of Senior Notes. With this redemption, Express now has zero long term debt. A pristine balance sheet has allowed Express to move forward with another critical step to increase shareholder value. This critical step has been its aggressive share buyback program.
In the latter half of 2015, Express went on a share repurchase spree. The first set of repurchases occurred under a previously authorized $100 million share buyback plan that expired on November 28, 2015. As part of that plan, Express repurchased approximately 2.1 million shares for a total cost of $40 million.
On December 9, 2015, the Board of Directors approved a new $100 million share repurchase plan. From then until March 30, 2016, the company bought back $70 million worth of stock. This means that Express has reduced the total number of shares outstanding from 84.3 million in January 2015 to 79.9 million today. And it still has $30 million left over to buy back additional shares this year.
With no debt to service, a reduction in the total outstanding shares available, and $187 million in cash and cash equivalents at the end of FY 15, Express has much more financial flexibility as compared to other retail sector companies. Its myriad of strengths will allow it to continue to focus on improving its business and increasing shareholder value.
Institutional Investors Are Buying
One of the strongest indicators of support for Express is the increase of institutional buying. A lot of new funds and institutions have recently been buying Express.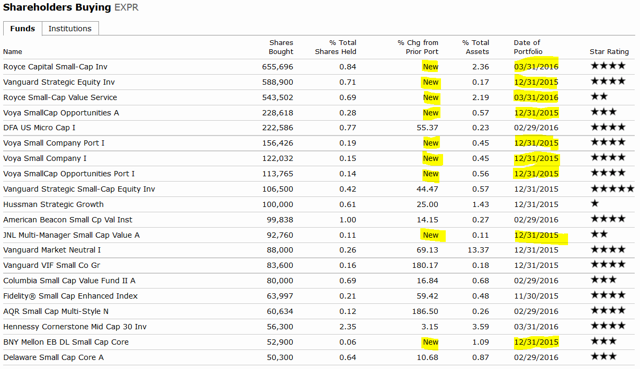 Click to enlarge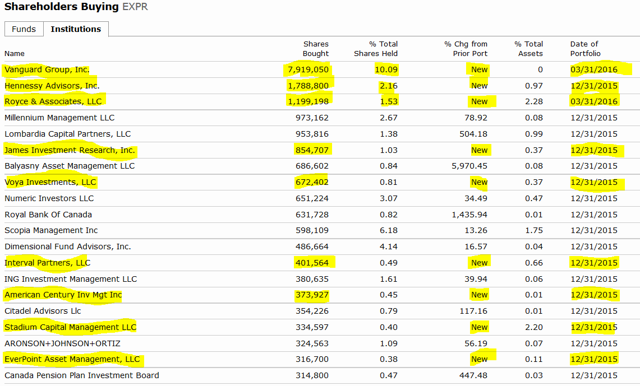 Click to enlarge
Source: Morningstar.com
There are a few important points that stick out.
Above all, there has been a lot of new buying. This type of institutional buying only happens when a lot of different investment groups see value in a company and want to take advantage of the potential for growth.
Next, the Vanguard Group Inc. bought 10.1% of the company. If a company of Vanguard's stature is taking out such a large stake in Express, investors should take note. Vanguard would not buy the number of shares it did if it didn't find high value in Express.
Finally, it is also important to notice the rating of the funds that have been purchasing Express. Most of these funds are four-star rated by Morningstar, which provides an objective barometer on the quality of these funds. If well-rated funds are buying, this is another positive bullish indicator for Express.
Valuation
Since the beginning of April, Express has given up its gains alongside a broader sell-off in the retail sector. It is now trading at $18.31/share and appears to undervalued. If we project EPS of $1.65 for this year, then its current share price gives us a forward P/E of only 11. Given its low forward earnings multiple, Express appears to be trading at a discount.
But perhaps secular headwinds can help explain why Express continues to trade where it does. Comparing Express with its peers helps to see how its share price stacks up. In addition to Gap Inc., let's compare Express with Urban Outfitters (NASDAQ:URBN) and Guess? (NYSE:GES).

Click to enlarge
YTD Performance, Source: Morningstar.com
Based on this chart, Express' share price has outperformed Gap Inc. and Guess?, but has been significantly beaten out by Urban Outfitters so far this year. But if we expand this data back to the beginning of 2015, we see a different picture.

Click to enlarge
2015 - 2016 Performance, Source: Morningstar.com
Based on this chart, Express is the only retail company among its peers that is experiencing share price appreciation. In fact, its share price is now nearly 25% higher than it was at the beginning of January 2015. It has performed better in the long run, but it has yet to see the kind of share price appreciation that one would expect given its turnaround.
In the long run, Express will not remain undervalued if it continues to outperform. Express should trade at a higher forward earnings multiple to better reflect its quality and potential and the fact that more and more institutions and funds are starting to take larger positions in the company. If we stick with the assumption of $1.65 for forward EPS guidance, but anticipate a forward P/E of somewhere between 16-18, this would give Express a price target of between $27 and $30.
This price target makes a lot more sense given Express' turnaround and current guidance. As long as Express continues to turnaround and more investors begin to see this, it could see a 50% increase in its share price over the course of this year.
Conclusion
Express is a company that far too many investors simply don't understand. To be fair, this makes sense given that it is a specialty retailer that targets a very specific demographic. And given the many problems that exist in retail today, a lot of investors have given up searching for value in this sector.
Express has a lot going for it right now and its recent pullback provides an excellent long term entry point. Express has a fantastic CEO who knows how to effectively run a company and improve shareholder value. He consistently provides conservative guidance, which allows additional room for outperformance. Last year, Express beat on earnings and revenue almost every single quarter and it could potentially do the same this year.
Express is an attractive opportunity with a good business model, lots of advantages, and growing interest by institutional investors. In an otherwise beaten down sector, Express continues to look good.
Disclosure: I am/we are long EXPR.
I wrote this article myself, and it expresses my own opinions. I am not receiving compensation for it (other than from Seeking Alpha). I have no business relationship with any company whose stock is mentioned in this article.