Background
CSS Industries (NYSE:CSS) is a producer of novelty and seasonal gift items such as gift cards, ribbons, scrapbooks, decorations and related items. The company is vertically integrated - it handles all aspects of the supply chain from design, branding, manufacturing to distribution. Typically, CSS sells to mass-market retailers and distributors in the U.S. with most of its products manufactured in U.S.-based locations and the remainder is sourced from Asia. Although the print industry is generally quite competitive, CSS operates in a sub-market for niche products that allow it to differentiate its products and charge a premium compared to other segments of the commercial print industry. Even then, the company faces significant top-line headwinds due to the shift towards digital gifts and online shopping for holiday items, which explains the revenue downtrend.
CSS also faces some stiff competition from much larger incumbents such as Hallmark Cards and American Greetings, making it difficult for the company to shift its product range to higher-margin premium designs. Although overall industry sales have been essentially flat, margins have been compressed throughout the sector due to a flood of supply from smaller manufacturers. In cases like this, the pertinent question is always: can I buy a dollar for eighty cents?
Margins And Cash Flow Resilient Despite Top-Line Decline
From 2011 to 2015, CSS experienced revenue decline of 18.4%, yet margins across all levels of the cost structure have remained remarkably steady. In fact, there is a trend of consistent improvement despite facing secular industry headwinds.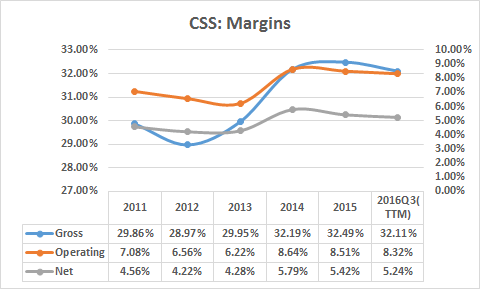 (Source: Author's work)
For a company that operates in a traditional manufacturing and distributing format, CSS has managed expenses surprisingly well by selling businesses with high operating leverage. These include the sale of the Christmas Gift Wrapping business in 2011 for $7.5M, and the disposal of a Halloween products line for a loss of $2.8M (at the time of sale, this business was generating negative cash flows).
Evidently, continued organic revenue decline for a business like CSS is a given - the key to generating consistent free cash flows is the ability to manage expenses and reduce operating leverage in line with revenue decline. Thus far, the management has done a decent job in terms of generating steady free cash flows.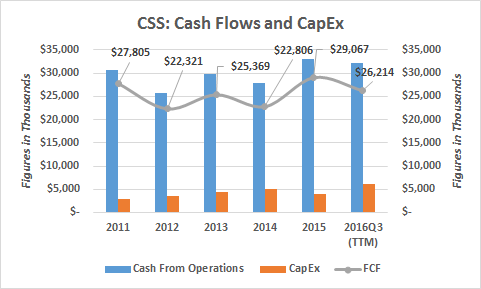 (Source: Author's work)
Industry Headwinds
According to market research by IBISWorld, the U.S. greeting cards and related publishing market experienced annual declines of 5% from 2010 to 2015, and this trend is projected to continue along the same rates for the next five years. The struggles of Hallmark and American Greetings, the two biggest players in this industry, has been well publicized as both companies struggled with transitioning to digital greetings and have had to lay off thousands of employees in a drive to cut costs.
Given that CSS operates in the same markets, we can expect similar headwinds to persist. Whilst revenue decline is moderate, margins are the real concern as qualitative commentary from industry sources (primarily the Greeting Cards Association) indicates margins have been pressured heavily. Although CSS has managed to avoid this impact for the past few years, this is largely due to two instances of cost cutting from 2011 to 2013.
In 2012, CSS consolidated certain operations from its subsidiaries and made some employees redundant - this resulted in roughly $1.3M in total severance payouts, but managed to reduce SG&A expenses by $5M immediately in the year. Also, the sale of its Halloween product line led to further SG&A reductions that were observed in 2013.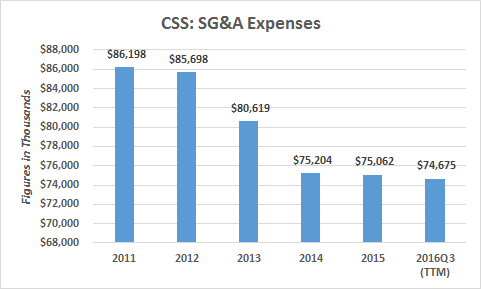 (Source: Author's work)
Note that these restructuring efforts are fairly "chunky": mainly one-off efforts that would likely need to be repeated in the future as revenue continues to decline. As such, operating leverage certainly comes into the picture - how much more can the company cut from wages? Hence, these risks need to be accounted for in the valuation model, and expenses should be watched closely in the coming years.
Acquisition Potential Greatly Diminished
Although M&A activity has been robust in the commercial and specialty printing sector, and CSS appears to be a great acquisition candidate due to its strong balance sheet and financials, the potential of a buyout has greatly diminished. This is because the biggest players in the industry have been loaded with massive debts and have begun to tone down consolidation efforts. Big conglomerates have been struggling to cut costs, and others like RR Donnelley & Sons (NASDAQ:RRD) have decided to spin off into separate entities after being on an acquisition spree for years.
Currently, CSS trades near book value, which we perceive to be the replacement value of the business. Its proprietary brands have a limited presence and don't have enough appeal to attract big players like Hallmark and American Greetings (which are pushing more into the digital field rather than sticking with traditional paper greeting cards). Therefore, we believe although there is still a potential buyout, one shouldn't count on it, and the valuation should be based on CSS being a going concern instead of a buyout target.
Valuation
For a company like CSS, deriving a present value is fairly straightforward given the high visibility of earnings and cash flow, and the steady trend in recent financials. Hence, we value CSS like a declining annuity with steadily declining free cash flows and a 10% discount rate.

(Source: Author's work)
If we use the 10% discount rate as a reference, the market is currently projecting CSS's free cash flow to decline slightly below 2% a year, given the company trades at an enterprise value of $202M. Although this is reasonable, there is no margin of safety and very limited upside at these levels. Although the company has no debt and roughly $85M in net cash, there haven't been large share repurchases announced, and dividend yield is only around 2.85%. This may suggest that management is looking to acquire smaller operations, such as the purchase of Hollywood Ribbon Industries for $12.9M (which is approximately the tangible book value of the company). Unless we see a commitment to use cash towards repurchases or higher cash dividends to shareholders, we remain unconvinced that CSS could trade significantly higher than current levels.
Conclusion
While management has been effective in cutting costs, bolstering margins and generating free cash flow, the company's valuation simply isn't palatable, especially in light of the reduced acquisition potential. Even on an EV/EBITDA basis, CSS isn't cheap compared to larger peers like RRD and Quad/Graphics (NYSE:QUAD) as they all trade near the same multiples. Moreover, there is uncertainty as to whether management will be able to continue cutting expenses whilst revenue declines - at some point, operating leverage has to come into play due to fixed costs, hence any investment in a company like CSS must provide a reasonable margin of safety. Therefore, CSS is simply too expensive at these levels.
Disclosure: I/we have no positions in any stocks mentioned, and no plans to initiate any positions within the next 72 hours.
I wrote this article myself, and it expresses my own opinions. I am not receiving compensation for it (other than from Seeking Alpha). I have no business relationship with any company whose stock is mentioned in this article.