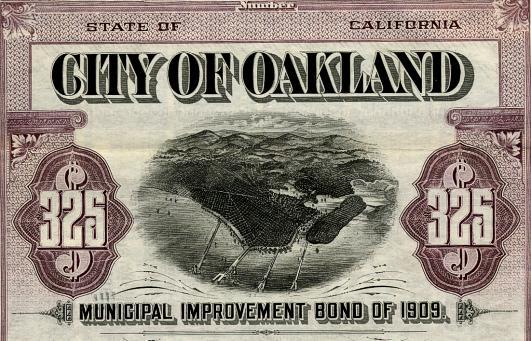 This article will make the case for a strategy of using the Muni Bond ETF (NYSEARCA:VTEB) as a replacement for any money market funds, short-term treasury funds, and even online savings accounts. I should mention right away that there are a couple of prerequisites to this strategy which could make a big difference. The first and most important being that the investor is living in one of only seven states which have no income tax. These states being Florida, Texas, Nevada, Wyoming, Alaska, South Dakota, and Washington. All seven states also have no capital gains tax, in addition to New Hampshire and Tennessee (these two do have a state income tax though). The other prerequisite is that you would need a Vanguard brokerage account in order to have commission-free trading.
A muni bond ETF might seem unconventional but there are several advantages to this. First, let's compare this ETF to other money market funds.
| | | | |
| --- | --- | --- | --- |
| ETF | Yield | Expense Ratio | Total Assets |
| PIMCO Enhanced Short Maturity Strategy ETF (NYSEARCA:MINT) | 0.98% | 0.36% | |
| iShares Short Treasury Bond ETF (NYSEARCA:SHV) | 0.48% | 0.15% | |
| iShares Ultrashort Duration Bond ETF (BATS:NEAR) | 0.87% | 0.26% | |
| SPDR Barclays 1-3 Month T-Bill ETF (NYSEARCA:BIL) | 0.09% | 0.14% | |
| Guggenheim Enhanced Short Duration ETF (NYSEARCA:GSY) | 1.14% | 0.25% | |
| VTEB | 1.45% | 0.12% | |
| FlexShares Ready Access Variable Income ETF (NYSEARCA:RAVI) | 0.67% | 0.25% | |
| PowerShares VRDO Tax-Free Weekly Portfolio ETF (NYSEARCA:PVI) | 0.01% | 0.25% | |
| SPDR SSgA Ultra Short Term Bond ETF (NYSEARCA:ULST) | 0.52% | 0.20% | |
Right away, we can see that the expense ratio eats up a very big chunk of many of these low yielding funds. Obviously, these money market funds are meant to have close to 100% protection of principal with a small amount of interest. The epitome of low risk, low reward.
Now we will take a look at the performance of each. I only went back to the trading beginning date for VTEB, but even in this short time period, we have a good idea of what to expect.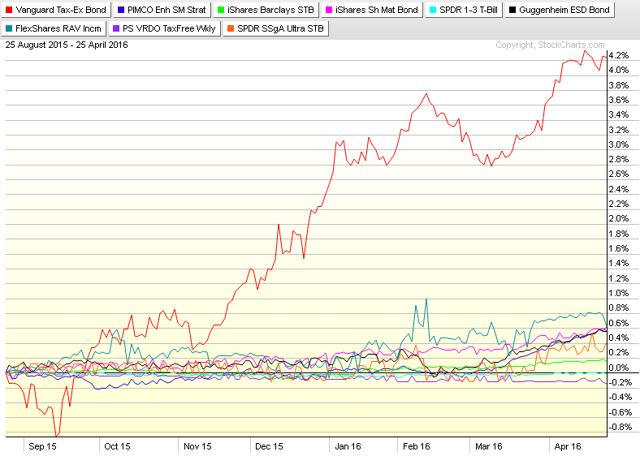 The higher volatility of VTEB has more to do with the long-term maturities of the bonds, so it isn't like a money market fund in that respect. Ultimately, the case I'm making is that the tax-free status and higher yield outweighs the higher volatility that VTEB has, but let's look more at VTEB's holdings.
The fund tracks the S&P National AMT-Free Municipal Bond Index. The bonds are all investment grade, except for .52% of the holdings which are not rated. The fund holds a total of 1,143 bonds with an average stated maturity of 13.3 years and an average duration of 5.5 years. There is fairly wide diversification which helps in case any single bond defaults.
Let's compare holding VTEB with putting money into an online savings account. For this example, we'll use Barclays Online Savings Account which currently yields 1.00%.
| | | | | |
| --- | --- | --- | --- | --- |
| Fund/Account | Principal | Yield | Future Value After One Year | After Tax Future Value-One Year(At 35% Rate) |
| VTEB | $10,000 | 1.33% | $10,133 | $10,133 |
| Barclays Online Savings | $10,000 | 1.00% | $10,100 | $10,065 |
You can see what a difference is made when these two are compared. The savings account does have a benefit of having no account fees, but the meager 1% yield is made even weaker after being taxed as income.
An issue I've touched on before is the share prices of ETFs in regards to the ability to reinvest the dividends/interest. The more money you are using to make the trade, the less of an issue this is, but since I'm advocating that this could replace cash and online savings accounts, I think it's worth mentioning. This is the only aspect of VTEB that I don't like, and a share price in the $50s means that you will need a lot more money when making a purchase for the reinvestment to be most effective. In spite of this, the strategy is still viable when considering the benefits.
One last point is that VTEB would not be suitable for a Roth IRA, since you are getting tax-free income and capital gains anyways from the muni bonds. Don't give this benefit away if you don't have to. This strategy will work in a non-registered account.
Conclusion
This strategy of using VTEB to replace money market funds and online savings accounts may be unorthodox, but the benefits I have laid out speak for themselves. Those who use a Vanguard account and live in a state with no income can implement this plan the best. The yield of VTEB may not be enough to beat inflation, but it has advantages which other funds and accounts don't have and can be a great place to park your cash while you wait for the right opportunity to deploy your capital.
Thank you for taking the time to read this article. Please click the follow button next to my name at the top of the article to follow more articles like this one.
Disclosure: I/we have no positions in any stocks mentioned, and no plans to initiate any positions within the next 72 hours.
I wrote this article myself, and it expresses my own opinions. I am not receiving compensation for it (other than from Seeking Alpha). I have no business relationship with any company whose stock is mentioned in this article.