Apple (NASDAQ:AAPL) said it sold 51.2 million iPhones in its second fiscal quarter, down from 61.2 million in the same quarter a year ago but above analysts' estimates of about 50 million devices.
In March, Apple released the iPhone SE, a smaller, 4-inch-screen phone featuring much of the company's latest technology, but sales of the phone were not captured in the second quarter earnings report. Several articles in Seeking Alpha and elsewhere have noted there were shortages of the iPhone, see Apple's iPhone SE: The sold out flop - MacDailyNews, which is correlated by a drop in orders to the supply chain.
So if we tie these two statements together, Apple's third quarter should also show another decline. I'm not writing this article to debate whether the SE was a mistake (because of its size), whether the FBI fiasco had an impact on some patriotic Americans (which ties in with resentment that Apple's unrepatriated profits reached $200 billion, up from $157 billion in 2014 and $111 billion in 2013), here, or whether some Trump followers took his advice to stop buying Apple.
What I am saying is the Apple has significant supply chain issues. Nearly all of Apple's suppliers in Asia exhibited significant drops in revenues over the past several months, both month-over-month and year-over-year. For example:
Largan Precision, a key camera module supplier for Apple's iPhones, had seen its revenues dip 20% in January from the year-ago period. Sales were NT$3.22 billion in January 2016, down 19.9% from NT$4.02 billion a year earlier and 18.89% less than the NT$3.97 billion in the prior month, the company said. Sales were NT$2.038 billion (US$61.0 million) for February, decreasing 36.85% sequentially and 22.11% on year to hit the lowest monthly level since March 2014.
Shown below are Largan's revenues over the past several months, noting the drop in sales starting in November 2015 and dropping precipitously in December and January and further in February 2016.
Largan: Consolidated revenues, Aug 2015 - Jan 2016 (NT$m)

Month

Sales

M/M

Y/Y

YTD

Y/Y

Feb-16

2,038

(37%)

(22%)

Jan-16

3,227

(18.9%)

(20%)

3,227

(20%)

Dec-15

3,979

(30.3%)

(30.8%)

55,869

22%

Nov-15

5,707

(1.1%)

1.6%

51,903

29.7%

Oct-15

5,769

4.6%

5.8%

46,197

34.4%

Sep-15

5,516

4%

19.3%

40,428

39.8%

Aug-15

5,304

1%

33.9%

34,904

43.7%
Catcher Technology Co., a metal casing supplier for Apple, saw its sales for January fall 9.9% from a month earlier, but up 4.5% from a year earlier. Catcher Technology on March 4 reported consolidated revenues of NT$4.167 billion (US$125 million) for February, the lowest monthly level since March 2014 with a drop of 33.12% on month and 7.50% on year.
Catcher: Consolidated revenues, Sep 2015 - Feb 2016 (NT$m)

Month

Sales

M/M

Y/Y

YTD

Y/Y

Feb-16

4,167

(33.1%)

(7.5%)

10,398

(0.7%)

Jan-16

6,231

(9.9%)

4.5%

6,231

4.5%

Dec-15

6,914

(17.1%)

14.4%

82,413

49.1%

Nov-15

8,341

1.4%

50.3%

75,500

53.4%

Oct-15

8,225

3%

52%

67,159

53.8%

Sep-15

7,982

11.1%

63.6%

58,934

54%
Chipbond is the sole supplier for iPhone's DDI display driver IC. Revenues have been dropping from September 2015 and Y/Y revenues have been negative.
In addition, Apple is moving some production from Foxconn to Pegatron: as a cost saving measure, to the tune of $61 million a year. (here)
However, both Foxconn and Pegatron posted underwhelming sales for the month, down 14.75% and 14.08% year-on-year. Sales for January 2016 were NT$337.6 billion (US$10.17 billion), plummeting 14.74 percent from NT$396 billion a year earlier and 17.59% from the prior month's NT$409.65 billion for Foxconn (Hon Hai Precision Industry Co.), according to the firm's filing with the Taiwan Stock Exchange.
Clearly there are problems with Apple's supply chain. But who or what is responsible? The latest quarter should not have been such a disaster if we look at Apple revenues by historic proportions (here). Yet revenues of suppliers took a big hit. Did executives at Apple, anticipating a slowdown in sales of its iPhones in the face of increased competition from Samsung and Chinese suppliers, purposely cut back on orders to its suppliers?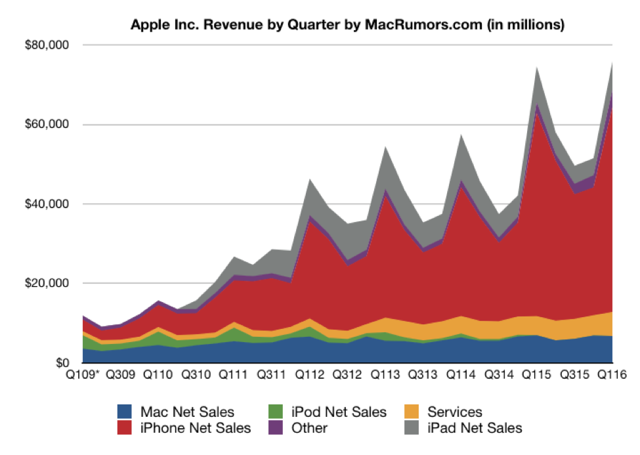 Click to enlarge
Secondly, the shortages of the SE could directly be correlated with the drop off in business by the supply chain. Did executives at Apple think the SE would not be a big seller to begin with, and thus cut back on orders to its suppliers? And since there were shortages, did cuts to the supply chain go too far?
It's my opinion that Apple will have another bad quarter, and two in a row is unprecedented in the company. Whomever runs the supply chain at Apple may be the problem, or it may go all the way up to Mr. Cook - I don't know. But the numbers speak for themselves and it is what it is. And to go back to comments I made above, the recent bravado displayed by Mr. Cook in the FBI situation can only hurt sales in the U.S. Although many of the Apple owners probably cheered the standoff, a lot of people on the fence could have been negatively influenced. Also the article about Apple not paying billions of U.S. taxes, and Apple was at the top of the list of corporations, was published in the Washington Post, a major newspaper.
And perhaps the unexpected drop in sales in China could have been influenced by significant negative reports in Chinawatch, here. According to a report in October, 2015:
Before overtime pay, workers making the iPhone earn only the local minimum wage of $318 per month, or about $1.85 per hour. This is not a living wage. Even if the factory did not mandate ove rtime as it does, workers would still depend on their 60-hour workweeks to get by.

After their long shifts, workers take a 30-minute shuttle bus back to their dorms where up to 14 people are crammed into a room. Mold grows pervasively along the walls. Bed bugs have spread throughout the dorm, and many workers are covered in red bug bites.
I own an Apple iPhone and I'm typing this on a Mac, so I'm not anti Apple. But I think that there are image problems that need to be addressed at the company and missteps that need to be corrected and personnel changed.
Disclosure: I/we have no positions in any stocks mentioned, and no plans to initiate any positions within the next 72 hours.
I wrote this article myself, and it expresses my own opinions. I am not receiving compensation for it (other than from Seeking Alpha). I have no business relationship with any company whose stock is mentioned in this article.