INVESTMENT THESIS
Revolution Lighting Technologies, Inc. (NASDAQ:RVLT) is a leader in the design, manufacture, marketing, and sale of LED lighting solutions focusing on the industrial, commercial and government markets in the United States, Canada, and internationally. Through advanced technology and aggressive new product development, Revolution Lighting has created an innovative, multi-brand, lighting company that offers a comprehensive advanced product platform.
The company goes to market through its Seesmart brand, which designs, engineers and manufactures an extensive line of high-quality interior and exterior LED lamps and fixtures; Lighting Integration Technologies Inc., which sells and installs Seesmart products; Lumificient, which supplies LED illumination for the signage industry; Relume Technologies, a leading manufacturer of outdoor LED products; Sentinel, a revolutionary, patented and licensed monitoring and smart grid control system for outdoor lighting applications; and Energy Source, a full service turnkey solutions provider and installer of LED technology. Revolution Lighting Technologies markets and distributes its products through a network of independent sales representatives and distributors, as well as through energy savings companies and national accounts. Revolution Lighting Technologies trades on the NASDAQ under the ticker RVLT.
LED: A Sophisticated Lighting Technology in Early Growth Stage
The company's management has tapped into the relatively early stage LED technology market in response to increasing electricity prices, particularly in large urban areas already impacted by rising energy costs, which are leading businesses and consumers to seek new technologies in order to reduce energy consumption. At 60% and 80% greater efficiency than fluorescent lighting and halogen/incandescent-based lighting technology respectively, LED technology presents itself as a considerably cost-efficient solution.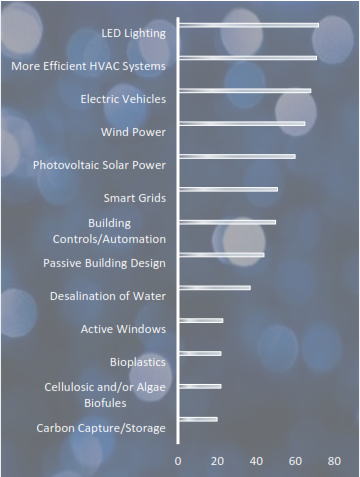 In a survey conducted by McKinsey & Company (right, dated 2012), LED lighting comes out first in a list of the most viable energy efficiency opportunities by 2020. LED technology offers many innovations:
Technological Innovation

Integration of Microchips (Drivers)
Light Emitting Diodes (LEDs)
Thermoplastic Heat Dissipation
Comprehensive Automated Control

Safety Innovation No Heavy Metals (Mercury) Negligible Light Depreciation
Economic Innovation

60% Greater Lighting Efficiency
3x Greater Lamp Life
70,000 Hour Lamp Life (Linear Technology)
10-Year Market Leading Warranty

Environmental/Well-Being Innovation

100% Recyclable
No UV Emissions
Full-Spectrum Light Output
LED technology is one of the fastest growing technologies to offer significant savings and quick returns on investment. Within an aggressively growing market for LED technology-based solutions, RVLT aims to compete through the sourcing of high quality LED components, proprietary thermal management techniques to ensure long product life (claiming an operational life of 70k hours for many of their products) and rigorous third-party testing.
LED lighting solutions provide a significant opportunity for individuals, corporations and governments to meet environmental goals. LEDs do not contain mercury, unlike fluorescent lighting, which can be harmful to the environment, do not emit ultraviolet radiation (UV), typically do not contain glass, and are 100% recyclable.
In an effort to lower energy consumption, lighting companies are focusing on increasing lumens per watt. Lumens per watt (often referred to as "efficacy") is an industry standard that measures the amount of light emitted per watt of electrical power used, meaning the more lumens per watt, the more energy-efficient the product. Typical incandescent light sources produce between 15 and 25 lumens per watt, while fluorescent and HID light sources can produce output exceeding 100 lumens per watt. Today's LEDs currently perform at over 140 lumens per watt, delivering the highest efficiency light source to the market.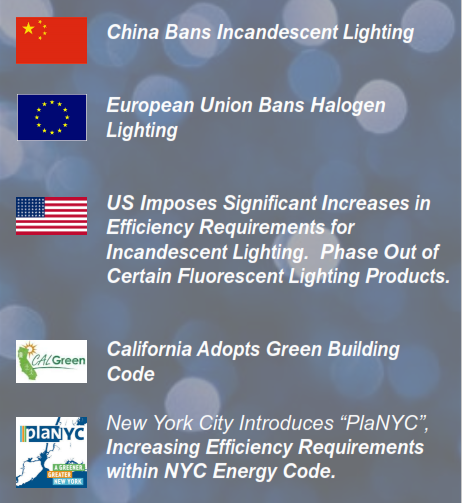 Positioning for Significant LED Growth in the U.S. Lighting Industry
The LED market is experiencing considerable growth due to market influences such as:
Economic Influence
Aggressive Material Price Erosion
Expansion of State/Utility Incentives
Rising Energy Costs
Transformation of Energy Mix
Government Influence
Environmental/Social Influence
Corporate Responsibility (ESG Requirements)
Green Certifications (LEED, Energy Star)
China began phasing out incandescent lighting in 2012 and is set to complete this transition entirely by October 2016. Similarly, EU member states have voted to phase out inefficient halogen light bulbs - often more than five times higher than the one of an energy-efficient LED - by 2018. Within the U.S., the phasing out of traditional technology is gaining traction, while the embracing of energy efficiency is evident with the advent of systems like LEED (an internationally recognized green building certification system) and Energy Star (the trusted, U.S. government-backed symbol for energy efficiency), along with many state-based regulatory programs.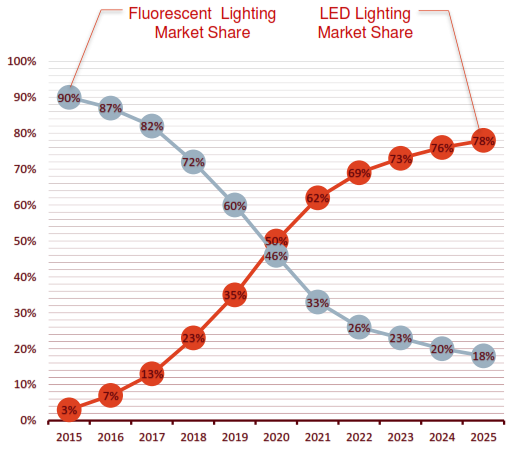 RVLT is well positioned for significant growth within the LED industry, the market share of which is forecasted to be approximately 50% within the US lighting industry by 2020. LEDs help address the largest energy savings opportunity for buildings in the US, 22% of which represents the percentage total of annual lighting energy use within a typical US commercial building. RVLT also aims to target the linear lighting product market, of which 85% (a quantity of roughly 2.2 billion) accounts for the median percentage of linear fluorescent lighting products installed within US Commercial and Industrial sectors.
Strong Platform for Accelerated Growth
Although a material percentage of its growth has been inorganic due to acquisitions over the years, RVLT has recently grown organically at a rapid pace with no plans for further acquisitions in 2016 or 2017. They consider themselves one of the few, if not only, entities with a 'pure play' approach within the LED technology space, whereby their business model is not limited by the replacement of declining technology such as fluorescents, halogen/incandescents or otherwise traditional lighting. With a strong focus on the commercial retrofit area of the LED market, the company aims to tap into this area that currently stands at $10bn per year, and is expected to grow to $80bn a year in 2020.
RVLT represents a strong platform for accelerated growth, having assembled a top-flight integrated lighting value enterprise through their acquisitions of project facilitators, turnkey solution providers and entities with considerable national distributor relationships such as Energy Source and Tri-State, designers and manufacturers with Value Group, and considerable technology, product lines and sourcing via Seesmart, Relume and Lumificient.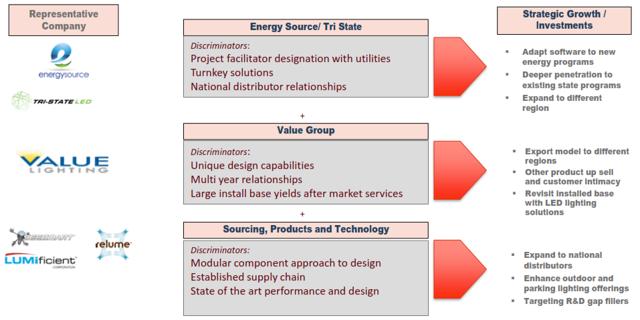 Click to enlarge
Through these strategic relationships, RVLT has the ability to adapt their software to new programs, penetrate deeper into existing programs, considerably expand their operations and models to different regions, improve their customer intimacy and upsell where possible, expand to national distributors, enhance their product line-ups, and target any R&D-based gap fillers as the industry and the technology evolves.
Global Market Opportunities and Value Propositions
RVLT hopes to seize opportunities within the market by disciplining their focus on the higher use and buoyant market segments, namely Commercial, Industrial and Municipalities. With RVLT's family of tube products, the company can address the approximately 2.5 billion sockets in the U.S. alone, accounting for a near-term market size of approximately $25-30bn. The company's family of tube products addresses over 70% of the lighting needs of these segments, and the sponsorship of their T5 ballast-ready tube by Rexel and National Grid highlights their leading position within the industry.
Between 2015 and 2020, the LED technology market is expected to grow from $16bn to $72bn.
Commercial

Industrial

Education

All Others

Key Customers and End Users

Office Buildings REITs/Property

Managers

Multi-family
Fortune 500 Companies Warehouse Distribution Centers
School Districts College Campuses Admin Buildings
Hospitals Retail Hospitality Franchisees Banks Government

Growth Drivers

Constitutes 18% of all U.S. energy consumption U.S. Commercial markets represents an addressable market in excess of $15 billion
9.8 billion sq. feet of industrial floor space in 455,000 industrial buildings$5.9 billion
11.6 billion sq. feet in over 454,000 school buildings$4.6 billion
3.7 billion square feet in

over 151,000 hospital buildings

$2.2 billion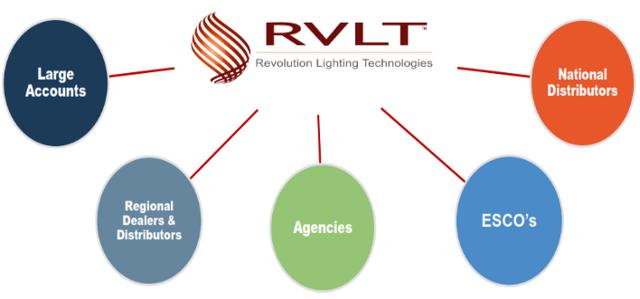 Click to enlarge
Focus within Commercial, Industrial, and Municipality segments include vertical markets such as federal, state, and local governments, industrial, commercial and government facilities, multi-family real estate construction, hospitality, institutional, educational, healthcare and signage. RVLT's marketing strategy relies on their diverse national sales presence which complements their direct channels. The company markets and distributes products globally through networks of distributors, independent sales agencies and representatives, electrical supply companies, as well as internal marketing and sales forces.
Strong Management Experience Builds Confidence for U.S. Navy Bid
RVLT's management is comprised of defense and aerospace industry veterans CEO/Chairman Robert LaPenta and CFO James DePalma, who worked together previously in successful rollups, L-3 Communications and L-1 Identity Solutions, the latter of which became the largest biometric identity solution company in the world. Their relationships and experience in the defense and aerospace industries were instrumental in obtaining strategic advisement and guidance services via The Cohen Group to help bid for future LED retrofit contracts with the U.S. Navy.
The Cohen Group is managed by a highly credentialed team of former senior military officials, including a Secretary of Defense, Vice-Chair of the Joint Chiefs of Staff and U.S. Coast Guard Admiral, for the participation in future LED retrofit contract bid opportunities and to assist with their continued efforts for penetration in the military market. The bidding is anticipated to take place this year after the U.S. Navy announced in August 2015 the use of LED tube lighting throughout global shore facilities, including administrative buildings, athletic facilities, street lights, and parking garage facilities, in addition to its fleet. Washington Labs currently certifies RVLT at 99%, although 100% is needed for complete approval in order to proceed with bidding - the group is currently working on getting certified for the final 1% which involves exit and emergency lighting.
COMPETITIVE LANDSCAPE
The global lighting industry is generally divided between three major market segments: commercial, industrial and residential. Within these three market segments exist two broad product categories: fixtures and light bulbs (referred to as lamps in the lighting industry). The fixtures category includes all apparatuses, luminaires and power/heat-control systems, while lamps consist of the replaceable devices that emit light. Conventional lamps include incandescent, fluorescent, neon and high-intensity discharge (HID) products. For residential applications within the general illumination market, inexpensive incandescent and, to a lesser extent, compact fluorescent (CFL) bulbs have been the preferred choice. For commercial applications, the more expensive and long-lasting fluorescent and HID bulbs and fixtures have the largest market share at this time.
RVLT currently faces competition from both traditional lighting companies that provide the aforementioned conventional lighting products and specialized lighting companies that are engaged in providing LED products. In general, the company competes with both groups on the basis of design, innovation, quality of light, maintenance costs, safety issues, energy consumption, price, product quality and brightness.
Traditional Lighting Companies
In the general illumination market, RVLT competes with traditional lighting companies that include Acuity Brands Lighting, Osram (OTCPK:OSAGF), Sylvania (OTC:SAPLF), GE Lighting (NYSE:GE) and Royal Philips Lighting (a division of Koninklijke Philips Electronics N.V.). RVLT's LED products tend to be alternatives to conventional lighting sources for applications within the commercial market. In the traditional lighting markets, the company competes on the basis of performance, energy savings, lamp life and durability.
Although these competitors are considerably larger in scale than RVLT, we believe they cannot move as quickly as RVLT since the company is more of a 'pure play' LED operation.
LED Lighting Companies
RVLT also competes with providers of LED replacement lamps and other energy-efficient lighting products and fixtures. These companies include traditional lighting companies such as Sylvania and Philips; specialized lighting companies such as Cree (NASDAQ:CREE) (which also serves as a packaged LED supplier), Energy Focus (NASDAQ:EFOI), Orion Energy Systems (NYSEMKT:OESX) and TCP International Holdings, along with multiple low-cost offshore providers. In the market for LED lighting products, RVLT competes on the basis of design, innovation, light quality, maintenance costs, safety issues, energy consumption, price, product quality, brightness, and DLC, Energy Star and UL certifications.
Relative to Cree which manufactures its own chips, RVLT sources its chips which leaves them vulnerable to falling prices and market volatility. Energy Focus has achieved substantial growth in the military maritime market due to their long-standing relationship with the U.S. Navy, which RVLT hopes to achieve in its upcoming retrofit contract bid. Orion Energy Systems focuses on energy management products as well as LED lighting, and has a market cap ~50% of RVLT's.
VALUATION
We valued RVLT using the peer group valuation method. We compared RVLT with its publicly traded peers in the LED industry such as Acuity Brands (NYSE:AYI), Cree, Energy Focus, Orion Energy Systems, and TCP International Holdings. We used consensus analyst estimates to calculate forward-looking P/S multiples, resulting in an average comp P/S of 1.4x. RVLT's backward-looking and forward-looking P/S multiples are 0.7x and 0.5x, respectively.
| | | | |
| --- | --- | --- | --- |
| Company | Mkt Cap ($ mn) | FY16 Revenue Est. ($ mn) | FY16 P/S Multiple |
| Acuity Brands, Inc. | 11,190 | 3,300 | 3.4x |
| Cree, Inc. | 2,420 | 1,620 | 1.5x |
| Energy Focus, Inc. | 92 | 62 | 1.5x |
| Orion Energy Systems, Inc. | 41 | 68 | 0.6x |
| TCP International Holdings Ltd. | 35 | 428 | 0.1x |
| Average | | | 1.4x |
We estimate RVLT's FY2016 revenue to be ~$167mn based on a top-down revenue forecast. For comparison, management provided guidance of $170mn FY2016 revenue and has historically been accurate with estimates with some nominal misses. Given our ~$167mn revenue estimate and the 1.4x average comp P/S multiple, we valued RVLT at a price target of $14.88, which represents a 149% upside to $5.96 (April 22, 2016 closing price).
To elaborate on our position that RVLT is significantly undervalued, we provided a sensitivity table to illustrate that RVLT still offers material upside even if the average comp P/S multiple is heavily discounted and the revenue estimates from us and RVLT management are considerably misguided.
Sensitivity of Valuation - Revenue vs. Comparable mean P/S

Annual Revenue (in mn)

Comp mean P/S

0.00

150

160

170

180

190

1.0

9.38

10.00

10.63

11.25

11.88

1.2

11.25

12.00

12.75

13.50

14.25

1.4

13.13

14.00

14.88

15.75

16.63

1.6

15.00

16.00

17.00

18.00

19.00

1.8

16.88

18.00

19.13

20.25

21.38
Disclosure: I/we have no positions in any stocks mentioned, and no plans to initiate any positions within the next 72 hours.
I wrote this article myself, and it expresses my own opinions. I am not receiving compensation for it (other than from Seeking Alpha). I have no business relationship with any company whose stock is mentioned in this article.