If you're not in a state of perpetual worry about the stock market, then you're not really paying attention. This is not Cameron wanting to spew more doom and gloom on investors, but rather my continuous attempt to offer as much assistance in the due diligence process as possible. It seems for some that ignorance is more blissful than being informed and prepared. But to those of you that enjoy a bit of intrigue and the occasional jigsaw puzzles, read on.
What's a day if it does not involve a sale by a Sirius XM (NASDAQ:SIRI) insider? Friday, I want to say that I was surprised to learn that two more Sirius executives had sold some of their shares, but "surprise" would not be honest as this has become a recent pattern. Where the company had recorded only 14 total sales over the past two years, these two new sales occurring last Friday now brings the total number of transactions to 9 - this month alone.
This time the sellers were Dara Altman, who executed her sale of over 1 million shares at a price of $2.16 and Thomas Barry, who sold at $2.12 and according to Nasdaq does not have any shares left. The graphic below illustrates the sales as they occurred last week. First, I would be remiss if I didn't say that all of these sales can no longer be a coincidence. The question investors want to know is, what exactly is going on?
click to enlarge

Last week, we spoke about the sales that had taken place in four separate transactions. Three by Patrick Donnelly and one by James Holden - two of which occurred yesterday at market prices as shown in the graphic below.

The sales above were preceded by a series of sales as in the graphic below reported by the Nasdaq that prompted me to ask if Sirius investors were more confident than the insiders? In that article we described the transactions as follows:
According to recent insider activity figures released by the Nasdaq (and as the graphic below shows) there have been some pretty interesting sells from some top executives of the company. And remarkably, what is missing from the "transaction type" column over the past two years are "buys." So it begs the question, why does it appear as if regular investors, or for that matter retail investors, seem to have a firmer belief in the company than those who run it? Said differently, why are we buying when they are selling? As the graphic also shows, Scott Greenstein, the company's Chief Content Officer, has had two sells over the past week - one at $2.14 per share and a price of $2.16. It's interesting that both of his transactions mirrored my trade where I sold ahead of earnings at a price of $2.15 and I was called stupid.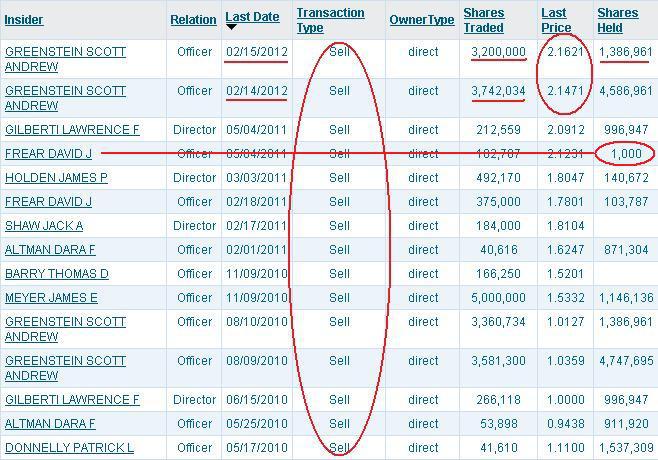 Remarkably, all of the transactions above followed the news that CEO Mel Karmazin had initiated plans to exercise some options to sell over 60 million worth of shares. It is possible that all of these events and sales could be entirely coincidental, but I absolutely doubt it. The timing is too suspicious to ignore that there could be something bigger at play here and we will find out one way or another exactly what that might be.
Summary
The stock has been on a decent run over the past couple of days to support the theory that investors might believe that Liberty Media (NASDAQ:LMCA) is preparing to make a play for the company at any point. There certainly have been a lot of opinions on the matter, but from my standpoint, I continue to feel that Liberty will stand still - basically, I don't see how it can do something that everyone is expecting it do to. I suspect that they will increase their stake of Sirius at some point, I just don't believe it will be an event that will be grossly beneficial to current shareholders in terms of current expectations.
Disclosure: I have no positions in any stocks mentioned, and no plans to initiate any positions within the next 72 hours.