By Brandon Becker
Chipotle (NYSE:CMG) has suffered deeply since its breakout of E. coli that began in October 2015. The breakout caused significant drops in public and investor trust sentiment for the company. The share price soon followed, dropping over 40% in just under 4 months. But recent trust sentiment data indicates that Chipotle could be on the road to recovery, with investor trust sentiment at a crucial turning point. If the share price begins to reflect recovering investor trust sentiment, a buy opportunity may exist for CMG.
Trust, a difficult sentiment to quantify, conveys itself on investor social and news media via attitudes of confidence, faith and belief. The Thomson Reuters MarketPsych Indices (TRMI) quantify sentiments expressed by investors through social and news media.
The TRMI Trust index represents the frequency of trusting references towards a company, including the difference between trusting and mistrusting references. The result is a quantitative measure of trust sentiment that has shown predictive value in price forecasting associated with the fundamental value of a company.
The Thomson Reuters MarketPsych Indices is the world's most comprehensive finance-specific sentiment data. The TRMI data is produced by quantifying references to tradable assets across thousands of news and social media articles obtained in real time. Emotions (optimism, confusion, urgency, etc.) and financial topics (price forecasts, earnings forecasts, etc.) in the media are quantified and converted into a time series. 130 countries, 32 currencies, 35 commodities, 52 equity indexes and over 8,000 global equities are covered by the data. The TRMI data is used by large hedge funds and banks for the augmentation of trading strategies, research, risk management and macroeconomic forecasting.
The TRMI for trust sentiment expressed about Chipotle, as seen below, displays an intersection between the 10-day and 90-day moving averages of trust sentiment. This intersection reveals recovering investor trust sentiment.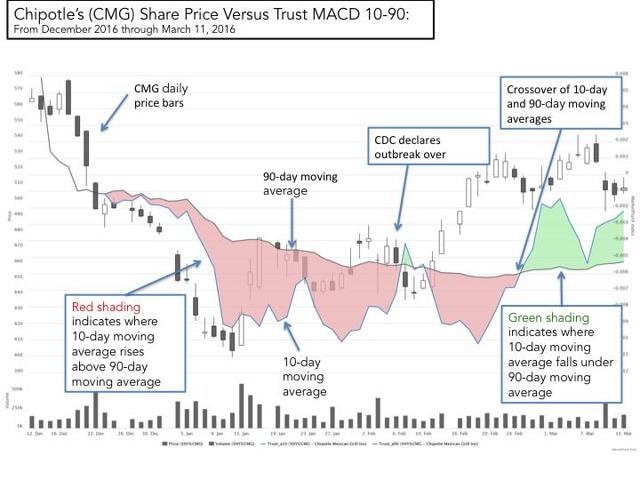 Click to enlarge
Since prices seem to have bottomed, if increasing trust leads to increasing share prices, investors presently have a buy opportunity with Chipotle. As trust is difficult to acquire and easy to lose, it will only recover as investors maintain confidence, faith and belief in a company. When investors maintain confidence, faith and belief in a company, they usually buy. In our forthcoming book, Trading on Sentiment: The Power of Minds Over Markets (Wiley, 2016), this behavior of investors is explained in greater detail.
One can see that when applying Warren Buffett's strategy of "we buy when others are fearful, and we sell when others are greedy," which has a clear application to investor trust sentiment. The application of this strategy to trust is quite clearly seen below when using the monthly investment strategy of choosing from the top 100 stocks by the buzz in social and news media, and shorting the top 20 while buying the bottom 20.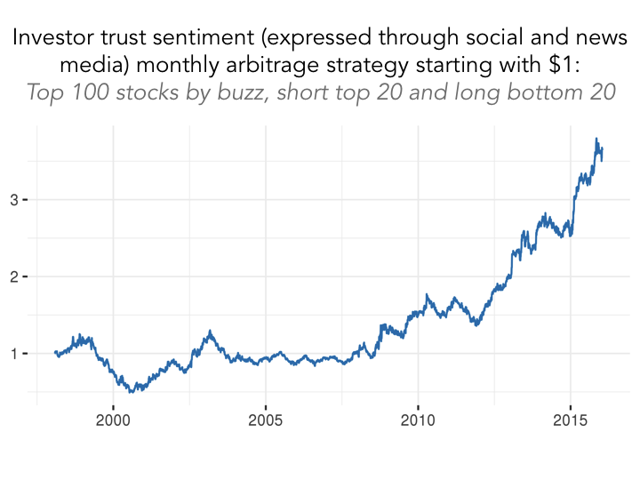 Click to enlarge
Barclay's (NYSE:BCS), in 2014, exhibited a token example during the LIBOR rigging scandal. After the scandal took hold of financial media, the company witnessed a sharp decline in investor trust and share price, but then soon experienced a bounce in trust and share price that lasted the next 12 months, resulting in around a 100% stock rally. Chipotle could follow a similar pattern, as increased investor trust leads to a stock rally.
Chipotle, well established in urban areas, is a common stop for many. Although the E. coli breakout caused fear and mistrust, people forgive and forget, and investors will begin to wonder why they ever fled the company