Equity Residential (NYSE:EQR) reported normalized FFO of $.76 per share for Q1 of 2016. The value was down from $.79 year over year, despite same store sales being up 4.6% and expenses being flat.
What Happened
Investors in EQR sold shares off hard following the earnings release. On the day shares were down about 2.5%, the broader market for equity REITs was relatively flat. If we look specifically at REITs focused on residential exposure, the decline for that portion of the sector was almost 1%. Did EQR deserve to underperform their portion of the sector by such a significant margin?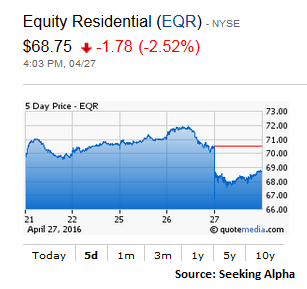 This sell-off would make sense if investors are simply assessing the decline in FFO per share. However, it is critical to understand why normalized FFO declined materially year over year. This is not a situation that any shareholder should be complaining about.
In January, EQR announced the sale of 23,262 units to Starwood Capital. The proceeds from selling those units were very substantial, and management was not using them to buy new properties or simply sitting on the cash. The properties were sold at a solid valuation with a resulting capitalization rate of only 5.5%. Given EQR's ability to get top dollar for the assets, it makes sense that they were willing to part with them. Remember that the seller of the buildings would like to sell at the lowest capitalization rate possible.
EQR paid a special cash dividend to shareholders in March of 2016. The dividend was $8.00. That represents materially more than 10% of the share price.
While the primary purpose of an equity REIT is to acquire properties at attractive capitalization rates, and operate them profitably so they can earn solid returns for shareholders, there are still times where it makes sense to sell. The FFO was down by about 4% year over year, but the company paid materially more than 10% of their share price in a special dividend. Does that seem like a bad deal to shareholders? If investors used that cash to buy more shares, their total FFO would've increased materially because the increase in share count (in their brokerage account) would dramatically outpace the decrease in FFO per share.
For what it is worth, the results of $.76 beat analyst estimates of $.73 as analysts could readily foresee that a decline in properties without a decline in share count would result in a drag on FFO numbers.
How Does EQR Do It?
As I highlighted back in December of 2014 EQR had an excellent portfolio with heavy exposure to markets with legalization of recreational marijuana. Those markets included Washington, D.C., Seattle and Denver. Denver and Seattle have seen exceptional growth in rental rates over the last few years and thoroughly beat the averages for the country. These aren't the normal markets that investors think of, when it comes to rapidly growing prices and low capitalization rates.
Reducing Debt
The company also used cash to pay down debts (about $2 billion) that were scheduled to mature in 2016 and 2017. The retirement of these debts gives the company more flexibility in their cash flows and puts them in position to take out new longer loans if they desire. This results in a better position when EQR is negotiating to acquire new properties at attractive rates.
Conclusion
EQR delivered a decline in FFO per share and saw share prices fall substantially, but the sale of properties and huge special dividend suggest that shareholders were still getting a solid return. While a decline in FFO year over year can be a red flag on screening criteria, it shouldn't be held against EQR. They legitimately worked for the best interest of shareholders even when it meant returning a substantial amount of cash. Shares selling off would make sense if the rest of the sector was also declining dramatically on the day, but losing 2.5% compared to about 1% for residential REITs just doesn't make sense.
Disclosure: I/we have no positions in any stocks mentioned, and no plans to initiate any positions within the next 72 hours.
I wrote this article myself, and it expresses my own opinions. I am not receiving compensation for it (other than from Seeking Alpha). I have no business relationship with any company whose stock is mentioned in this article.
Additional disclosure: Information in this article represents the opinion of the analyst. All statements are represented as opinions, rather than facts, and should not be construed as advice to buy or sell a security. This article is prepared solely for publication on Seeking Alpha and any reproduction of it on other sites is unauthorized. Ratings of "outperform" and "underperform" reflect the analyst's estimation of a divergence between the market value for a security and the price that would be appropriate given the potential for risks and returns relative to other securities. The analyst does not know your particular objectives for returns or constraints upon investing. All investors are encouraged to do their own research before making any investment decision. Information is regularly obtained from Yahoo Finance, Google Finance, and SEC Database. If Yahoo, Google, or the SEC database contained faulty or old information it could be incorporated into my analysis.