The euro-dollar cross (EUR/USD) is in upward trend since its December 2015 low of 1.0517 and can move further higher towards 1.1730 level in coming weeks, but before the pair appreciates, it is expected to go south first to 1.1150-1.1065 range. The underlying biases of this upward trend are:
Dovish Fed
Risk on environment
ECB monetary policy limits, its economic growth and return of inflation
Dovish Fed
Since raising rate from its historical low level in December last year, Fed has adopted a dovish tone, and currently there is only 69% probability of a December 2016 rate hike. However, in my view, Fed will raise rate twice this year - June and December. The latest FOMC's statement suggests that the Fed is not in a hurry to raise rate and will closely monitor the global economic and financial developments.
To assess the change in the Fed's tone, US growth and inflation data should be watched closely, as this pair shows immediate reaction to such economic releases. For instance, the last Tuesday's worse-than-expected US durable goods data weakened the greenback against major pairs. A continuous upside surprise in data such as PMIs, durable goods orders, housing starts & building permits, consumer confidence, CPI, and PCE can change Fed's mood from dovish to hawkish and reignite the dollar bull rally.
Risk on environment
Economic growth and financial conditions deteriorated in emerging markets, particularly that of China earlier this year, that caused the capital flight to safe havens and pushed the Fed fund rate hike expectations from four to nearly none in 2016. However, factors like dovish Fed, monetary stimulus from ECB, BoJ, and both monetary and fiscal stimulus from China, along with a rally in commodities prices, increased the investors' risk appetite and spur a rally in EM currencies along with the euro.
This risk on environment is going to help the US through two main channels. First, it will weaken the dollar which was dragging on US exporters, and thus boost imported inflation. Secondly, pickup in economic activities in US trading partners due to reduced risk premium will help US economy itself through increased trade.
Nonetheless, this risk on environment will not last for too long as things in emerging markets including China will start to get worse probably in third quarter of this year, and the capital will flight back to US treasuries in search of safe haven.
The key indicators that should be monitored closely for risk-off change include emerging market financial condition, Chinese economic data, commodities and global equities prices and indeed the global growth.
ECB monetary policy limits, its economic growth and return of inflation
The European Central Bank (ECB) lowered all its three main rates of its interest rate corridor during March meeting and pushed its deposit rate further 10 basis points into negative territory to -0.40. I expect ECB will wait for longer to see the impact of these rates cut before further reducing its deposit rate 10 basis points to -0.50, which may be the limit of its lower bound. Furthermore, ECB will start purchasing non-financial corporate euro-denominated bonds from June this year under its corporate sector purchase programme (CSPP), which can weaken the euro, as its appeal as a funding currency increases. In my view, ECB will wait till September before taking any further action which may be limited.
As of ECB's March economic projections, the euro area economic growth has been revised lower for 2016 and 2017 as compared to December 2015 projections. Nevertheless, due to large scale stimulus in home, rising commodities prices and global financial stability, economic growth in the euro area could pick up quickly than expected.
The ECB's harmonized index of consumer prices (HICP) is hovering near zero currently, but 5y5y forward inflation expectations have improved materially since March and shows that investors believe in Mario Draghi to bring inflation back to but below ECB's 2% target.
Economic indicators that must be watched carefully for euro area growth, inflation and monetary policy prospect are PMIs, HICP, credit spreads between core and peripheral sovereign bonds, inflation expectations and credit spread on euro area corporate bonds.
The below given chart shows the technical analysis of the EUR/USD, and according to it, the pair could find buyers between 1.1150-1.1065 range and go up towards 1.1730 level as suggested by the pink line in the chart. At 1.1730-1.1800 range, the pair will provide technically selling opportunity with good risk and reward, but should be supported by the fundamental factors mentioned above.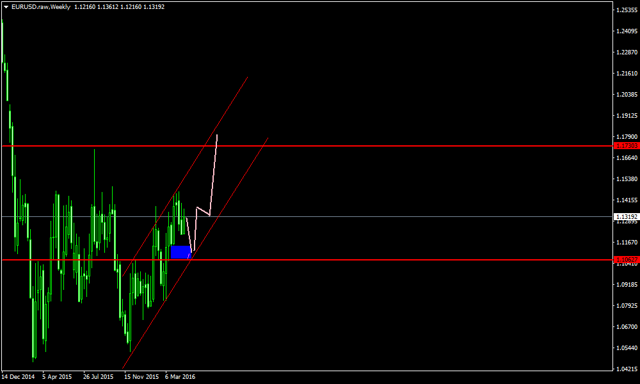 Click to enlarge
In short, the long-term dollar bull trend is not over yet, and this expected upward move in EUR/USD is a counter-trend move which should be traded very cautiously, and fundamental factors mentioned in this article should be watched closely by those who are interested in this currency pair.
Disclosure: I/we have no positions in any stocks mentioned, and no plans to initiate any positions within the next 72 hours.
I wrote this article myself, and it expresses my own opinions. I am not receiving compensation for it (other than from Seeking Alpha). I have no business relationship with any company whose stock is mentioned in this article.
Additional disclosure: Information in this article represents the opinion of the analyst. All statements are represented as opinions, rather than facts, and should not be construed as advice to buy or sell a security.