Yesterday, while researching and writing on The Blackstone Group (NYSE:BX), I decided it was time for me to unload my shares in the massive private equity enterprise. While I recognized that BX was more complicated than most REITs that I research, I opted to eliminate the drama from my portfolio to focus on less complex securities.
My harbinger was spelled out in the title of the article using the Latin phrase for buyer beware - caveat emptor. I explained:
Blackstone's array of investments today are wide-ranging and complex, and unless you're well-versed in the technical aspects of law and finance, this company may seem like Latin.
If you own or if you are considering buying BX shares, you know that this private equity stock is complicated. That's one of the reasons why I decided to sell my shares. However, there's a less complicated alternative that I am addressing today, and as you now know, I decided to break open my Latin dictionary.
Carpe diem is usually translated as "seize the day", taken from book 1 of the Roman poet Horace's work Odes (23 BC). The ode says that the future is unforeseen, and that one should not leave to chance future happenings, but rather should do all one can today to make the future better. (Source: Wikipedia)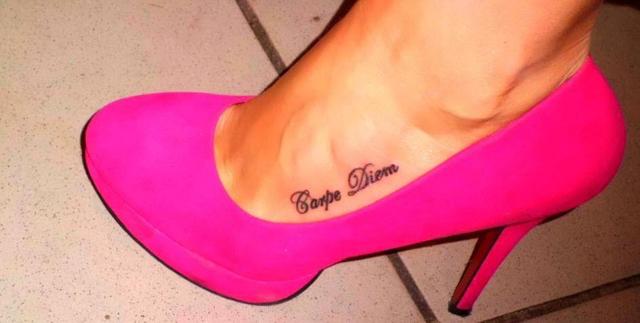 Click to enlarge
Carpe Diem: Little Brother Blackstone Is A Lot Smoother Ride
Blackstone Mortgage Trust (NYSE:BXMT) is a REIT that primarily originates and purchases senior mortgage loans collateralized by properties in the U.S. and Europe. The New York-based REIT is managed by Blackstone Real Estate, a world leader in real estate investing with nearly $70 billion of assets under management (or AUM) and over $120 billion of owned real estate.
Around two years ago, Blackstone Mortgage Trust completed an equity offering, raising $660 million in growth proceeds - a strong indication of the growth potential of the simple floating-rate senior mortgage business plan. Limited new commercial real estate construction, coupled with modest growth has led to a more favorable investment environment for senior commercial real estate debt.
BXMT's relationship with the "big brother" (Blackstone Real Estate) offers a huge advantage in which the former's access to proprietary deal flow and property and market information is a valuable differentiator given the scale of BX's real estate business.
As part of Blackstone Real Estate, BXMT is uniquely positioned to obtain market leading credit opportunities. The low cost and superior structure of financing enhances the returns on the REIT's loans. Simply said, BXMT's connection to Blackstone Real Estate allows the company to benefit on both sides of the balance sheet.
BXMT is externally managed (most commercial mortgage REITs are, except Ladder Capital Corp. (NYSE:LADR)), and so, BXMT and BX are essentially the same management team. BXMT's real estate debt people are the originators and asset managers for both BX and BXMT.
BXMT is the senior vehicle, but there are other vehicles at BX, managed by the same team, for different strategies which are not public. BX has access to deal flow, attractive financing terms (where the companies leverage the entire BX relationship with the banks), underwriting/asset knowledge, reputation and brand, etc.
As many of my readers know, I'm normally not a proponent for externally managed REITs, but BXMT is an outlier. It charges a 1.5% management fee on equity and a 20% incentive fee on gains above a hard hurdle of 7% (no catch up gains below that), with a look back. General and Administrative Expenses (G&A) includes management and incentive fees, as well as other G&A expenses for the REIT.
It's A Much Simpler Operation
Blackstone Real Estate has proprietary insight, long-standing expertise and superior access to deal flow, and accordingly, BXMT's affiliation with it is a great competitive advantage. In fact, the relationship is a valuable differentiator given the scale of Blackstone's real estate business.
Keep in mind that BXMT does not own equity interests in real estate. Part of the value proposition for investing in the specialized commercial mortgage sub-sector is the limited new supply constraints - completions are well below US aggregate construction completion levels.
This strong commercial real estate environment marked by healthy property transaction volume gives rise to strong borrower demand for transitional capital. BXMT is one of the most elementary commercial REITs that exists. Take a look at its simple balance sheet: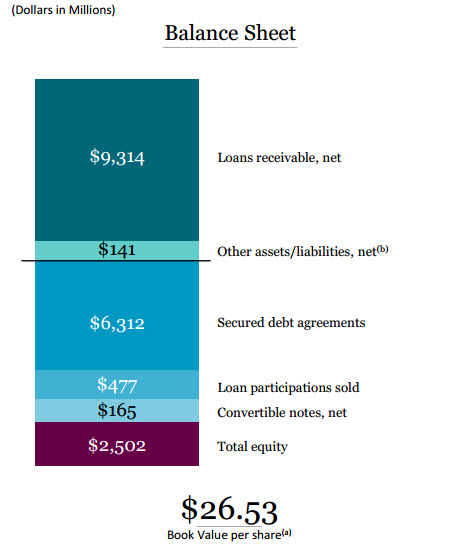 BXMT's short-term floating rate assets benefit from rising short-term interest rates, as their current yields increase with these rates. REIT investors tend to fear rising rates, particularly investors in residential mortgage REITs, where many of the assets are fixed-rate but the liabilities float - but BXMT is different.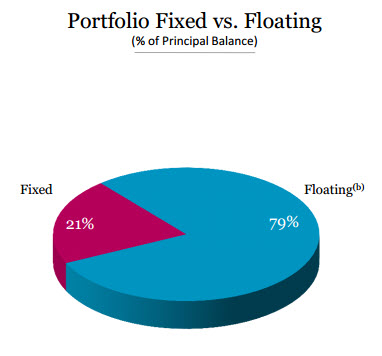 The company's loans are LIBOR-based and insulated from the valuation impact of rising rates. Its credit facilities are also LIBOR-indexed and match fund assets. As a result, equity returns directly benefit from increases in LIBOR. When rates rise in tandem with better economic activity, the real estate underlying the loans will generate higher cash flows.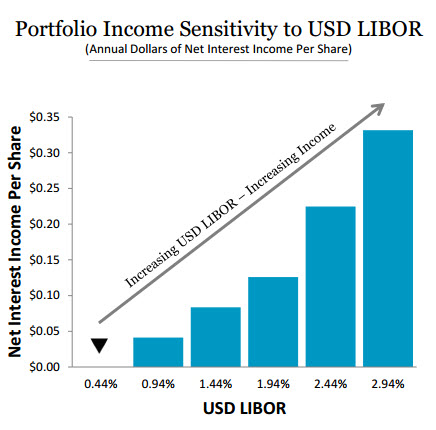 BXMT's larger loan base offers a competitive advantage among the peer group. As of Q1-16, the REIT had 126 loans with a combined balance of $9.346 billion. The weighted average yield of the loan portfolio is 4.98% and the weighted average maximum maturity is 3.0 years.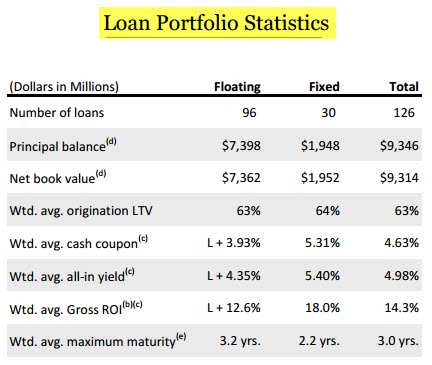 In Q1-16, BXMT closed six new loans and three upsizes totaling $861 million and funded $619 million, including $106 million of follow-on fundings under previously originated loans. Also, loan repayments in Q1 were $107 million of directly originated loans and $268 million of loans in the GE portfolio. The company's average loan size is $142 million.
The loans that originated in Q1-16 have an average coupon of LIBOR plus 4.4%, almost 50 bps wider than the existing floating rate portfolio and reflecting sound market conditions.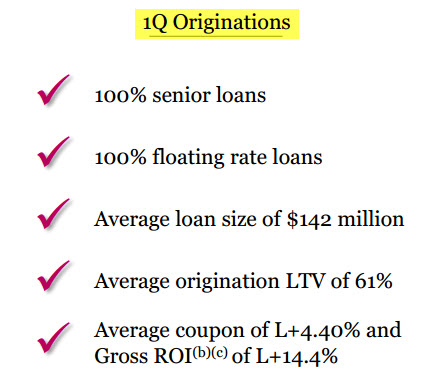 An Improved Model With Greater Scale and Earnings Power
Much of the value proposition for BXMT's externally managed model includes its association with BX. This relationship generates consistent, strong, direct origination, and the GE transaction (closed last year) is a highly complementary example of how BXMT has been able to source deals and grow its balance sheet to exceed $10 billion of senior loans.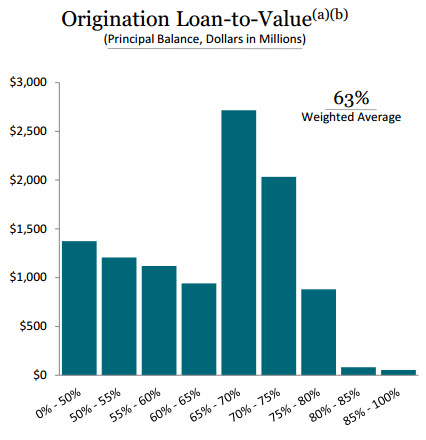 The company's portfolio is diversified by collateral property type and geographic location, and is comprised of primarily senior mortgages (97%) and similar credit quality loans. Here's a snapshot of BXMT's geographic representation: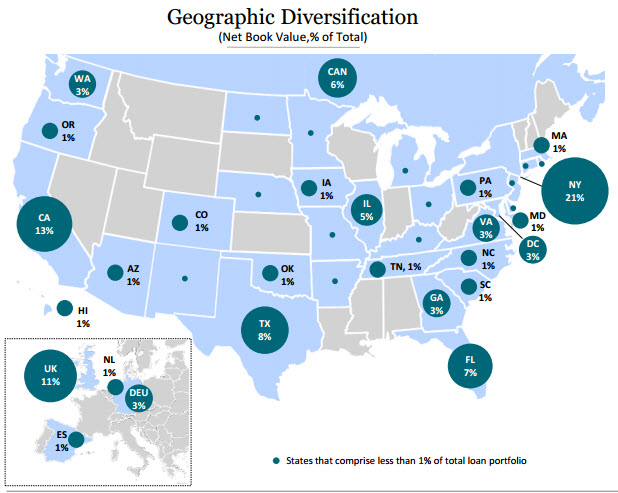 In addition to increased scale in core U.S. and U.K. markets, the acquired portfolio adds geographic and asset class diversification. For example, the GE portfolio had a large exposure in manufactured housing and office, and this complementary acquisition provides BXMT with the following sector diversification: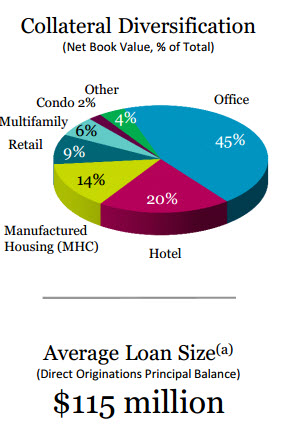 During the quarter, the REIT collected a par repayment of over 50% of the only 4-rated loan in the portfolio, reducing its balance to $54 million, or around 52% from Q4-15 levels.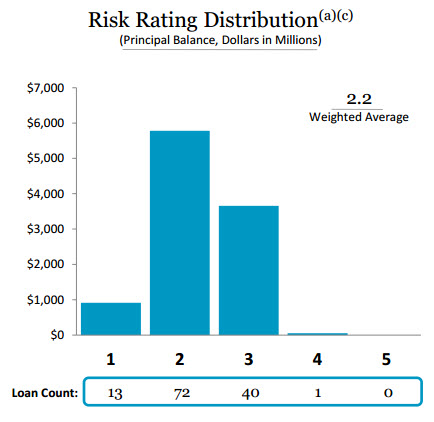 Financing Capacity
As noted above, BXMT has stayed true to its senior mortgage platform because it is the best value proposition for capital. Unlike other peers (i.e., Starwood Property Trust (NYSE:STWD) and LADR), the company's earnings are not predicated upon trading or securitization activities. It has not bought CMBS, high-risk mezzanine loans, preferred equity positions or otherwise moved out on the credit curve.
So, even with CMBS spreads blown out and the CRE securitization market barely functioning, BXMT has continued to produce strong results because of its singular focus on originating senior mortgage loans efficiently financed to maximize ROI.
At quarter end, BXMT had liquidity of over $575 million, which translates into $2 billion of loan capacity. The company expects that capacity and increased repayment activity in the portfolio to fund new originations during the coming quarters.
During the quarter, it also extended an existing $750 million credit facility to a fresh five-year term. Post quarter end, the company finalized the increase of another credit facility by $300 million to $1 billion and extended its final maturity to 2022.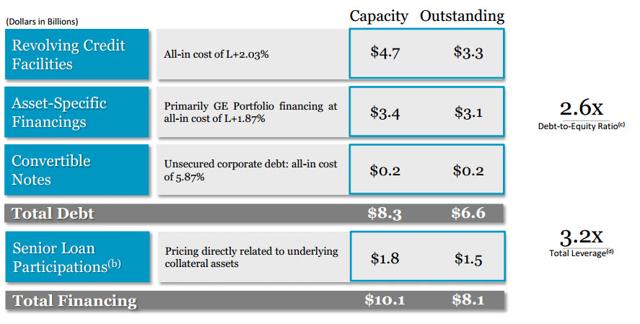 Click to enlarge
The Latest Quarter
BXMT's Q1-16 earnings results were much less volatile than BX. It generated core earnings of $0.65 per share and declared a dividend of $0.62, up 25% and 19% respectively from the first quarter of last year and reflective of the sound growth experienced in 2015.
GAAP net income of $0.61 per share was up 33% year over year, after adjusting for $0.14 of non-recurring income in Q1-15 related to the "CT Legacy Portfolio", which is no longer a material contributor to the company's financial results.
Quarter-over-quarter core earnings have continued to trend toward BXMT's expected run rate of $0.62 per share, reflecting the impact of balance sheet deleveraging resulting from the repayment of the shorter-term loans in the GE portfolio.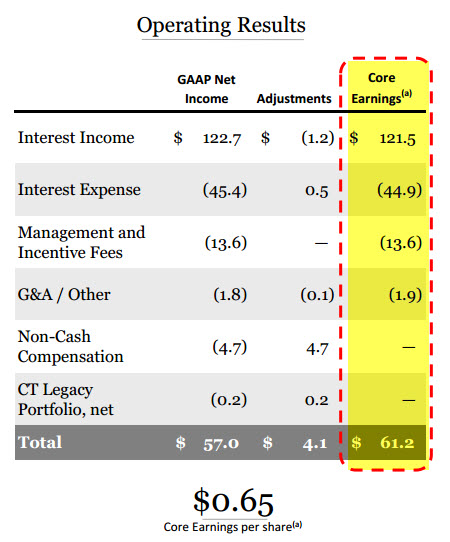 Most importantly, BXMT's core earnings of $0.65 covered the $0.62 dividend by 105%, and retained earnings during the quarter contributed to its book value of $26.53. The stability in its book value during the first quarter (marked by capital markets volatility) highlights the company's focus on stability on both the left and right hand sides of the balance sheet.
Remember, BXMT's earnings are entirely driven by the net interest income produced by the growing loan portfolio. As more predictable mortgage REITs, the company's loans are held for long-term investments with no impairments in the portfolio, and are not subject to mark-to-market accounting associated with securitization or other short-term business models. It's just a really simple business model.
Although recent signals from the Fed and others have been mixed, rate increases are inevitable, and BXMT is positioned to benefit from any future increases when they occur - a key differentiator from other mortgage REITs and specialty finance companies.
Seize the Day
Now, let's get down to business. As you know, I have gotten off the BX "roller coaster" and I'm jumping into an arguably safer vehicle. BXMT's historical earnings record validates that point: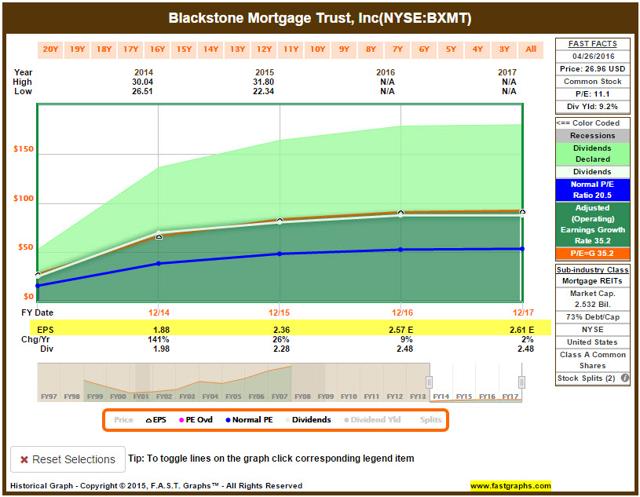 Click to enlarge
I'll be the first to tell you that BXMT is no SWAN (sleep well at night) stock. I do like the reliability of the earnings stream, but there is still volatility as it relates to the interest-sensitive revenue drivers. However, within the commercial mortgage REIT sub-sector, I consider BXMT to be one of the safest. The most widely used valuation metrics are Price/Book (BXMT at 1.02x) and dividend yield. Here's how its yield compares with that of the peer group:

Click to enlarge
Keep in mind that BX recently reduced its distribution from $.68 per unit to $.28 per unit, and the dividend yield (for BX) is now 3.9%.
There are 10 analysts covering BXMT, and all of them have BUY ratings.
Here's how the REIT has performed over the last 12 months (Note - I have included BX in the peer analysis):
Click to enlarge
Here's how it has performed over the last 2 years (Note - I have included BX in the peer analysis):

Click to enlarge
Here's how BXMT has performed year to date (Note - I have included BX in the peer analysis):
Click to enlarge
BX and its employees are the largest stockholders in BXMT.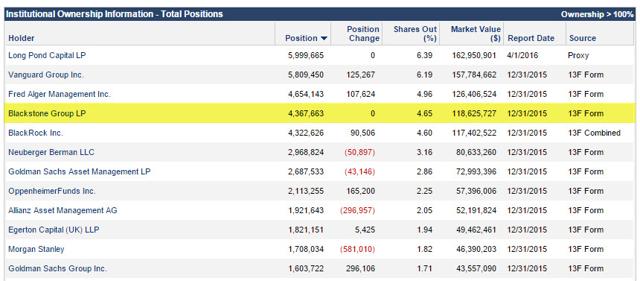 Click to enlarge
In summary, if you want to own Blackstone without the drama, I suggest Blackstone Mortgage Trust. This "little brother" option offers a simpler alternative to obtain high cash dividends generated by a low-volatility floating rate senior mortgage business. In this yield-challenged environment, I consider this commercial mortgage REIT a perfect way to "seize the day".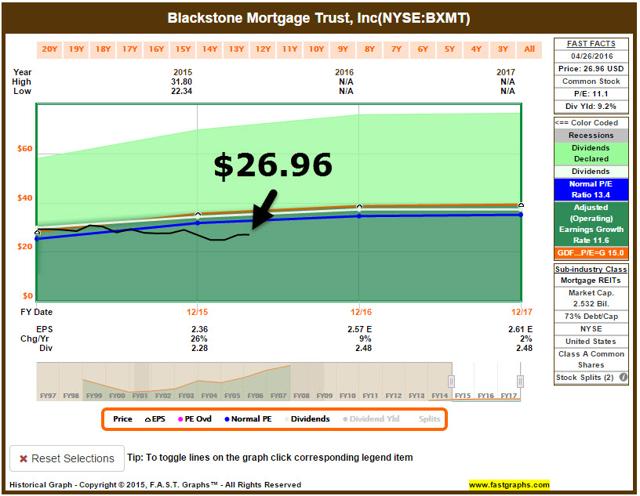 Click to enlarge
About RAIT Financial (NYSE:RAS): Many of you have requested an article on RAS. I plan on writing a premium article for iREIT Forbes members this weekend.
Author's Note: I'm a Wall Street writer, and that means that I am not always right with my predictions or recommendations. That also applies to my grammar. Please excuse any typos, and I assure you that I will do my best to correct any errors if they are overlooked.
Finally, this article is free, and my sole purpose for writing it is to assist with my research (I am the editor of a newsletter, Forbes Real Estate Investor) while also providing a forum for second-level thinking. If you have not followed me, please take five seconds and click my name above (top of the page).
The only guarantee that I will give you is that I will uncover each and every rock I can, in an effort to find satisfactory investments that "upon thorough analysis promises safety of principal and satisfactory return. Operations not meeting these requirements are speculative." (Ben Graham).
Sources: SNL Financial, F.A.S.T. Graphs, and BXMT Filings.
Disclaimer: This article is intended to provide information to interested parties. As I have no knowledge of individual investor circumstances, goals, and/or portfolio concentration or diversification, readers are expected to complete their own due diligence before purchasing any stocks mentioned or recommended.
Disclosure: I am/we are long O, DLR, VTR, HTA , STAG, GPT, ROIC, HCN, OHI, LXP, KIM, WPC, DOC, EXR, MYCC, TCO, SKT, UBA, STWD, CONE, BRX, CLDT, HST, APTS, FPI, CORR, NHI, CCP, CTRE, WPG, KRG, SNR, LADR, HCP, PEB, BXMT.
I wrote this article myself, and it expresses my own opinions. I am not receiving compensation for it (other than from Seeking Alpha). I have no business relationship with any company whose stock is mentioned in this article.