Due to the lingering and possibly failed merger with Halliburton (NYSE:HAL), Baker Hughes (NYSE:BHI) is a jumbled mess. Q1 results confirmed this position, but the stock rallied anyway following the bad news.
Even with the recent rally, Baker Hughes trades at $47 after sitting at nearly $70 about a year ago. As mentioned about a month ago, the stock is more interesting from a regulatory standpoint. The real question is whether the business can rebound quickly following a deal termination.
Jumbled Mess
For Q1, Baker Hughes reported a huge loss and a substantial sequential decline in revenues. As well, the company highlighted the difficult situation with the merger constraining the ability to reduce costs. The stock though rebounded on the day suggesting the market sees some positives in the quarterly results.
The numbers were such a jumbled mess that the initial view suggested the oilfield services company missed estimates by a massive margin. Even Briefing.com reported that earnings were $1.25 worse than expected.

The loss though included a $1.14 per share hit for tax valuation allowances making the actual loss more in the $0.44 per share area. The number is still roughly $0.11 worse than analyst expectations, but nowhere near the dramatic amounts reported by media outlets.
The sequential revenue declines were also indicative of the problems of a company expecting to be absorbed in a merger. Revenue collapsed 21% sequentially while Halliburton only saw a 17% sequential decline when pre-announcing last week.
On top of the bigger revenue declines, Baker Hughes lists roughly 500 basis points in excess operating costs required to remain in compliance with the merger agreement. The aforementioned adjusted loss of about $195 million quickly becomes close to breakeven as the oilfield services company becomes able to reduce costs inline with the industry declines.
Balance Sheet
The primary reason for looking into an investment in Baker Hughes is the balance sheet. The oilfield services business is a capital intensive sector were the companies typically take on large amounts of debt.
In the case of Baker Hughes, the company ended Q1 with $2.2 billion in cash and only about $4.0 billion in debt. The current assets are even more impressive when factoring in $8.8 billion of current assets that includes mostly accounts receivable and inventories in comparison to only $2.5 billion of current liabilities.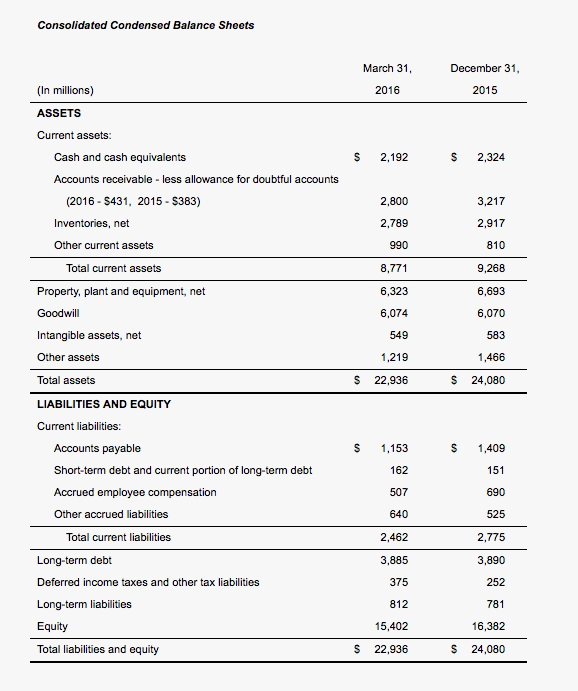 Source: Baker Hughes Q1 earnings release
Assuming the merger is terminated on April 30, Baker Hughes could nearly eliminate all outstanding debt with the $3.5 billion termination fee. A company with a net cash position would be in a very formidable position at the trough of the market.
Takeaway
The key investor takeaway is that Baker Hughes is likely to struggle over the next couple of quarter following a terminated merger. The need to restructure further and the likely exodus of key management talent in expectations of a merger will hamper near-term results. Long term though, Baker Hughes is uniquely positioned to use a strong balance sheet to acquire distressed assets and take market share.
The stock isn't an immediate buy on a deal termination on April 30, but investors should clearly use any weakness to start building a position in Baker Hughes as the company collects $3.5 billion in cash.
Disclosure: I am/we are long HAL.
I wrote this article myself, and it expresses my own opinions. I am not receiving compensation for it (other than from Seeking Alpha). I have no business relationship with any company whose stock is mentioned in this article.
Additional disclosure: The information contained herein is for informational purposes only. Nothing in this article should be taken as a solicitation to purchase or sell securities. Before buying or selling any stock you should do your own research and reach your own conclusion or consult a financial advisor. Investing includes risks, including loss of principal.