Kinder Morgan (NYSE:KMI) is off by ~5% since it reported its Q1 2016 results last week. While there were areas of strength, low oil prices really had a negative impact. Furthermore, there are growing concerns regarding Kinder Morgan' capital budget and future growth prospects as another seemingly attractive project is jettisoned.

DCF declines due to low oil prices
Looking at distributable cash flow (after preferred dividends), or DCF, Kinder Morgan saw this vital metric come in at $0.55 per share, down 5% from $0.58 per share last year. Though, this is inline with last quarter.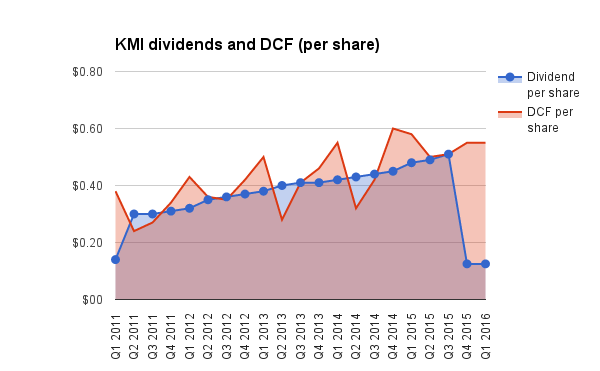 There are many moving parts in this metric, but the main reason for the decline year over year is due to lower oil prices. The per barrel price of unhedged crude oil fell by $15, from $48 to $33.
While hedges softened the blow, this sharp fall in the price of the commodity still hit home hard. Earnings from the CO2 segment, the main source of Kinder Morgan's crude oil exposure, fell by 20% to $223 million, versus $281 million last year. If oil prices had been flat, Kinder Morgan's DCF would have been $0.03 per share higher, flat year over year.
As for Kinder Morgan's other midstream segments, there were not many surprises nor much of an impact to DCF.
The natural gas pipelines posted segment earnings of $1.13 billion, up 4% due to acquisitions, but offset slightly by weaker volumes from a warmer winter compared to last year.
The terminals segment was hit by the bankruptcies of several coal firms though still posted 2% earnings growth to $269 million. The coal bankruptcies hit DCF by around $0.01 per share.
The Products Pipelines segment posted earnings growth of 17% to $287 million, largely due added assets from the Hiland acquisition and growing refined product exports.
Kinder Morgan Canada, which mostly represents the Trans Mountain pipeline, saw flat earnings of $40 million, with high demand not enough to offset the 10% decline in the Canadian dollar.
Updated guidance is a disappointment
Perhaps the worst part of Kinder Morgan's report was its outlook. The capex budget was cut 13% to $2.9 billion from $3.3 billion. In addition, the DCF and EBITDA guidance was reduced 4% and 3%, from $4.7 billion and $7.5 billion to around $4.5 billion and $7.3 billion, respectively. This comes out to full year DCF of ~$2.02 per share. Kinder Morgan cited the weak commodity price environment for this reduced forecast.
I am most concerned about the lowered capex budget. Kinder Morgan lowered its dividend to fund capex. The removal of the Northeast Energy Direct project and the Palmetto Pipeline are part of the high-grading of the backlog are a sign of the times. While scuttled for different reasons, the trend is not appealing. Kinder Morgan needs to add new projects in order to grow EBITDA and get its leverage in check.
Though, one benefit from the lower capex budget is more cash for debt repayments. Kinder Morgan should be able to lower its overall debt pile by $500 million this year just via excess cash and lower its leverage to ~5.5x EBITDA.
Another upshot from the reduced guidance is that Kinder Morgan may be sandbagging expectations enough to beat earnings down the road. With the recent rally in oil prices to $45 per bbl, the price of oil is now above the $38 per bbl mark contained in the guidance. The company noted that every $1 per barrel change in the average WTI crude oil price would increase its DCF by $6.5 million. This comes out to ~$45.5 million, good enough to raise full year DCF by $0.02. Keep in mind that this does factor in any additional midstream revenues resulting from improved oil prices.
Conclusion
Yes, Kinder Morgan had a disappointing quarter. Though, all things considered, it could have been worse. Remember that this was a hectic period where oil traded in the low $30s per bbl and seemed to be heading lower and several coal giants went under. That DCF was down slightly is a testament to the strength of the midstream model.
I remain bullish Kinder Morgan and believe it has the most upside among the large-cap midstream companies. It is greatly undervalued compared to peers and has lowered its risk-profile now that it is 100% self-funding. Though, this comes at the cost of a less than ideal dividend yield.
Disclaimer: The opinions in this article are for informational purposes only and should not be construed as a recommendation to buy or sell the stocks mentioned. Please do your own due diligence before making any investment decision.
Disclosure: I am/we are long KMI.
I wrote this article myself, and it expresses my own opinions. I am not receiving compensation for it (other than from Seeking Alpha). I have no business relationship with any company whose stock is mentioned in this article.