Yesterday, on April 27, 2016, Altria Group Inc (NYSE:USA) (NYSE:MO) closed at $61.55 per share from $61.35 per share of the day before, +0.20 (0.33%), with 6,136,110 shares traded.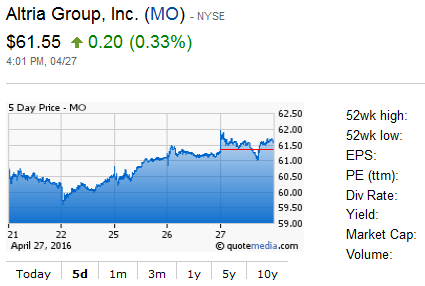 The gain anticipates MO's earnings report before open today.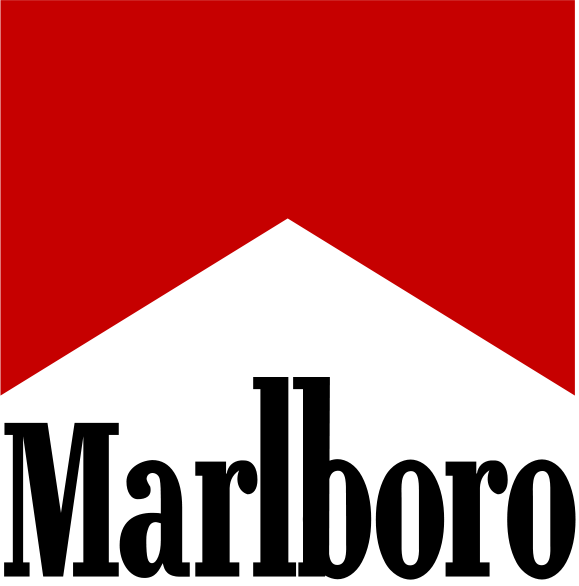 Analysts expect EPS being between $0.69 (High) and $0.67 (NYSE:LOW) or between +9.5% ($0.06) and +6.3% ($0.04), from last year's $0.63 per share.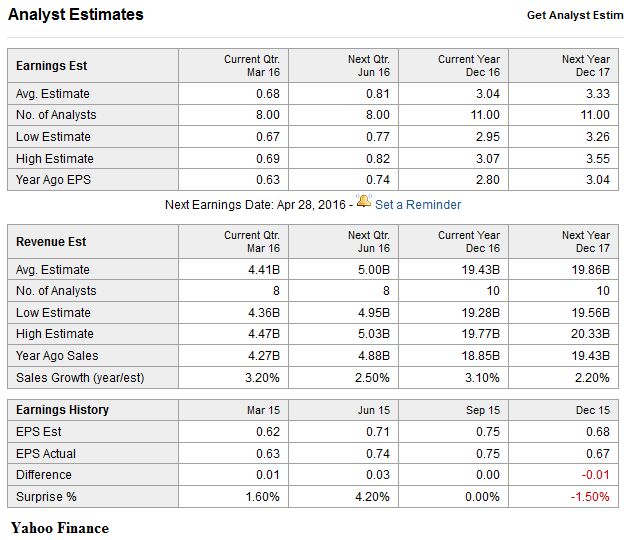 The company has 1.96B shares outstanding.
MO's profit will range between $1.4B and $1.31 if the EPS becomes reality.
After $0.67 actual earnings per share reported by Altria Group Inc for the previous quarter, analysts now forecast +7.90% growth for the current quarter and +9.50% for the next quarter.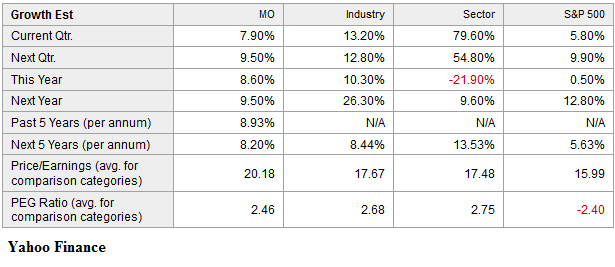 According to the analysts' opinion, the stock's rank is 2.4. The rank ranges between 1.0 (strong buy) and 5.0 (sell):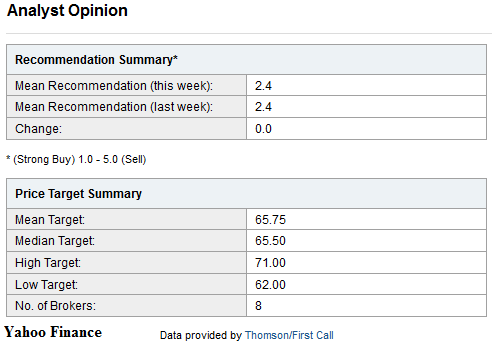 Mean target price is $65.75 per share.
My point of view:
According to my valuation, the stock is a little bit overvalued by the market but there are several strong points an investor should keep in mind about this stock: Altria dominates the US tobacco market. Marlboro is the bestselling brand of cigarettes in the USA (and in the World). It has the most diverse business model amongst its U.S. peers.
Altria Group Inc. has an average dividend yield of 3.68% vs. 2.96% of the industry. The company is a faithful issuer of a safe dividend and with almost $2.4 billion in cash and cash equivalents on hand with no short-term borrowings; there is plenty of cash to pay dividends and for buyback programs.
Analysts forecast a dividend 5 year growth rate of 8.25% vs. an industry and sector average rate of 0.34% and 0.58% respectively.
Disclosure: I/we have no positions in any stocks mentioned, and no plans to initiate any positions within the next 72 hours.
I wrote this article myself, and it expresses my own opinions. I am not receiving compensation for it (other than from Seeking Alpha). I have no business relationship with any company whose stock is mentioned in this article.