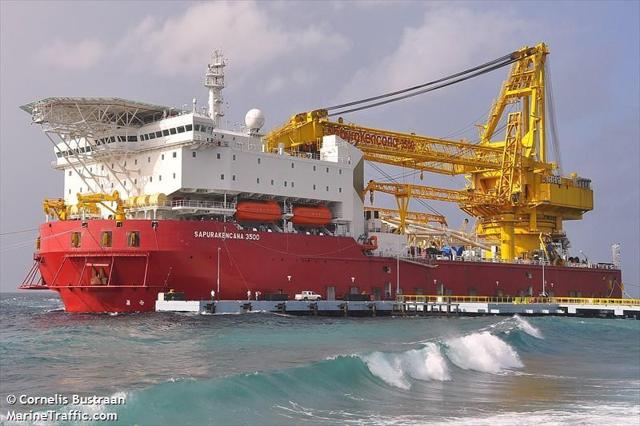 Image: The SapuraKencana 3500.
Seadrill Ltd. (NYSE:SDRL)
This article is following my preceding article on March 31, 2016, about Archer's new 2 year-contract with Statoil (NYSE:STO).
On April 28, 2016, Seadrill Ltd. announced the following (Offshoreenergytoday.com):
Offshore drilling contractor Seadrill has sold its remaining stake of approximately 490 million shares in SapuraKencana, an oilfield services company based in Malaysia.

Seadrill said on Wednesday it has sold its 8.2 percent stake in the Malaysian company for approximately $195 million.

The offshore drilling contractor noted that the proceeds from the share sale would provide additional liquidity and would be used for general corporate purposes.

In April 2014, Seadrill sold 230 million shares of SapuraKencana, realizing total economic gain of approximately $165 million, and leaving Seadrill with 490 million shares it sold on Wednesday.
A little history:
Seadrill 20-F 2015 filing we read the following:
On May 17, 2012, SapuraCrest and Kencana Petroleum Bhd merged into a new entity SapuraKencana Petroleum Bhd, or SapuraKencana. As a consequence, our equity interest was diluted and the accounting treatment of this investment changed from being treated as an associated company to a marketable security, which is marked-to-market each quarter. In relation to the dilution, we booked a non-cash gain of $169 million.

On May 30, 2012, we sold 300 million shares at MYR2.12 in the secondary market receiving gross proceeds of approximately $200 million and which resulted in an accounting gain of $84 million. This reduced our holdings of SapuraKencana to 319,540,802 shares, which was equivalent to 6.4% of the outstanding shares.
Seadrill last 4Q'15 press release:
Our ownership interest in SapuraKencana's outstanding common shares is 8.18%. During the period since September 30, 2014, to September 30, 2015, SapuraKencana's share price fell by approximately 45%as a result of deteriorating market conditions in the oil and gas industry.

Between June 30, 2015 and September 30, 2015, the value of the investment fell by approximately 20%, as a result of the declining share price and USD: MYR exchange rate.

On September 30, 2015, management determined that the investment in SapuraKencana was other than temporarily impaired due to the length and severity of the reduction in value below historic cost. As a result the Company has impaired the investment, recognizing an impairment charge of $167 million within "Loss on impairment of investments". This impairment charge represents a reclassification of losses previously recognized within the Other Comprehensive Income.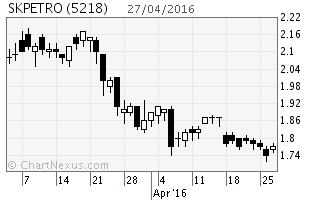 Note: 1 MYR = 0.256581 USD, which means that 490 million shares sold for $195 million represents about 1.56 MYR which is 12% lower compared to the actual trading (1.77 MYR yesterday and 1.64 MYR today).
Commentary:
Seadrill announced the sale of its remaining stake in SapuraKencana for $195 million, which is not a surprise and will help the company to keep a sufficient cash level. The only surprise is the amount SDRL received that seems about $20 million lower than it should have received at about 1.72 MYR?
SapuraKencana also indicated recently that it stopped paying a dividend. Maybe another reason to sell?
As a reminder I indicated Seadrill and associated companies in 2015 (5 - SapuraKencana is now gone):
Seadrill Partners (NYSE:SDLP): SDRL owns 42,819,100 shares or 46.6% (minority holder)
North Atlantic Drilling (NYSE:NADL): SDRL owns 169,663,723 shares or 70.36% (majority holder)
Archer Ltd. (OTCPK:ARHVF), listed on Oslo stock exchange: SDRL owns 231,053,239 shares or about 39.9% of the company
Sevan Drilling ASA (SEVDR.OL) (OTCPK:SDRNF), listed on the Oslo stock exchange: SDRL owns 50.11% of the total company
SOLD today SapuraKencana Petroleum BHD, listed on the Malaysian stock exchange: SDRL owns 490 million shares of the company, representing about 8.18%; SDRL and SAKP own pipelay vessels
Asia Offshore Drilling: SDRL owns 66.23% of the outstanding shares
SeaMex Ltd.: A 50/50 joint venture for the five jackups in the Gulf of Mexico, with an investment fund called the Fintech Advisory (six-year contract with PEMEX)
Ship Finance International Ltd. (NYSE:SFL): SFL 100% owns four rigs that it chartered on a bareboat basis to Seadrill with option to buy at a fixed rate price around 2023 -- West Taurus (chartered on a bareboat basis); West Polaris (SFL Polaris 2008) now sold to SDRL who sold it to SDLP; West Hercules (SFL Hercules 2013); and West Linus (SFL acquired the rig from NADL in 2013 and leased to NADL)
Small investment in 5 companies: Seabras Sapura Participaoes, Seabras Sapura Holdco, Itaunas Drilling, Camburi Drilling, Sahy drilling - Totalling a value of approximately $200 million as of 12/31/2015.
Details and full year 2015 Balance Sheet.
Year 2015
Q4 2015
Q3 2015
Q2 2015
Q1 2015

Revenue from Drilling

in $ million

4,335
959
985
1,147
1,244

Operating expenses

in $ million

3,300
662
1,213
694
731
Operating profit in $ million
1,019
223
(291)
384
703
EBITDA margin
55.0%
53.5%
55.4%
56.8%
57.2%

EBITDA

in $ million

2,386
513
546
616
711

Adj. Net income

Net Income

in $ million

1,286

(750)

279

279

136

(2,396)

423

423

448

250

Gain on disposition of the 50% JV SeaMex
186
0
0
0
186

Diluted EPS

in $

(1.49)
0.58
(3.70)
0.77
0.86

EPS (excluding special gain/impairment)

in $

2.04
0.58
0.21
0.77
0.48

Loss on Impairment

$ Million

1,837
0
1,837
0
0

Net cash provided by operations

$ million

1,788
298
99
899
492

Total Debt (Bearing interest)

$ million

10,981
10,981
11,359
11,481
11,350
Total current assets $ million
2,942
2,942
3,108
3,188
3,022

Cash on Hand

$ million

1,040
1,040
1,181
918
903
Shares outstanding in million
492.76
492.76
492.76
492.76
492.76
I estimated the cash on hand at approximately $1.2 billion after this transaction. This will not change a lot to the financial situation which needs to be resolved by a restructuring of the debt.
One important topic, particularly sensitive to Seadrill, is the liquidity problems and debt load. SDRL is heavily indebted as the graph net debt/EbitdaQ below is showing you, clearly.
The Net debt/ EBITDA Quarter is one of the highest of the company's peers and needs to be addressed.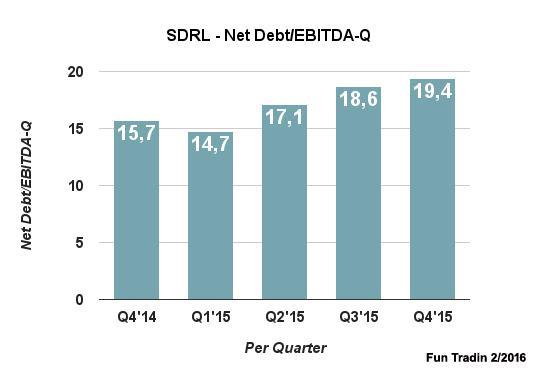 The company announced a plan to restructure its debt in the first half of 2016. M. Mark Morris, CFO, said:
We're well-positioned asset wise and can compete effectively but need to create a runway to the recovery. You will recall that I mention in Q3 that our top priority was to address our liquidity needs for 2017 and beyond. We have hired advisors to evaluate the number of alternatives in light of the industry and capital market conditions.

Our plans are focused on addressing maturities and amortization covenants NBC repayment risk, which relates to the market value of our rigs relative to the loan balance and funding requirements for the downturn.

We are currently in process and will come back to you when we are ready, which we expect to be in the first half of this year.
We are still waiting for the news.
Note: Do not forget to be one of my followers on SDRL to get updated on the most recent SDRL news (contracts, sales and earning results).
Disclosure: I am/we are long SDRL.
I wrote this article myself, and it expresses my own opinions. I am not receiving compensation for it (other than from Seeking Alpha). I have no business relationship with any company whose stock is mentioned in this article.