The shares of Allergan (NYSE:AGN) plunged over 21% over the last month due to the Pfizer (NYSE:PFE) deal falling through. Nevertheless I believe that this correction offers an attractive opportunity given the group's solid fundamentals and growth pipeline the company has in front of it. In 2015, revenues reached $15.067 billion and gross income climbed to almost $5 billion. Apart from its strong financial performance, I really like the company's fundamentals and following competitive advantages which should drive future growth.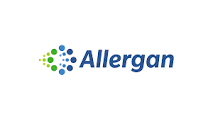 First of all, this company has been built on the back of strong acquisitions which for the most part have been very successful up to this point. For example 75% of the company's top global products registered double digit growth in 2015 (see chart) and with a strong pipeline on the horizon, I can't see top line growth slowing down any time soon.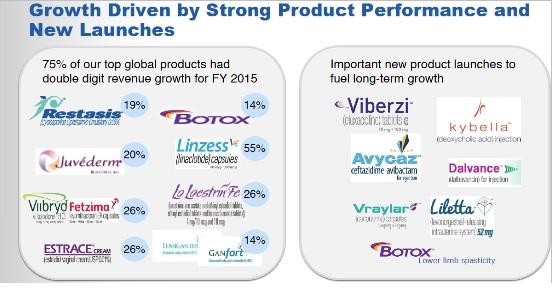 Source : Company Website
There is always integration risk when going on acquisitions sprees but Allergan's track record to date has been excellent. By acquiring companies at all stages of R&D, Allergan presently has an exciting R&D pipeline which holds more than 70 mid to late stage programs. I have written in previous articles about my bullishness in the biotech sector and Allergan is a stock that is definitely worth holding once a break-out in the sector takes place in earnest.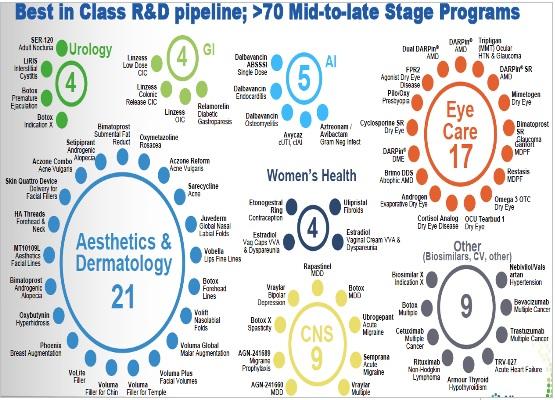 Source : Company Website
Why? Well the sale of its generic business to Teva (NASDAQ:TEVA) will free up cash for more acquisitions which will keep the gravy train flowing and for debt reduction. The deal will amount to almost $34 billion and $5.6 billion of Teva stock and I don't foresee any problems with the deal going through as we wait for regulatory approval in the US this Summer. Long term debt spiked last year to over $40 billion last year (up from $14.85 billion) in 2014 and term loans reached $8.25 billion. Nevertheless the company's debt to equity ratio at the end of the fourth quarter was only 0.56 which illustrates the substantial equity the company has on its balance sheet despite its term loan obligations. It's cash reserves will also be lifted by a further $150 million from Pfizer as a result of expenses incurred when the deal was being thrashed out at the time.
Allergan's prize jewel "Botox" fundamentals look strong also as it continues its expansion into other categories. The reason why I see Botox sales expanding are numerous but single-handedly the biggest reason has to be the high barriers to entry which means competition is scarce in this space. In fact, only two other neuro-toxins exists in the US which demonstrate how expensive and complex clinical trials keep competition at bay for the most part. However Botox definitely faces some risk in the "facial wrinkles" side but its recent move into the therapeutic side of things (where competition is extremely low so pricing power will be high) should negate any slowness in growth in the above mentioned area. Therefore expect to see more clinical trials in areas such as migraines and strabismus as the company cements its dominance in this growing sector.
So how do we play Allergan going forward? Well with the Japanese leaving monetary policy unchanged overnight, the US market (NYSEARCA:SPY) seems to have reacted negatively as pre-market trading is down by 12 points. The biotech sector (NASDAQ:IBB) which we are long has had a nice run-up lately but I'm projecting that selling pressure in equity markets may pull down the biotech sector (see chart). If we could get the sector to drop down to its 50 day moving average, it would a nice position to go long Allergan stock. As long as recent lows in this sector are not penetrated, I'm still bullish on biotech and Allergan. Furthermore with the sell-off Allergan has recently experienced, it should outperform if the sector as a whole can print a swing low in the near term.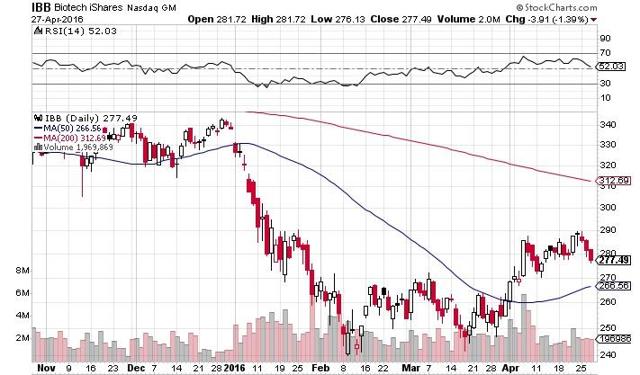 Click to enlarge
To sum up, we will wait patiently before scaling into a position into Allergen ( we may use earnings as our pivot to enter). Our portfolio is now up 15% since mid January as dividends are starting to kick in. I'm going to be adding a few good dividend and growth stocks to the elevation portfolio over the next several weeks, when I see value. It's imperative that they are not correlated and all don't have similar valuations, to ensure that income is brought in every month, which, over time, will increase our share count. Follow along by pressing the "Follow" button above.
Disclosure: I/we have no positions in any stocks mentioned, and no plans to initiate any positions within the next 72 hours.
I wrote this article myself, and it expresses my own opinions. I am not receiving compensation for it (other than from Seeking Alpha). I have no business relationship with any company whose stock is mentioned in this article.