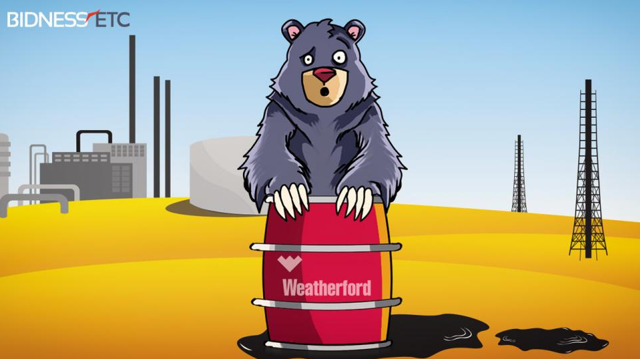 Click to enlarge
Image sourced from bidnessetc.com
Kibsgaard, CEO of Schlumberger (NYSE:SLB), provided a statement last week stating that industry conditions are now hanging in a very weak state as thousands of rigs have come offline due to project infeasibility: "the decline in global activity and the rate of activity disruption reached unprecedented levels as the industry displayed clear signs of operating in a full-scale cash crisis." According to economic data that we received, many rigs cannot operate profitability while oil prices, specifically West Texas Intermediate, stand below $55 per barrel. The issue for the equipment services industry is that even if oil prices do rebound, E&P firms will be very slow to reallocate cash into investment spending. Therefore, even if oil prices were to violently rebound to the upside, revival chances for contract revenue would be soft. We think it also speaks volumes that the leading company in this industry is showing dire concern over future prospects. The figures speak for themselves when a relatively unlevered operating business realized a sharp EBITDA contraction, i.e. double digits, quarter over quarter over the last two years. That said, we find it disturbing that Weatherford (NYSE:WFT), which in our view stands in a very weak position relative to others, has continuously come on conference calls with an upbeat tone claiming it is on a clear road to recovery. We think, however, that management has made recurring mistakes which ultimately have yielded a large adverse impact to shareholder value.
The Credit Downgrade
Management has claimed time and time again that their debt maturities would have no issue of repayment. Analysts also backed management by stating that under weak conditions, debt to capitalization would not come close to hitting their allowed covenant cap target of 60%. However, in the latest conference call, management disclosed a variety of charges related to currency translations, goodwill impairments, and asset write-downs. Given the most recently reported book value and debt balance, the ratio has been exceeded: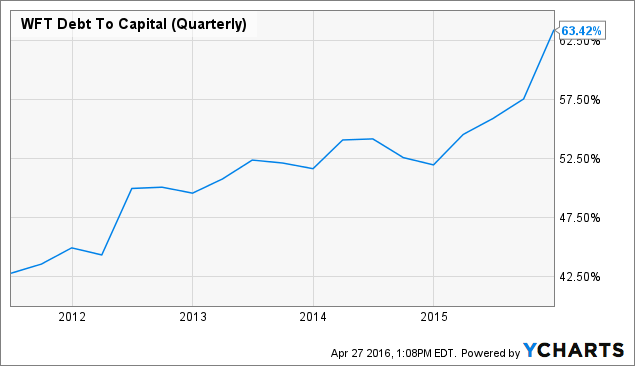 WFT Debt To Capital (Quarterly) data by YCharts
Fortunately, management was able to renegotiate terms so repayment would not be an issue:
as a measure of abundant precaution and mostly to reassure our equity holders, we have successfully renegotiated the covenant on our current revolving credit facility from a 60% debt to cap ratio to a 70% ratio."
Management claimed that this was simply a precautionary matter, yet we do not think that is the case, given the accelerated decline in shareholder equity:
WFT Book Value (Quarterly) data by YCharts
We think that if management did not raise equity, it would not have enough liquidity for future debt repayments and operations.
Equity Raise
Several months ago, management was planning to raise about $1 billion in equity to serve ongoing activities, but upon announcement, shares declined nearly 17% and management canceled the offering:
While investor interest was strong for this offering, we are unwilling to sell securities at prices that do not reflect the value we have created at Weatherford."
This was when the stock was trading around $9 per share. Fast forward to the present, management decided to issue about $630 million in equity with a stock trading around $7. The issue here is that management essentially missed out on a ton of value by selling shares to the public at $7 rather than $9 several months earlier. It was no surprise to see debt markets react favorably to an eventual equity offering, but clearly it was to the demise of stockholders. We think management understood that it would need cash in the future to service its debt, but instead their egos took over, effectively destroying shareholder value via poor capital allocation activity.
Rig Division Sale
It would have been beneficial for Weatherford to dump its rig division just before the downturn, but most firms and analysts simply did not predict this would happen. Management now plans to sell the business for an undisclosed price tag to service upcoming debt maturities. There are three issues with this action, however. The first is that management most importantly must find a buyer, which have been very slim particularly for rig-based segments. The second is that if the sale were to occur, WFT would receive a low bid and be forced to report an asset writedown and/or goodwill impairment, causing a further decline in equity. The third is that Weatherford would lose all of the associated future cash flows, which some believe the company cannot afford.
Some Numbers
According to management's target, it is expected that the firm will generate between $600-700 million in annual free cash flow this year; however, it is difficult to determine if this includes one-time gains; is it recurring or not? We have noted the drivers for these are primarily related to cost cuts. However, we should mention that management has once again slashed capital expenditures to a new low, standing at just $300 million annually, down from their previous target of $650 million.
Management provided the following narrative on capex spend: "With the exception of R&D which can be caught up quickly with a recovery, we're not cutting into muscle."
In other words, management thinks that by cutting capex schedules to these levels, there should be no direct impact to operating capacity. We believe this is false given the magnitude of capex cuts done over the last 3 years. If you want a general idea of the spending activity, Weatherford spent about $2.2 billion in capex in early 2013. Given an anticipated spend of $300 million, we are running at just 13.6% of peak capacity. Does this seem realistic? Probably not. The most recently reported D&A figure was $275 million. Given the average decline through shed, we think it would begin tapering off at $250 million. If we span that for the full year, we reach a $1 billion value in depreciation. Obviously, this is unsustainable over the long term. I will let you be the judge of that but in our view, it's obvious that "muscle" aka operating ability was being cut into during 2015's operating cycle.
Moreover, this executive action has reached a critical point of reducing current and future contract opportunities simply to boost cash flow in the short term. In our view, management seems to be creating a guise of strong cash flow when in perpetuity, it will be chronically impaired. But we can still see this near-term weakness reflected through analyst estimates moving into the next two years:

That said, given the amount of reduced capex, it will be a very high bar for Weatherford to achieve historical sales or even assume much of a recovery. The reason is that even if management decided to re-lever itself down the road, re-capturing losing contracts will be a very difficult task given the amount of consolidation in the industry. Typically, longer-term contracts last around 5 years, and if there is a minimal turn before then, Weatherford will enter a death spiral. So while management is painting the picture of straight-line recovery, we think it is no different than the past which involves secular underperformance.
Valuation Methodology
It is difficult to tell where Weatherford will be 5 or 10 years from now on a numbers basis. If we consider management's high-end target of $700 million in free cash flow, that puts the stock at a EV/FCF multiple of 19x today. We can also see this reflected through TTM EV to cash from operations: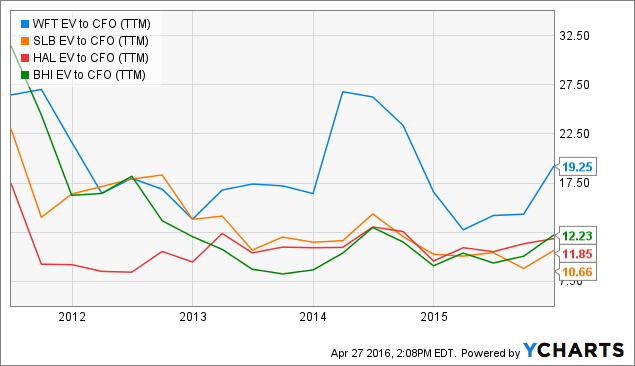 WFT EV to CFO (TTM) data by YCharts
That said, any chances of multiple expansion are likely slim to none. Management will now be forced to execute well and deliver on their guidance if investors wish to see any material upside. We also estimated ROIC against WACC, which were 5.9% versus 8.3% respectively for our models. Even considering the high-end of guidance, Weatherford is still destroying economic value.
Bottom Line
While the industry may be turning within the next year, the recovery will be slow especially for Weatherford. We have seen a series of issues within operations, investments, and finances. Given the odd premium assigned to Weatherford's stock through plain multiple and discounted cash flow, we still believe upside is limited. If shares trade above $9.00 per share, we will likely initiate a short sale position.
Disclosure: I/we have no positions in any stocks mentioned, but may initiate a short position in WFT over the next 72 hours.
I wrote this article myself, and it expresses my own opinions. I am not receiving compensation for it (other than from Seeking Alpha). I have no business relationship with any company whose stock is mentioned in this article.
Additional disclosure: We may short shares directly if the stock price trades above $9.00