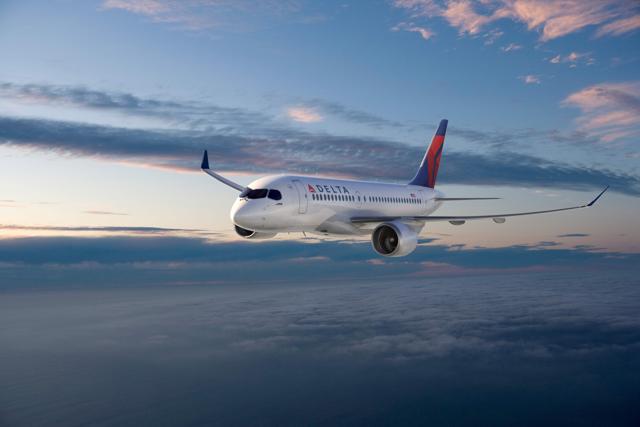 Click to enlarge
Img 1: rendering of a Delta CSeries
Today's announcement and confirmation that Delta Air Lines (NYSE:DAL) will order 75 Bombardier (OTCQX:BDRBF) (OTCQX:BDRAF) CSeries plus 50 options is incredibly positive for the program and a major savior. As I outlined in my article here, "CSeries Order A Win-Win For Bombardier And Delta," the Delta order will give this aircraft the highest validation it could ever receive. This is part one and for many other airlines on the sidelines a smooth entry into service with Swiss would be part two and should undoubtedly reignite serious interest once again in the program. The Delta order now leaves the CSeries basically sold out until 2021 and in a situation with more orders prior to launch than the highly successful A320 had when it launched in 1988.
With the CSeries order today, both the CSeries and Bombardier are here to stay. It is hard to stress enough how significant the Delta order is today and it absolutely makes Bombardier stock a buy and a very compelling turnaround play for investors at this point.
Despite the positives I outlined above and in my previous article the Delta order will not come cheap at all for Bombardier. Due to pressure from Boeing (NYSE:BA) and Airbus (OTCPK:EADSF, OTCPK:EADSY) the order is in fact likely either breakeven or possibly being sold at a loss for Bombardier. The key from the first mention of the CSeries by Delta executives in January this year was it was compelling but, "at the right price." These losses however may be the best marketing spend Bombardier has given the CSeries since its inception, and will certainly benefit it over the long run but the focus should now become profits at the CSeries program for Bombardier investors.
Profits
A look into the recent United Boeing 737 order by Goldman Sachs (NYSE:GS) concluded that Boeing likely sold United 737 aircraft at $22 million apiece, 73% below list price and most likely at a loss. The pricing Boeing would have offered Delta, an airline with even more clout is likely to be at least as low as this, putting immense pressure on Bombardier's CSeries pricing.
The difficulty for Bombardier now is that the Delta order has basically sold out much of the production line for the next 5 years, through 2021 with orders that are likely breakeven or loss-making. For Bombardier to really win from the momentum that this Delta order delivers, it will really need to expand production to allow for profitable orders to be produced alongside the breakeven/loss leader orders from Delta. Expanded production is going to require additional investment on Bombardier's end.
For Bombardier there are a number of things standing in the way of profits. One is as mentioned above, the lack of production scale to A, accommodate profitable orders and B, develop economies of scale, while the second is the large development costs. The total cost to develop the CSeries program now stands at ~$7.4 billion, a number that while large is substantially less than the $32 billion Boeing ended up spending on the 787 launch. For Boeing the margin of a 737 that has its development costs paid off and is being produced at a large scale is 20-25%. So for Bombardier, potential annual profits could look something like this, assuming an average selling price at 30% off its ~$75 million list price.
| | | | | |
| --- | --- | --- | --- | --- |
| | 5% | 10% | 15% | 20% |
| 5/month | $157.5 million | $315 million | $472.5 million | $630 million |
| 10/month | $315 million | $630 million | $945 million | $1.260 billion |
| 15/month | $472.5 million | $945 million | $1.418 billion | $1.890 billion |
Table 1: Potential Bombardier CSeries Profits
The current target of 255 to 315 CSeries delivered by the end of 2020 would lead to a production rate of around 5 aircraft per month, compared to 52 per month for the Boeing 737. At this rate and with a profit margin of 10% the program would take almost 20 years to break even, making a production increase necessary if the CSeries is to be financially viable long term. This does not take into account the fact that the Delta order that makes up a large percentage of these aircraft may be sold at breakeven or a loss reducing the overall margin.
A CS500 would be very positive for Bombardier in driving profits in that it would likely be able to sell for a premium, despite costing only incrementally more to produce. An additional benefit would be the economies of scale the CSeries program could attain from a CS500 and the greater pricing power this would give Bombardier. For instance Boeing has brought down the cost of its 737 jet in recent years from large increases in production. The fixed costs for Boeing rise at an incremental rate from increased production while these fixed costs become spread over many more aircraft. The same scenario playing out across Boeing suppliers enables across the board cost savings and greater pricing power.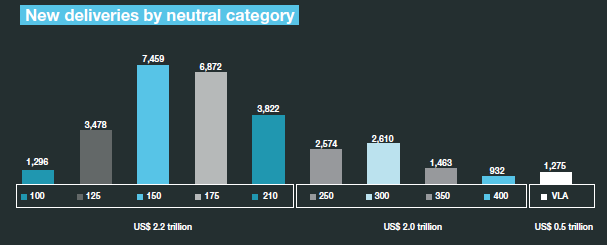 Img 2: Projected Aircraft Demand By Size 2015-2034
Demand for the CS100 and CS300 while potentially strong is much more of a niche market compared to the CS500 market. As the graph above shows, projected demand for an aircraft the size of the CS500 is 7,459 units from 2015-2034, over double the market size of the CS100 and CS300 market. The CS500 would therefore enable a much larger ramp up in production than Bombardier would be able to do with the CS100 and CS300, making all models more competitive on price. Despite the potential positives from a CS500, as I outlined in my article here, such an offering has a lot of hurdles and uncertainties before it can become a reality.
Conclusion
The Delta order is a major validation for the CSeries that will undoubtedly lead to renewed interest in the program. A successful launch with Swiss airlines later this year would likely be the key to give airlines the confidence they need in the CSeries to seriously consider it. Beyond this the next step in the CSeries program will be making it financially viable longer term. The Delta orders are unlikely to be profitable so the key will be for Bombardier to take advantage of today's Delta order to secure additional profitable orders. The launch of a CS500 along with an increased production rate of the existing CS100 and CS300 would be steps that would allow for profitable orders in the near term and are further positives for the program that investors should look out for.
Disclosure: I am/we are long BDRBF.
I wrote this article myself, and it expresses my own opinions. I am not receiving compensation for it (other than from Seeking Alpha). I have no business relationship with any company whose stock is mentioned in this article.
Editor's Note: This article discusses one or more securities that do not trade on a major U.S. exchange. Please be aware of the risks associated with these stocks.