Yesterday, on April 27, 2016, Agnico Eagle Mines Limited Inc. (NYSE:USA) (NYSE:AEM) closed at $41.38 per share from $41.11 per share of the day before, +0.27 (0.66%), with 2,349,343 shares traded.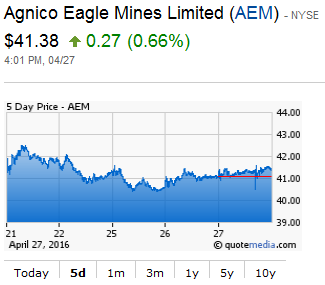 The gain anticipates AEM's earnings report after close today.
Analysts expect EPS being between $0.09 (High) and $0.00 (Low) or between -40% (-$0.06 ) and -100% (-$0.15), from last year's $0.15 per share.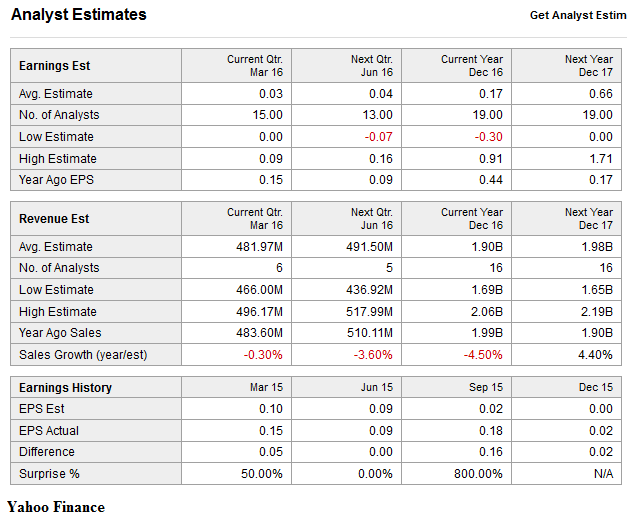 The company has 220.90M shares outstanding.
AEM's profit will range between $19.9M and $0.0M if the EPS becomes reality.
After $0.02 actual earnings per share reported by Agnico Eagle Mines Limited Inc. for the previous quarter, analysts now forecast -80% growth for the current quarter and -55.60% for the next quarter.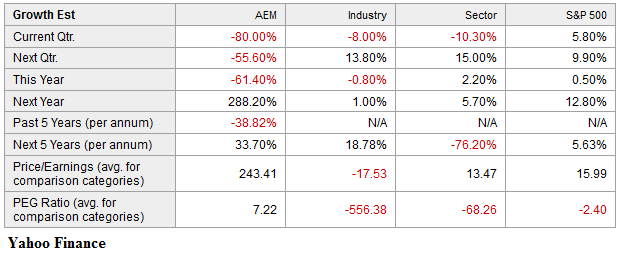 Recently Agnico-Eagle Mines has been downgraded to Neutral from Overweight at J.P. Morgan after shares have jumped a 44% since January the 19th:
AEM is fully valued for now according to J.P. Morgan, even though it is the best approach for long term horizons given the fact that the miner focuses on long-term reserve replacement and projects, and that its exploration efforts have yielded strong results.
My point of view:
Agnico Eagle closed 2015, showing very good operating results and an improvement in its financial flexibility by reducing its debt situation.
However at the current prices I would not suggest the stock for long-term position because I also believe that this gold stock is fully valued for now.
Considering its nature of being a cyclical stock, I would wait another month to start a position: gold stocks are usually characterized by an upswing from March through late May or the first part of June followed by a low being made some time in late July. The gold stock is more volatile than the gold price.
I don't expect significant surprises from its Q1 2016 results.
Disclosure: I/we have no positions in any stocks mentioned, and no plans to initiate any positions within the next 72 hours.
I wrote this article myself, and it expresses my own opinions. I am not receiving compensation for it (other than from Seeking Alpha). I have no business relationship with any company whose stock is mentioned in this article.