On April 22nd, McDonald's Corporation (NYSE:MCD) reported earnings of $1.23 a share, outperforming the consensus estimate of $1.16. McDonald's news has been dominated by the all-day breakfast rollout on October 6th, 2015, and it has been touted as a significant success. Beyond those figures, there is more to the financial metrics of the company today. While Q1 2016 peer results are still rolling in, McDonald's is likely to keep their edge over their peer group in EBITDA margin but fall far behind in Debt/Equity and possible ROIC ratios. The McDonald's composite peer group used for this analysis includes BKW - Burger King, DNKN - Dunkin' Brands Group, SBUX - Starbucks Corporation, WEN - The Wendy's Company, and YUM - Yum! Brands.
For the past sixteen quarters, McDonald's has consistently outperformed its peers in EBITDA margin. With the rollout of all-day breakfast, McDonald's stuck to its roots and improved margins by over 1%.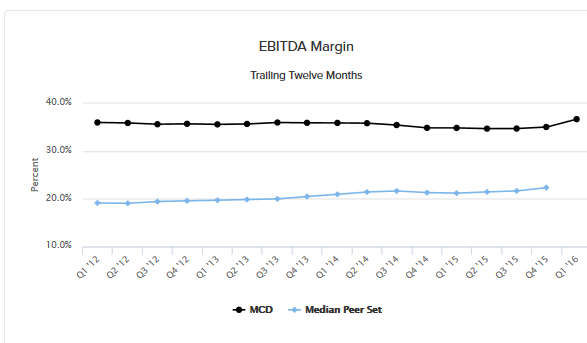 Exhibit 1: EBITDA Margin
Source: Enlight Research
Note: Q1 2016 peer reports not yet available at time of writing.
Other than breakfast, debt has been one of the latest new things on the menu for McDonald's. From Q1 2012 until Q4 2014, McDonald's rarely varied from its peer group in debt to equity ratio, while never exceeding 117%. That changed substantially in 2015 as McDonald's focused on a partially debt-financed shareholder return. From 116.26% in Q4 2014, debt to equity grew dramatically throughout 2015, reaching 340.38% in Q4 2015. McDonald's peer group also seems to be experimenting with significant debt/equity ratios.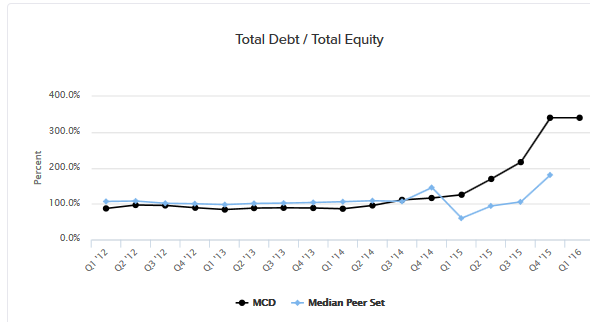 Exhibit 2: Total Debt/Total Equity
Source: Enlight Research
Note: Q1 2016 peer reports not yet available at time of writing.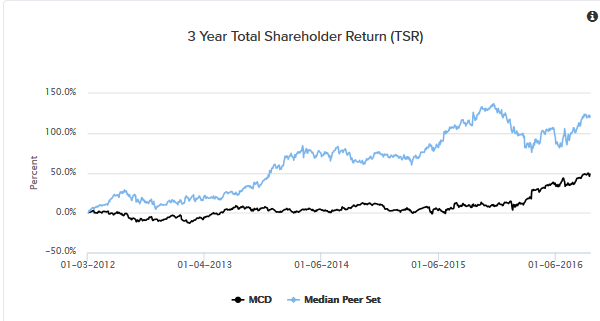 Exhibit 3: Total Shareholder Return
Source: Enlight Research
Despite the success of the all-day breakfast menu, superior EBITDA margins and debt-driven shareholder returns, McDonald's is only starting to close the gap on total shareholder returns compared to their peers since 2012. Investors would need to determine if it will be possible for McDonald's to continue innovating, improving quality and mitigating food safety risks to close the gap in shareholder returns and if a move remains possible for a brand of such immense presence.
Disclosure: I/we have no positions in any stocks mentioned, and no plans to initiate any positions within the next 72 hours.
I wrote this article myself, and it expresses my own opinions. I am not receiving compensation for it (other than from Seeking Alpha). I have no business relationship with any company whose stock is mentioned in this article.