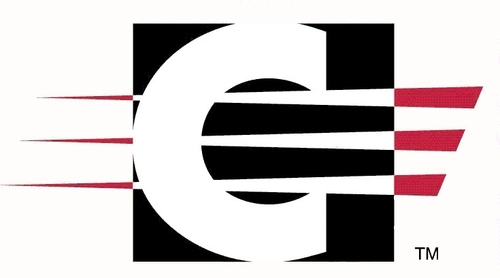 Consol Energy (NYSE:CNX) is up on earnings, despite reporting a loss of $98M. In the bigger picture, CNX's post-earnings jump - and its continual growth throughout the last year - makes sense. It all comes back to the analysts, who clearly do not understand the company:

Click to enlarge
Rarely do I see such poor estimates for a company. Analysts were off by 3800% at one time, and then realized they should drop their forecasts. For the following two earnings seasons, the analysts dropped their estimates by 3 cents, but they were still overestimating EPS by 1300% and 120%.
But while the analysts were dropping their estimates, the company's EPS was coming back into positive territory. This just goes to show how trustworthy analyst estimates are. In the case of CNX, they were completely ignoring the fundamentals.
When you compare CNX to the energy industry as a whole or to similar stocks, such as ConocoPhillips (NYSE:COP), which I recommend you stay out of until later this year, you see that CNX is in its own league:

Click to enlarge
What sets CNX apart? For one thing, CNX is transitioning from the coal industry to the natural gas industry. Leaving the coal industry is clearly good news, as this industry is beaten down and shows no signs of returning to its past glory anytime soon.
Second, CNX is appropriately managing its cash. This includes the sales of its assets. CNX need not sell its assets but only does so if the price is right. Their selling of their mines includes a clause that allows CNX to retain the right for natural gas production, and the debt associated with the assets is passed onto the buyer.
CNX is clearly preparing for a true bottom in the natural gas industry and is cleaning up its balance sheet as it does. In the most recent earnings report, CNX showed to have cut down on operational expenditures. The company is doing exactly what it should do at this time: fixing its balance sheet as quietly as it can.
Unfortunately, analysts simply do not realize that these are good things, despite the negative EPS. CNX was recently removed from the S&P 500. Investors also seem a bit upset at the company, as a result of the suspension of the dividend.
Still, it is hard to ignore the fact that CNX is up 133% this quarter, beating the energy industry by over 100%. As the company works on its balance sheet and continues its transition away from coal, we should see the stock continue to rise. The only clear drawback at this time is the dividend suspension.
But I am going to show you an interesting strategy that can replace the dividend while we ride the CNX trend upward. And no, I'm not talking about covered calls; covered calls cap gains, which is something we do not want to do with a stock that has risen 133% in the past three months. Instead, we are going to be selling in the money (NYSEARCA:ITM) calendar calls.
Here is an example strategy:

Click to enlarge
In this strategy, we are selling a far-dated call and buying a close-dated call. The strike price is well ITM, with CNX almost at $16 per share. We would ideally like to drop the strike price even more, but we would be sacrificing liquidity.
So let's look at the above strategy as a conservative approach in terms of liquidity. Here, we have an option strategy opened at a credit. Upon opening, you gain $65 for each trade. Your risk/reward is 1:1; the max risk is realized if CNX drops to 12 by May 20.
Otherwise, if CNX continues upward, our strategy pays off. The max gain occurs under two conditions:
CNX continues upward
Volatility drops
This is a strategy we want to play when volatility is at a relative high, as it is now: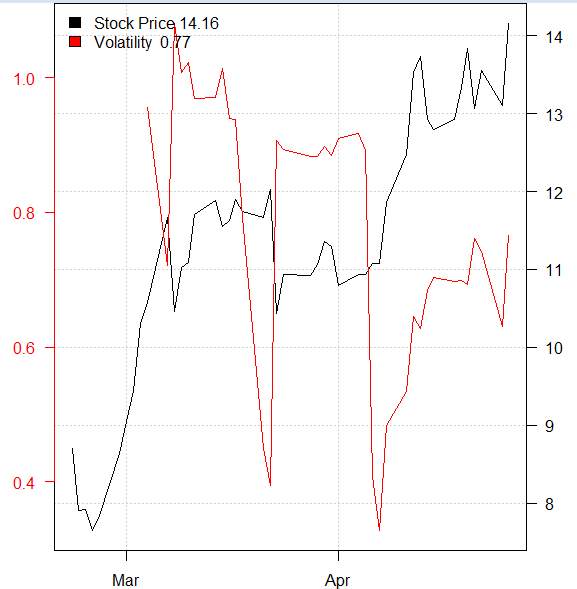 When volatility drops, so does the value of the strategy, because of the negative vega value. This is what we want, as if the strategy's value drops to zero, we can buy it back at the cost of commission and keep the remainder. Understanding this strategy is a bit easier when you compare the two call options:
The close-dated, long call has a higher delta value than the long-dated call. Thus, it will rise in value faster than the long-dated call. The difference between the value increases in the calls is the profit we gain from the upward move, and that difference will grow along with CNX's upward momentum (long gamma).
Vega is smaller in the near-dated call. This means that when volatility falls, the near-dated call will lose less value than will the far-dated call - hence the negative vega value for the entire play. Because volatility tends to fall when a stock rises, we will see the overall value of this strategy fall as CNX rises - in other words, we also gain the difference between the vega losses in the two calls.
Thus, this short ITM calendar spread allows us to gain in two ways: through the delta difference in the options when CNX rises and through the vega difference in the options when CNX's volatility falls. Because this is a short-term strategy, it should be rolled over monthly. But the benefit of this is that you will see monthly "dividends" instead of quarterly ones.
In short, you can own CNX stock as normal and realize gains while at the same time profiting from the credits from the short ITM calendar calls. This options strategy can easily replace the lost dividend and can be cut off when the dividend returns. However, I think once you see the income from this strategy, you will continue to run it when the dividend makes its homecoming.
Learn More about Earnings
My Exploiting Earnings premium subscription is now live, here on Seeking Alpha. In this newsletter, we will be employing both fundamental and pattern analyses to predict price movements of specific companies after specific earnings. I will also be offering specific strategies for playing those earnings reports.
We have accurately predicted EPS surprises 100% of the time (5/5).
In the most recent newsletter, we are predicting how Amazon (NASDAQ:AMZN) will react after its upcoming earnings report.
Request an Article
Because my articles occasionally get 500+ comments, if you have a request for an analysis on a specific stock, ETF, or commodity, please use @damon in the comments section below to leave your request.
Disclosure: I/we have no positions in any stocks mentioned, and no plans to initiate any positions within the next 72 hours.
I wrote this article myself, and it expresses my own opinions. I am not receiving compensation for it (other than from Seeking Alpha). I have no business relationship with any company whose stock is mentioned in this article.