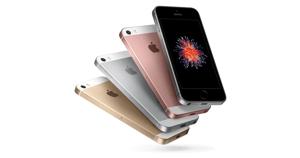 Even the biggest Apple (NASDAQ:AAPL) bulls have to be disappointed by what we heard from the company on Tuesday. Apple missed analyst estimates and gave guidance that was even weaker than most were looking for. As Apple has hit a rough patch in terms of its results, it certainly appears that the company is at the end of an era. How management readies Apple for its next stage will be key to determining the long-term success or failure of this stock.
When it comes to the iPhone, the device is at a comparable place to where the iPad was a couple of years ago. Apple has squeezed out almost everything it can from the top of the market, but it is now time to move down the price ladder. We are not likely to ever see near $700 quarterly average selling prices again, and management talked about the SE's impact on the conference call. Apple will ultimately need to come up with an even cheaper model than the SE if it wants to take even more global market share, given the majority of smartphone sales come at much lower price points.
It is clear Apple was spoiled by the success of the iPhone 6 line, and the 6s line just didn't move the needle enough to keep the momentum going. Additionally, consumers in the US have changed their mindset a bit thanks to a changing carrier environment. Paying $199 upfront for a new iPhone was one thing, but now paying $25 or $30 a month for two years has many realizing that they don't need a new phone just yet. Many are calling for iPhone 7 to restart the company's growth, but Apple has to make sure the phone has more than just incremental improvements. While margins may be impacted slightly, it is definitely time for the device's base storage to be increased to 32GB, for example. Apple should probably look at increasing battery life as well.
The upgrade problem extends to the iPad and Mac lines as well. These devices last even longer than phones, which means consumers wait even more time to upgrade or replace them. It's hard to build annual sales momentum for a product when old models last 3 years, 4 years, or even longer. Management talks about a 78% share of tablets that are $200 or more, but what about the rest of the market? Apple needs to think outside the box, like an iPad upgrade program, if it wants to get tablet sales going again. The company also saw Mac sales do poorly in the struggling PC market, despite doing quite well in most recent quarters.
Just as we saw when the iPad mini was introduced, the iPhone SE is going to have a negative impact on overall margins. For Apple to boost device unit sales and revenues going forward, more down market products will probably be coming. Losing 100 or 200 basis points of gross margins may eventually happen. If that can get Apple an extra $20 billion of revenues, we could actually see an increase in overall gross margin dollars. Tuesday's buyback increase will also help continue to drive the outstanding share count down, helping the earnings per share situation.
While management discussed growth opportunities like India, that will take time to develop, just like we saw with China. I think that's why we heard about the potential of larger acquisitions. Instead of purchasing smaller companies to just strengthen and improve its offerings, Apple may need to buy established names with viable current products. I'm not saying Apple will do this, but names like GoPro (NASDAQ:GPRO) and Fitbit (NYSE:FIT) would be examples of how this new strategy could look. Apple doesn't just need to branch out in terms of products, but it needs to find new sources of revenues in this ever-changing technological environment.
Unfortunately, it is too late to save Apple in the short term. The iPhone 6s line just didn't cut it, and struggling other products just added to the disappointment. The dividend raise and buyback were nice, but not enough to help save the stock on Wednesday. Apple management needs to look at the company's future, and figure out how to better get consumers to upgrade. The days of only premium priced products are certainly behind us, and how Apple navigates moving down the price ladder a bit will help determine where this stock goes from here.
Disclosure: I/we have no positions in any stocks mentioned, and no plans to initiate any positions within the next 72 hours.
I wrote this article myself, and it expresses my own opinions. I am not receiving compensation for it (other than from Seeking Alpha). I have no business relationship with any company whose stock is mentioned in this article.
Additional disclosure: Investors are always reminded that before making any investment, you should do your own proper due diligence on any name directly or indirectly mentioned in this article. Investors should also consider seeking advice from a broker or financial adviser before making any investment decisions. Any material in this article should be considered general information, and not relied on as a formal investment recommendation.