BP (NYSE:BP) has reported first quarter results on Tuesday, showing an increase in earnings despite very weak oil and natural gas prices. The company keeps its dividend stable at the current level, and it looks like BP is very well positioned to whether the storm and to show good results once oil and has prices are substantially higher again.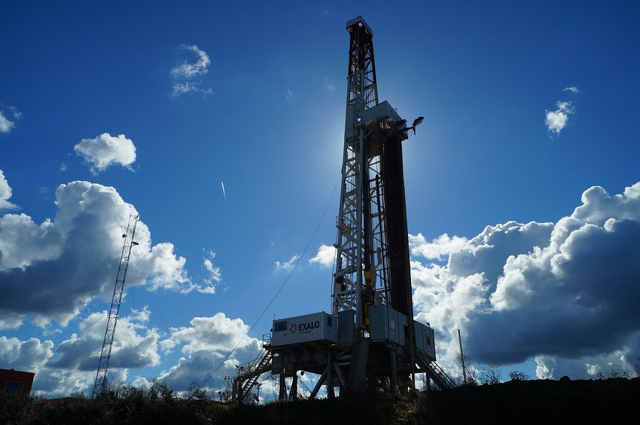 Click to enlarge
BP earned $530 million in the first quarter, which was well below last year's first quarter earnings of $2.6 billion. This, however, was expected, the bigger surprise is that BP remained profitable, and that the company was able to increase its earnings over the level set in the fourth quarter of 2015, despite all environmental factors working against BP.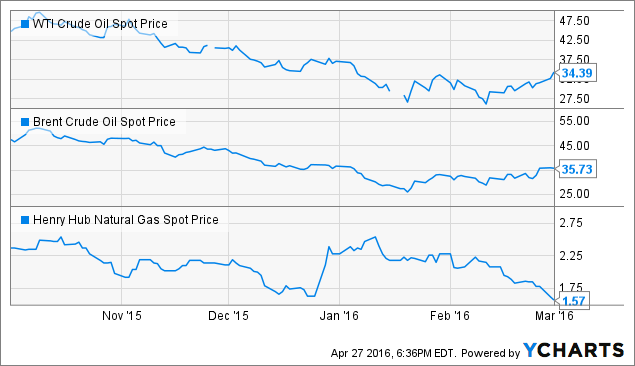 Oil prices averaged $34 per barrel in the first quarter of 2016, down $10 from the fourth quarter 2015 level of $44 per barrel, and down $20 year on year (oil prices averaged $54 per barrel in Q1 2015). Natural gas prices were weak during the first quarter as well, with Henry hub spot prices bottoming at close to $1.50.
Usually BP, as well as other oil majors, sees a huge boost to its downstream earnings due to higher crack spreads when oil prices are low, but in the first quarter this was not a positive factor either: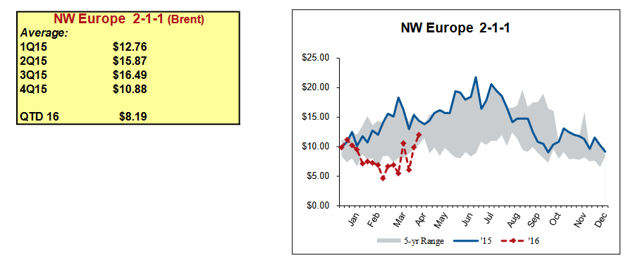 Click to enlarge
As you can see in the above table and chart from Howard Weil, crack spreads in the European market (where BP operates nine refineries) have been lower in the first quarter of 2016 than they were in the fourth quarter and first quarter of 2015 (thus were down year on year as well as on a quarter to quarter basis). BP's bottom line was thus pressured in two ways: Through lower oil and nat gas prices (which is bad for upstream earnings) and through lower crack spreads, which is bad for BP's downstream results.
I thus believe that the quarter to quarter earnings growth is a huge positive and a great sign that BP is holding up very well despite huge headwinds to its operations.
When we look at the cash flow situation, we see that BP has been able to generate $1.9 billion in operating cash flows during the first quarter. This number, however, has been impacted by a $1.1 billion hit related to its GoM oil spill. When we back that $1.1 billion cash outflow out (which seems fair, as this is not related to BP's current operations), the company has produced adjusted operating cash flows of $3.0 billion. This amount is not big enough to fully cover BP's capital expenditures (and the dividend), but it shows an increase of 20% over last year's first quarter cash flow of $2.5 billion -- despite oil prices being higher by $20 per barrel in 2015's first quarter. BP's capital expenditures totaled $4.0 billion in this year's first quarter, which means (adjusted) free cash flow came in at -$1.0 billion -- not a great number, but better than the cash flow situation at a lot of other companies. When we add the dividend payment of $1.8 billion per quarter, this means that BP's cash burn totaled $2.8 billion in Q1. A cash burn rate this high surely isn't good over a longer period of time, but BP's leverage and debt levels are not threatening right now. With a net debt position of $30 billion at the end of the first quarter BP's net debt to equity ratio is roughly 0.24, which is nothing investors should worry too much about.
BP has decided to keep its dividend stable at $0.60 per ADR, which equals a dividend yield of 7.1% at today's share price. This dividend yield is one of the highest among its peers, and thus makes BP attractive for those looking income: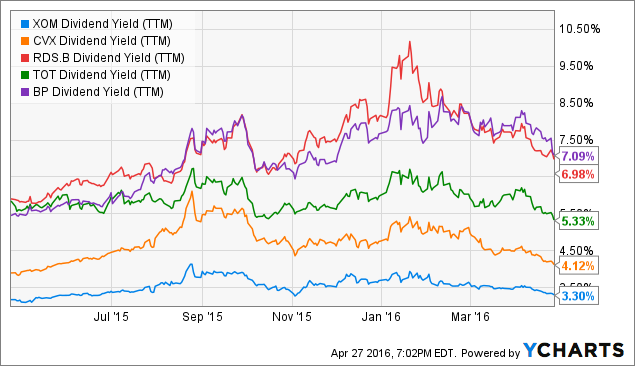 Among the five supermajors BP offers the highest dividend yield right now, Shell (NYSE:RDS.A) (NYSE:RDS.B) is a close second with a dividend yield of 7.0%. Total (NYSE:TOT), Chevron (NYSE:CVX) and Exxon Mobil (NYSE:XOM), however, have dividends yielding a lot less than what BP offers to its owners (with dividend yields of 5.3%, 4.1% and 3.3%, respectively).
As none of the supermajors except for Exxon Mobil has raised its dividend over the last quarters, I believe from an income investors point of view BP looks very attractive right now: None of the companies (except for Exxon Mobil) will raise their dividends substantially over the next years, thus going for the one offering the highest yield is a viable option. Due to the fact that BP is based in Great Britain investors also do not have to worry about foreign withholding taxes, as British dividends are not taxed (which is an issue for holders of Total).
Looking ahead, we can say that BP's outlook has improved over the last weeks, when oil prices have broken above $40. BP was able to report positive results when oil prices averaged $34 in the first quarter, with oil prices higher by almost $10 per barrel the second quarter is poised to be better. With BP's lowered capex spend and cash cost savings I believe BP could be able to break even on a cash flow basis later this year. The summer driving season (which usually leads to higher crack spreads and thus higher downstream earnings) should be a positive contributor to BP's results in the coming two quarters as well.
Takeaway
BP has been hit hard by low oil prices, but the company's results for the first quarter were better than expected. Underlying replacement cost profits more than doubled on a quarter to quarter basis, despite a lot of environmental headwinds, and BP's cash flows improved as well.
The fact that BP has done well with oil prices that low is encouraging for the future, as oil prices have increased substantially over the last weeks and the second quarter average will likely be a lot higher than the first quarter's average prices.
With its 7.1% dividend yield and low leverage BP looks attractive from an income investors point of view right now, I believe.
Disclosure: I/we have no positions in any stocks mentioned, and no plans to initiate any positions within the next 72 hours.
I wrote this article myself, and it expresses my own opinions. I am not receiving compensation for it (other than from Seeking Alpha). I have no business relationship with any company whose stock is mentioned in this article.