Several years ago I moved my Roth IRA to Scottrade to manage it myself, and I finally gotten around to adding Wells Fargo (NYSE:WFC) to my account. With hindsight being 20/20 there were certainly better times to get into this stock than now over the past 2 years, but this was really when I had both the money , opportunity, and the mindset of investing in "boring stocks" that I plan on holding indefinitely unless something unforeseen occurs and totally shatters my investing thesis. For those of you that follow me you will notice I have been writing about these types of stocks with Waste Management (NYSE:WM), and Traveler's Companies (NYSE:TRV).
When I first began managing my IRA I had about $3,000 to invest in stocks of my choosing, and while I don't chase yields, I always screened for 3% or higher in hopes of dividend growth investing at a faster pace. This naturally led me to invest heavily in REITs and sometimes overlook rock-solid stalwarts which while not exciting, can provide excellent returns in the long-run with less than average volatility. One of my REITs, LXP, has done quite well YTD and I decided to trim about $500 from it and reallocate it to WFC; and I cannot be happier knowing that I can sleep easy at night being invested in a great company.
While there are other big banks to invest in such as JPMorgan Chase (NYSE:JPM), Citigroup (NYSE:C), and Bank of America (NYSE:BAC), I chose WFC (and to pay a premium) for several reasons:
Size of the loan portfolio
Wells Fargo has a the biggest loan portfolio of any bank in America, and is therefore bigger loan portfolio than BAC and JPM. This is impressive considering WFC's balance sheet is $1.9 trillion when compared to JPM's with $2.4 trillion and BAC with $2.2 trillion. This of course means that of its assets of a whole, Wells Fargo allocates a bigger portion of its assets to loans than JPM and BAC. The importance of this is that loans are typically a more profitable type of asset a bank invests in. A real life example is WFC's first quarter this year in which loans yielded 4.16% whereas investment securities and money lent overnight to other banks through the Federal funds market yielded 3.01% and 0.49% respectively. WFC's loans are largely responsible for WFC returning 1.21% on its assets this most recent quarter, which was better than BAC's 0.50% and JPM's 0.93%.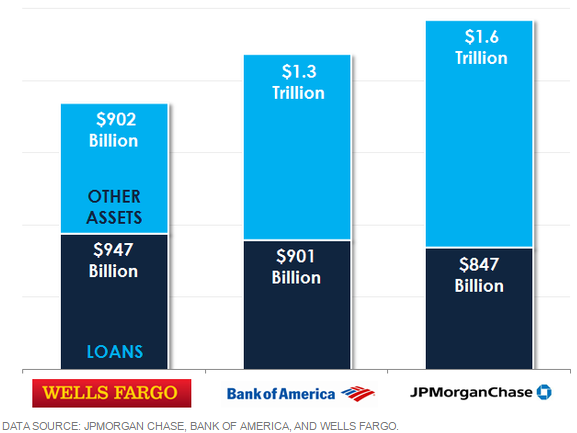 Track record of creating value and returning it to investors
This past year, WFC returned $12.6 billion to shareholders in 2015 through common stock dividends and net share repurchases which was a slight increase from 2014 in which $12.5 billion was returned.
Wells Fargo has been doing an exceptional job creating value and growing its book value, handily outpacing both JPM and BAC since 2006. Growth of this magnitude over this period is not by chance and is a result of effective management that is able to execute. Last year, WFC generated a return on equity of 12.7%, beating out Citigroup's 7.9%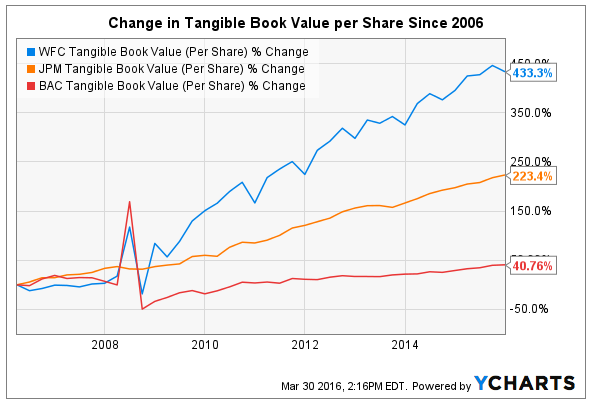 Over the past 25 years, WFC has consistently increased its dividend, and I am confident that it will continue to while I hold it in my account, providing me with cash to reinvest into additional shares of WFC. The one time that dividends were reduced was due to the 2008 acquisition of Wachovia where extra cash was needed. But fast forwarding to 2015, after the acquisition of Wachovia and the financial crisis having passed, WFC increased the dividend by 7% to $0.375 per quarter, and it is above the point where it was before the financial crisis
Per the 2015 annual report the common shares outstanding declined by 78.2 million and are expecting share count to decline in 2016 as they have entered into a $750 million forward repurchase contract for 9.2 million shares.
Company Culture
While this intangible item may not be as important for others, it is immensely important to me when looking for an investment. During the financial crisis many banks suffered and some reported terrible losses, such as Citigroup's $28 billion loss. And we all know how things turned out with BAC and Countrywide, with BAC shelling out an eventual $16.65 billion settlement. During that same time period Wells Fargo did see declining net profits and was undoubtedly affected, but not near to the extent as some of its peers were. It was capable of avoiding the worst of the subprime mortgages market and did not offer negative amortizing loans that allow interest payments to be deferred to the loan principal. Unfortunately for Wachovia, they did just that, and were later acquired by, (or saved depending on who you ask) by Wells Fargo.
Conclusion
I had almost ended up purchasing JPM rather than WFC, and have written about JPM before here on Seeking Alpha. But I have always wanted WFC in my portfolio because of its excellent historical returns (101% including reinvested dividends over the past 10 years), shareholder friendly focus (Share buybacks and consistently growing dividend), and most importantly for its rock-solid culture and strong ethics that have persisted throughout the company's history (weathering the financial crisis better than many).
Disclosure: I am/we are long WFC.
I wrote this article myself, and it expresses my own opinions. I am not receiving compensation for it (other than from Seeking Alpha). I have no business relationship with any company whose stock is mentioned in this article.